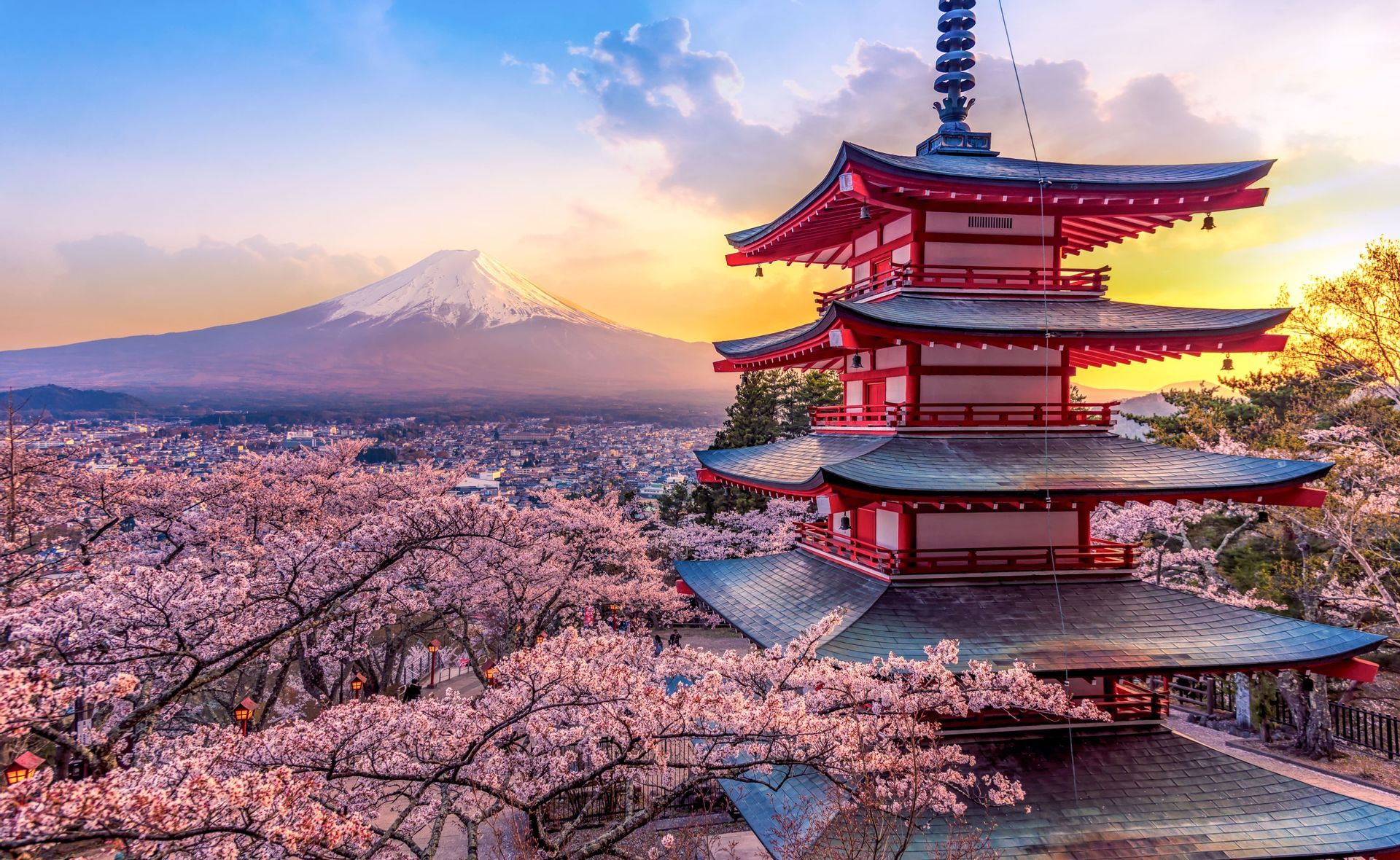 Japan 360°: discovering Tokyo, Kyoto, Hiroshima and Osaka
Japan 360°: discovering Tokyo, Kyoto, Hiroshima and Osaka
Frequently asked questions
There are currently no departure dates scheduled for this trip
Monuments and history
80%
The trip in a nutshell
Japan is a country of contrasts, where ancient traditions seamlessly blend with modern technology. On our journey across this fascinating land, we'll explore bustling cities like Tokyo and traditional gems like Kyoto and Osaka. From towering skyscrapers to serene temples, and from the vibrant neighborhoods of Shibuya and Odaiba to the secluded streets of Gion, Kyoto's geisha district. We'll travel at lightning speed on the country's famous bullet trains and then slow down to take in the peaceful beauty of the Bamboo Forest and the thousands of torii gates at Fushimi Inari Shrine. We'll also pay a visit to Hiroshima, where we'll reflect on the tragic events of the past and the city's inspiring recovery, indulge in the delicious beef of Kobe, and meet the friendly deer in Nara. Are you ready for an experience that will steal your heart away? Join us on this unforgettable trip to Japan!
Tour mood
This trip is intense and fast-paced, so don't expect to recover your energies during your stay in Japan! We'll move a lot and change many accommodations, so please bring a backpack with you and leave the big luggage home.
Physical effort
This trip is not particularly hard but days will be intense: there's a lot to see, so expect to walk a lot.
What do I need to enter Japan?
Passport: your passport should be valid for the duration of your stay - no additional period of validity beyond this is required
Visa: MySOS will no longer be used and you must use the Visit Japan Web site for pre-flight procedures and visa information
Certificates: proof of vaccination or you must take a PCR test within 72 hours before your flight and show a negative certificate in the approved format
Arrival and departure
This trip will begin and end in Tokyo. Aim to arrive on the first day by 5pm - on the last day you are free to leave whenever!
---
What's included
10 nights accommodation in shared bedrooms with a private bathroom

Welcome dinner

7 days Japan Rail Pass (from day 3 to day 9)

Farewell dinner

Travel Coordinator services
Everything included in the tour fee outlined here
Read more
---
Frequently asked questions
Welcome to Japan: the trip begins in Tokyo
From Tokyo to Kamakura to visit the Great Buddha
A first taste of Kyoto: Kawaramachi, Gion and Nishiki Market
Discovering Kyoto: Higashiyama, Fushimi Inari Shrine and the Golden Temple
Kyoto: Bamboo Forest and some DIY exploring
Hiroshima: history and spirituality
From Himeji Castle to Osaka: we are ready to taste the famous okonomiyaki
Tokyo: from old neighbourhoods to modern ones
Tokyo and its thousand districts : Shibuya, how to end with style!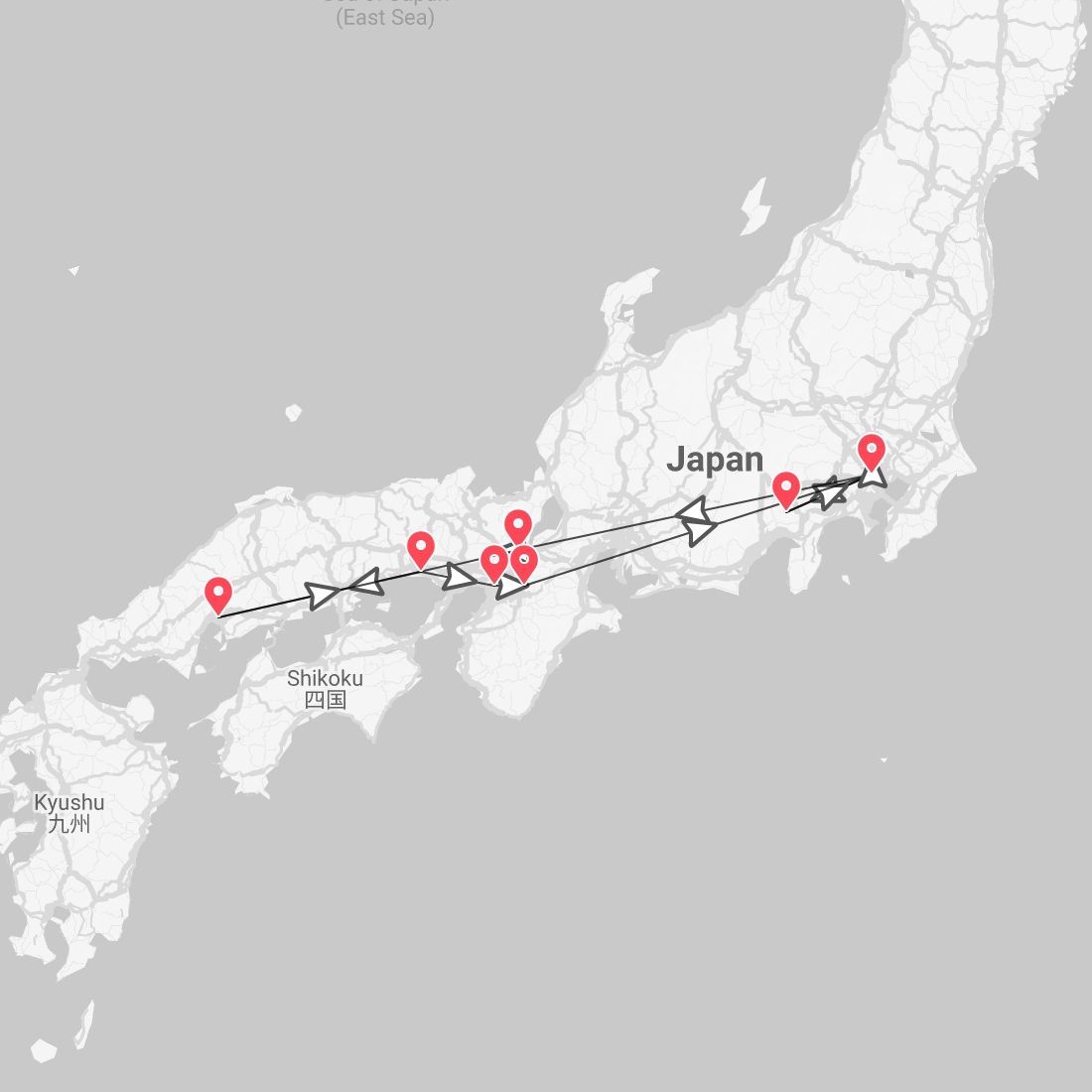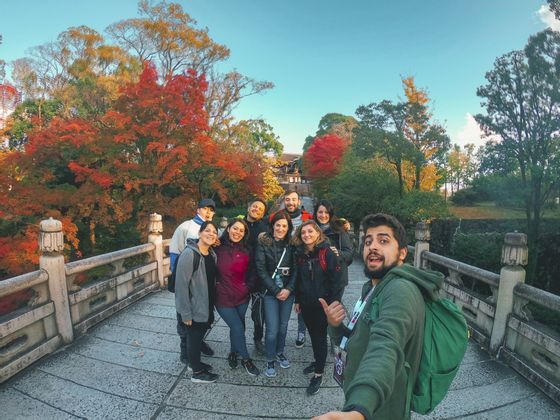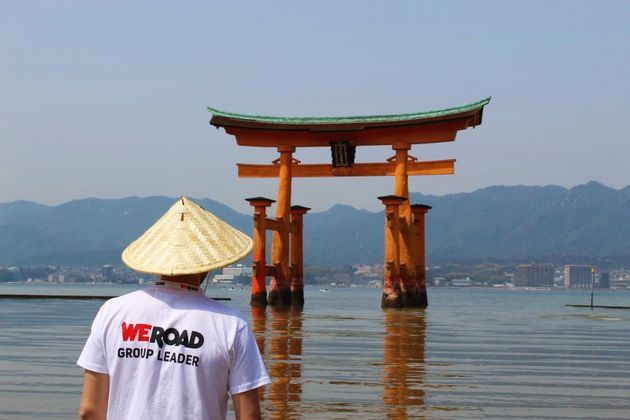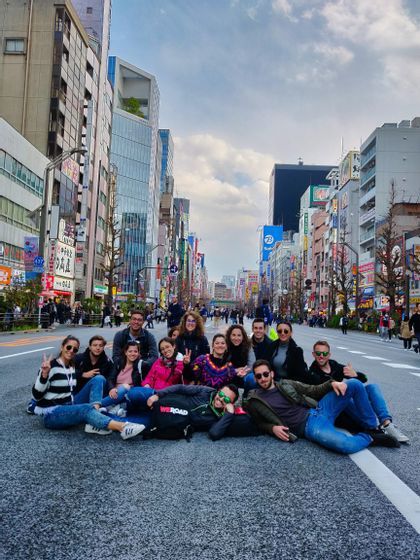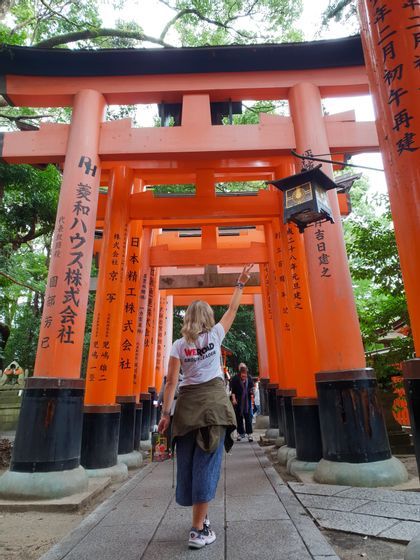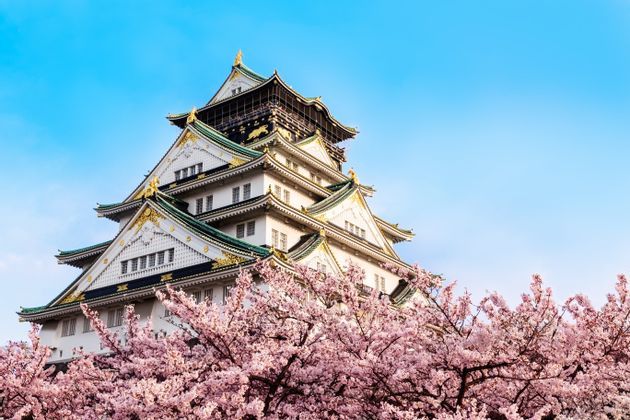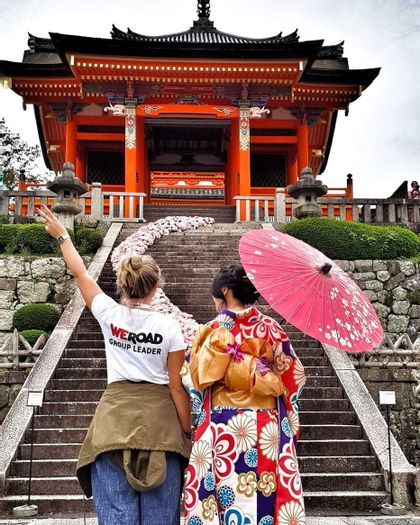 The travel coordinators
Our travel coordinators are chosen because they are people like you. Not only are they the best travel buddy you could hope for, but they're trained professionals guaranteed to show you a travel experience like never before
Info to know
Staff

You'll travel with a WeRoad Coordinator, which is more or less the best travel buddy one can wish for.


Visas and Vaccinations

Before booking, please make sure to check what documents, visas and vaccinations are required to enter the country. If you have any questions, please contact us.