Itinerary - Japan 360°: discovering Tokyo, Kyoto, Hiroshima and Osaka
Welcome to Japan: the trip begins in Tokyo
100 %
Check-in
Roundtrip flights are not included so that you can choose where from, when and with whom you want to fly. All of that is up to you! Hotel check-in in Tokyo. We start this trip the best way possible: with food. We couldn't be in a better place to try out something new and we can do that during our welcome dinner. Sushi will be there, that's a promise!
Included: welcome dinner
From Tokyo to Kamakura to visit the Great Buddha
50 %
50 %
Discovering imperial cities
We rise with the sun so we can start this adventure right: today we'll dive deep into Japan's culture and history. We take the train (the first of many!) and we reach Kamakura, an old imperial city and one of the first capital cities of the country. We visit many temples and palaces, and in each one we can witness the imperial past of Kamakura. If we are lucky enough and the sky is clear, we could even be able to see Mount Fuji. We'll also visit the Great Buddha, a majestic statue that survived many typhoons and even a tsunami that completely destroyed the temple around it.
Ueno Park and Japanese street food
We go back to Tokyo by train and are ready to relax our minds and muscles. We do that in Ueno Park, one of the most important parks in the city thanks to the many temples that are located there. The most famous one is Gojo Tenjinsha, a Shintoist temple that one can reach by walking through many red torii, the traditional gates that are commonly found in the Shintoist culture. Since food is also a great part of the culture of any country… let's talk about tonight's dinner! Let's get lost in the colourful streets of Ameyoko Market, near Ueno Park. Here we can try out Japanese street food: we suggest starting with takoyaki, golden balls of fried batter filled with octopus, tempura scraps, ginger and onion. Yum!
Money Pot: local transports and admission fees if any Not included: food and beverages
A first taste of Kyoto: Kawaramachi, Gion and Nishiki Market
20 %
60 %
20 %
Japanese bullet trains
The alarm is set pretty early today but for a very good reason: we have a train to catch! We'll travel with one of the many bullet trains of the Japanese railway system that can reach up to 500 km per hour. Japanese are known for many things, and one of them is punctuality: we must be at the train station right on time, the train surely won't wait for us. Today's final destination? The beautiful Kyoto.
Kawaramachi
We arrive in Kyoto in the afternoon - we'll be pretty hungry, so let's check-in in our hotel and start discovering the city. Kyoto is probably one of the most beautiful cities in Japan and we'll soon understand why. We start a walking tour from Kawaramachi, a neighborhood full of shops and izakaya, the typical small restaurant where salarymen usually stop by after work. A visit to Nishiki Market is a must: there are many street food stands where we can try out sushi and sashimi, fresh fish, yakitori (chicken skewers), gyoza (dumplings), and even desserts like melon pan (a bread bun) or matcha-flavored ice-cream. After eating many Japanese delicacies, we move toward Gion, a famous neighborhood where it's still possible nowadays to see geishas walking around. The best time? Sunset, of course!
Included: Japan Rail Pass Money Pot: local transports and admission fees if any Not included: food and beverages
Discovering Kyoto: Higashiyama, Fushimi Inari Shrine and the Golden Temple
100 %
Walking tour of the city
Besides the modern part of the city, Kyoto is a representation of Japan's old times thanks to the many temples, the Gion neighborhood where we saw the geishas last night and Higashiyama, the historic district. Today we explore some of these sites, such as the Kiyomizudera Temple, the Yasaka Pagoda and the incredible Fushimi Inari Shrine. Here we can walk through the many red torii until we reach the top of the mountain where the shrine is located, which opens up to an incredible view of Kyoto from above.
The Golden Temple
After lunch, we move east to visit one of the most important symbols of Japan: Kinkaku-ji, the Golden Temple. This temple is covered with gold leaves that thanks to the sunlight creates a beautiful reflection on the pond in front of it. For Japanese culture, gold represents purification from any negative thought: surely our minds will be clear and happy after seeing such a beauty! We end the day in Ryoanji Temple, where we can walk around the biggest Zen garden in Japan. Have we found peace yet?
Included: Japan Rail Pass Money Pot: local transports and admission fees if any Not included: food and beverages
Kyoto: Bamboo Forest and some DIY exploring
60 %
20 %
20 %
Bamboo Forest
We spend the morning in Arashiyama, the neighbourhood where we can get lost in the magical Bamboo Forest - you must have seen it on Instagram, it's probably one of the most instagrammable places in Japan. The early hours are the best ones to be here since there are fewer people and tourists - hence we'll have our alarms set pretty early as always. We can walk around the forest and the park and then visit the Tenryuji Temple, one of the fifth Zen temples of Kyoto.
Shopping or relax?
We have the afternoon to ourselves: we can do some more DIY exploring of Kyoto and get a chance to do some shopping, or we can relax in a local onsen, the famous Japanese spa. During our stay here in Kyoto, we surely saw many people dressed up with the traditional Japanese dresses - kimono for women and hakama for men. If we want, we too can dress up like them and spend a special night feeling like a local. It's up to us if we want to have such an experience or if we just prefer to contemplate Japanese culture.
Included: Japan Rail Pass Money Pot: local transports and admission fees if any Not included: food and beverages
Hiroshima: history and spirituality
50 %
50 %
Miyajima
We say goodbye to the beautiful Kyoto, that has been our house for the past three days, and go to the train station: we have another bullet train to take! We arrive after three hours in Hiroshima and we go directly to the harbour, where we get on board a ferry boat that takes us to Miyajima Island. A must-see here is the Great Torii, a free-standing gate in the middle of the sea that creates magical reflections on the water. We walk the main street of the town, where we can choose between many street food options. Watch out for deer! They are very friendly… but also very hungry!
Hiroshima
We don't need to state the obvious: we all know why Hiroshima is so famous. On the 6th of August, 1945, the city was destroyed by the first nuclear attack of humankind. We take some time to visit Memorial Park, where we can see one of the few buildings that were not completely shattered by the bombing. There are many memorials in the park and we might get the chance to have some special guides during our visit: some family members of the victims are in fact volunteering here in order to preserve the memory of what happened.
Included: Japan Rail Pass and ferry boat to Miyajiama Money Pot: local transports and admission fees if any Not included: food and beverages
From Himeji Castle to Osaka: we are ready to taste the famous okonomiyaki
40 %
30 %
30 %
Himeji Castle
Again we get on board the Shinkansen and we reach Himeji, famous mostly for its castle - yes, it's the emoji one! The castle was built more than 400 years ago and survived the bombings of the Second World War. We walk around the city center and try to find the best angle to take a picture of the castle - a group selfie here is a must, of course!
Osaka
Osaka is the third most populated city in Japan and is renowned for being the most liberal one as well. Surely tonight will be the right time to find out if what they say is true! Before going out and living the Osaka nightlife, we need to taste okonomiyaki, a savory pancake that one simply cannot skip during a trip to Japan.
Included: Japan Rail Pass Money Pot: local transports and admission fees if any Not included: food and beverages
Nara and its deer
20 %
60 %
20 %
Making new friends in Nara
Nara was one of Japan's capital cities, which is the reason why there are so many historical and cultural sites. We arrive in the morning and we have the whole day to discover temples, gardens and pagodas - but most importantly, we can meet the deer that live in Nara-koen Park. They are semi-wild deer that roam freely around the park: in order to conquer their hearts, we can buy a pack of deer crackers and feed them. They can be quite aggressive when it comes to food - but honestly, who doesn't? Besides the deer, there are many sites that we can visit - choosing which ones will be a very hard task! We can start with Daibatsu-den, the biggest wooden building of the world that enshrines a 17 meters tall Great Buddha, and then continue with Isui-en, a quiet and peaceful garden with a pond and plenty of blooming flowers and trees. Then there's Kasuga-taisha Shrine, the most important Shinto shrine in Nara, and Naramachi, the traditional district of shops, restaurants, workshops and ryokan (traditional Japanese inns). Just remember: we only have one day, let's make the most out of it!
Included: Japan Rail Pass Money Pot: local transports and admission fees if any Not include: food and beverages
Tokyo: from old neighbourhoods to modern ones
40 %
40 %
20 %
Tokyo
Our trip is coming to an end and like every good journey, it all ends where it began: Tokyo! Another day, another train, right? Our bullet train takes us to Japan's capital city in less than three hours, and we are finally back to fully enjoy Tokyo and its neighbourhoods.
Asakusa
Asakusa is the heart of old Tokyo and is friendly called "Edo". Once again, we can deep dive into Japanese culture and history, visiting Senso-ji Temple and its pagoda. Near the temple, there are so many food stands, meaning that even today we'll get the chance to try out Japanese street food like ikayaki (grilled squid) or taiyaki (fish-shaped cakes filled with custard, chocolate or cheese). Before leaving, let's not forget to make a wish with an omikuji, a typical Japanese fortune ticket.
Ueno
After lunch, we move to Ueno, a popular neighbourhood with a huge park, many museums, temples, shrines and even a zoo. During the blooming season, Ueno Park is the place to be: if we are here around March and April, we can come and enjoy the cherry blossoms as Japanese do. It's called hanami - literally, "flower viewing".
From Yanaka to Shinjuku
Last stroll through the Yanaka district, one of the few areas that weren't bombed during the Second World War, and then we return to Shinjuku for dinner and maybe join locals life for a great night out in one of the many bars in the area.
Included: Japan Rail Pass Money Pot: local transports and admission fees if any Not include: food and beverages
Tokyo and its thousand districts : Shibuya, how to end with style!
20 %
50 %
30 %
Harajuku
We continue our tour of Tokyo: this morning we start with Harajuku, the street fashion neighborhood where the crazy fashion trends are born, such as the Gothic Lolita or Ganguro ones. From modern to old times: we then reach Yoyogi Park and visit Meiji-Jingu, a Shinto Shrine dedicated to the Emperor, and Takeshita-dori, a modern street full of shops - the perfect time to buy some souvenirs is now!
Shibuya
After lunch we reach Shibuya, a chaotic neighbourhood that is always crowded. Does the name sound familiar? Well, that's because the busiest crossroad of the world is here! Will we be able to get along with the flow of the many Japanese crossing Shibuya everyday? Let's try!
Our last dinner in Japan
We're already at the end of this trip, aren't we? Unfortunately yes, and it's time to say goodbye: what a better way than with our farewell dinner? It will be the last time we'll get the chance to eat Japanese food and enjoy each other's company. Let's celebrate the good time we had together during this trip!
Included: farewell dinner Money Pot: local transports and admission fees if any Not included: food and beverages
Check-out
Time to go back home: see you again on your next WeRoad adventure!
End of services. The itinerary may undergo some variations that differ from what stated above. These variations may not be predictable nor depend on WeRoad's will, i.e. climate conditions, national holidays, strikes, etc.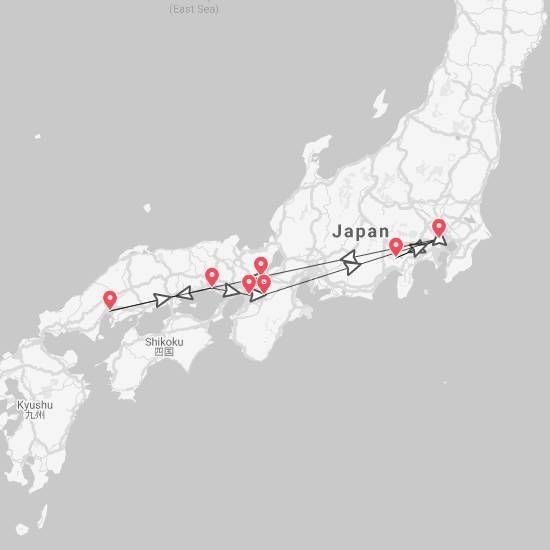 Show maps