Itinerary - Iceland 360°: discovering the land of fire and ice
We start our Iceland trip in Reykjavik
100 %
Check-in
Roundtrip flights are not included so that you can choose where from, when and with whom you want to fly. All of that is up to you! Hotel check-in and welcome dinner in Reykjavik. Ready to start this trip the best way possible? We're talking about food, obviously. Tonight we'll have our welcome dinner and we'll get the chance to have a first taste of the local cuisine - they say that fish and beer are pretty good here. Should we try them out?
Included: welcome dinner
From the oldest Geyser to Vestmannaeyjar Island
50 %
30 %
20 %
Geysir
The real adventure finally begins: get ready to see something new every day! We start driving and our first stop is to see with our own eyes one of Iceland's most famous wonders - you should guess by its name: Geysir! In Icelandic, the word "geyser" means "emit in gushes", which is basically what we'll see: hot water being shot up to ten meters high.
Volcano adventure
We reach Vestmannaeyjar Island in the afternoon: this place is famous for an eruption that happened just 40 years ago that forced the inhabitants to leave the island and their homes. Today life is back to normal but we can still witness the consequences of that catastrophic event. We start exploring the island with light trekking on its volcano: from above we'll be able to see all the colors of this incredible place, going from the volcanic lands' reds and blacks to the grasslands' greens and the sea and sky's blues. Another option is an easy hike along the coastal cliffs where, if we are lucky enough, we'll even be able to see many sea birds, including the popular puffin!
From the oldest Geyser to Vestmannaeyjar Island
Discovering Skogar and its waterfalls: Seljalandsfoss and Skogafoss
100 %
The most beautiful waterfalls in Iceland
We enjoy Vestmannaeyjar Island a little bit more this morning and then, in the afternoon, we get back to the mainland. Our first stop of the day is Seljalandsfoss: have you ever been behind a waterfall? We can do it here because hidden behind Seljalandsfoss there's a magical cave. We'll need waterproof clothes though, that's for sure! We continue our journey until we reach the second waterfall of the day (which is also our favourite!): Skogafoss! After dinner, let's see if there's someone brave enough to get outside to look for a natural hot spring. Challenge accepted?
Included: car rental and ferry transfer to Vestmannaeyjar Island Money Pot: gas and admission fees if any Not included: food and beverages
Reynisfjara Black Sand Beach and Jökulsárlón Glacier Lagoon
100 %
Black Sand Beach
Another day in Iceland, another incredible natural wonder: this morning we reach Dyrholaey viewpoint, a rocky plateau with a huge stone arch. After seeing the view from above, we go down to the black sand beach of Reynisfjara, where we'll get the feeling to be walking on the moon.
On the road
The best way to visit Iceland is on a road trip because the road itself is something that cannot be missed. That's what we'll do this afternoon: we'll get on the road until we reach Jökulsárlón Glacier Lagoon. Today the landscape will be made of green pastures and greenhouses until we'll see Hekla Volcano popping out on the horizon.
Jökulsárlón Glacier Lagoon
We finally arrive at Jökulsárlón: it's here that the largest glacier in Europe descends from the mountains and reaches the beach, creating dozens of icebergs that float in the lagoon until the waves bring them to the open sea. Trust us: you've never seen anything like that in your entire life! If we are lucky and the conditions are optimal, we'll get the chance to take part in an amphibian boat tour that will allow us to get near the icebergs… and even taste some fresh ice!
Included: car rental and ferry transfer from Vestmannaeyjar Island Money Pot: gas and admission fees if any Not included: food and beverages
Eastern Fjords and relax in Egilsstaðir natural pools
60 %
40 %
Eastern Fjords
We keep driving and again the landscape changes in a matter of kilometres: this morning we reach the Eastern Fjords, whose beaches are populated by tons of puffins during the summertime. We park our cars in Seydisfjordur, a tiny, cute village and then decide what activity to do this morning: we can either discover the fjord by ground, with a mountain bike tour or by water, kayaking.
Egilsstaðir
In the afternoon we arrive at Egilsstaðir, which is considered the only proper town in Eastern Iceland - with its 2.000 inhabitants! Since we have some free time, we can look for some natural hot spring pools where we can relax for a little bit.
Included: car rental Money Pot: gas and admission fees if any Not included: food and beverages
Exploring natural wonders: Dettifoss and Ásbyrgi Canyon trekking
100 %
Her majesty Dettifoss
It's the queen of all waterfalls, the most powerful one in Europe: during summertime, its flow rate is 1.5 million litres of water per second! The water jump is about 44 meters and the splashes are visible from 1 km away. We can get pretty close (it's safe, don't worry!) to admire this natural wonder - pictures are a must, even if they don't really recreate nature's power that one can feel only live!
Ásbyrgi Canyon
In the afternoon we get to Ásbyrgi Canyon, where we'll do some trekking in the canyon gorge: walls can reach up to 100 meters high and are fully covered with vegetation - if we are lucky, we could even see "fulmar" seagulls. Ásbyrgi means "refuge of the gods": the legend tells that gods were thrown into Godafoss waters and found shelter in the canyon. From here, they keep protecting Iceland even nowadays.
Included: car rental Money Pot: gas and admission fees if any Not included: food and beverages
Whales in Hùsavìk and Godafoss, the Waterfall of the Gods
100 %
Hùsavìk
Good morning Iceland! For the first part of the day, we are in Hùsavìk, particularly famous for whale watching. It's not guaranteed that you'll see one, of course, that's the unpredictability of mother nature - but in Hùsavìk it's so frequent seeing one that this city is considered to be whale watching world capital. Will we be lucky enough? Fingers crossed!
Myvatn
Again we witness the Icelandic "miracle": we drive for just one hour away from Hùsavìk and we'll find ourselves in a sort of post-nuclear landscape. We get to Lake Myvatn, where there are many polls of steaming water, bubbling mud, and sulfurous soil: should we hike around here?
Godafoss
It's called "Waterfall of the Gods": we're talking about Godafoss, that will be the last large waterfall that we'll see here in Iceland. This is not as powerful as the others we saw but just as spectacular: its circular, horseshoe shape, it seems like it's hugging us while we're admiring its beauty. We continue our journey until we arrive in Akureyri, where we'll spend the night.
Included: car rental Money Pot: gas and admission fees if any Not included: food and beverages Please note: whale watching boat tour is not included and subject to availability (the tour may not be available or practicable for unpredictable reasons, i.e. climate conditions, sold out, etc.)
Peat houses and natural hot water springs
60 %
40 %
Culture, relax and nature
Today will be an intense road day because we have to reach the Snæfellsnes Peninsula. Don't worry though: stops will be frequent, especially because there are so many things to see along the road! A mandatory stop is at the historic peat houses, typical Icelandic buildings that look like they came out of a Disney fairy tale.We reach Snæfellsnes Peninsula in the afternoon and we have some time to enjoy this incredible place - probably the most photographed one of all Iceland thanks to Kirkjufell. Surely you've seen it before - they even shot some scenes of Game of Thrones here!
Included: car rental Money Pot: gas and admission fees if any Not included: food and beverages
Blue Lagoon and nightlife in Reykjavik
30 %
40 %
30 %
Let's relax
Finally, we are back in Iceland capital city, Reykjavik. Today we'll take our time to enjoy the hot, steaming waters of Blue Lagoon, possibly the most famous hot springs here in Iceland - and maybe in the whole world, who knows. What we know for sure is that this place is magical: deep blue waters, the steam, black mounds of solidified lava… let's enjoy our time!
Reykjavik
We still have some free time to enjoy Reykjavik: we can visit some museums or do some shopping. Finally tonight there's our farewell dinner in a special place - and after that, it's time to dance! You'll be surprised by Reykjavik nightlife, with its clubs and bars with live music. Time to celebrate and end this incredible journey the best way possible!
Included: car rental and farewell dinner Money Pot: gas and admission fees if any Not included: food and beverages Please note: Blue Lagoon admission fee is not included. Each traveler is free to choose admission options and wellness treatment as suitable.
Check-out and goodbye
Time to go back home: see you again on your next WeRoad adventure!
End of services. The itinerary may undergo some variations that differ from what stated above. These variations may not be predictable nor depend on WeRoad's will, i.e. climate conditions, national holidays, strikes, etc.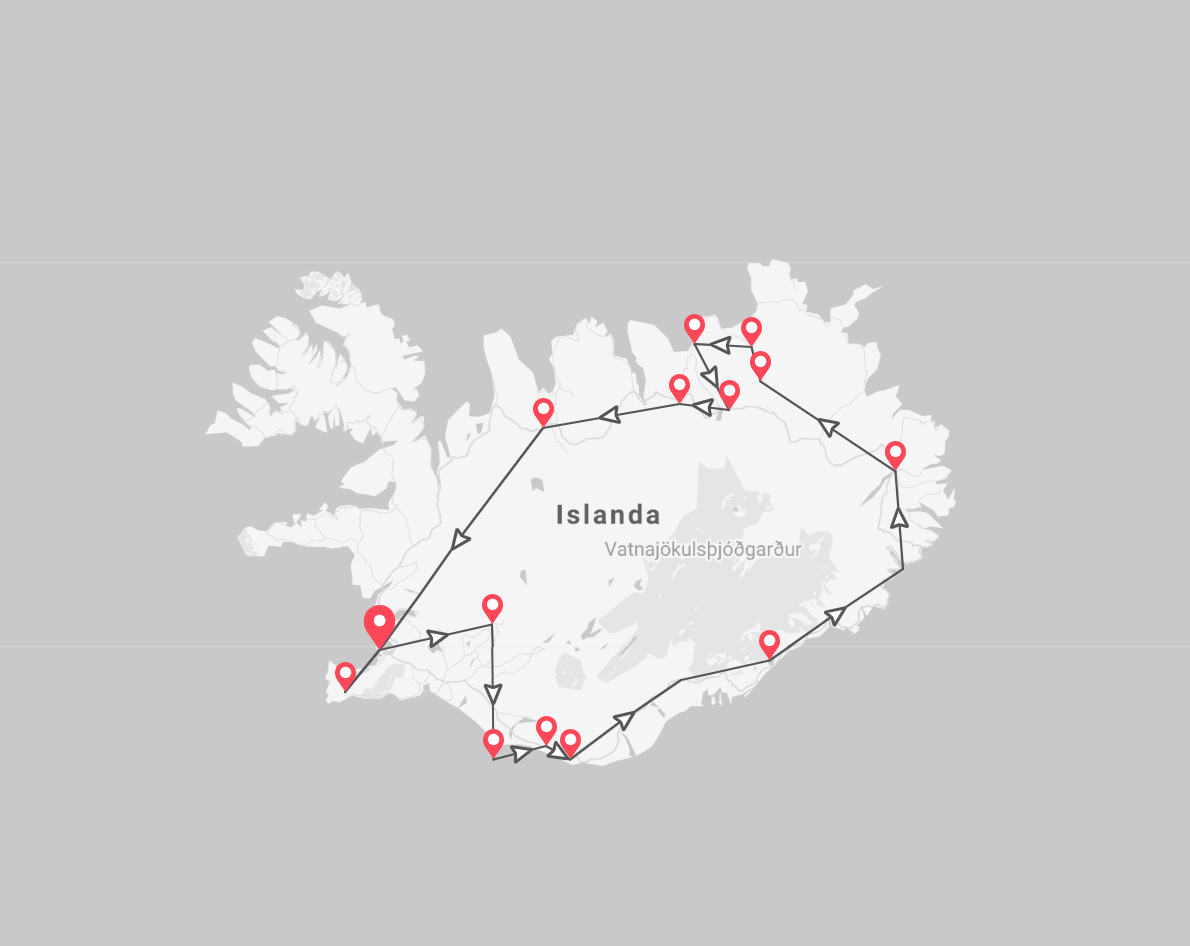 Show maps