Itinerary - Far West 360°: LA, Las Vegas and National Parks
Welcome to Los Angeles
100 %
Check-in
Flights to and from the UK are not included in the package, so you can decide from where and when you want to leave! This gives you complete freedom of choice to adjust your travel itinerary to your needs. Check-in in Los Angeles and welcome meeting: finally we're in the US, ready to live the dream! Let's get it started properly: this evening we will have a welcome dinner, during which we will raise a toast to the incredible journey ahead!
Included: Welcome dinner Not included: food and beverages
Las Vegas and the Moapa Valley sunset
100 %
Moapa Valley
After enjoying an American breakfast, we'll get ready to take another plane to Las Vegas. Ready for the fabulous panorama that awaits us? Our first stop is Moapa Valley, for a special Native American-style lunch. Memorise the colours, the views, the sensations. These are just our first glimpses of the desert: although we have seen them in films and photos, they are amazing when experienced first hand. After admiring the breathtaking sunset over the Valley, we'll set off for St. George where we will spend the night.
Included: Internal flight, rental Money Pot: fuel, entrances, other transportation Not included: food & beverages
On the road towards Zion National Park
100 %
On the way to Zion
Our final destination is the famous Zion National Park: sheer cliffs dropping 3000 metres, bright reds and whites, incredible carved rocks flanking hanging valleys, small waterfalls cascading down the high walls... So get your cameras, there is a lot to remember here.Will you let this enchanted place steal a piece of your heart?
Included: Rental, Zion National Park access Money Pot: Fuel Not included: other activities, food & beverages
On The Road: Bryce Canyon
100 %
Hoodoo
Bryce is not really a canyon but more like a series of horse-shaped amphitheatres. The largest, the one we're visiting, is the Bryce Amphitheater, located in the heart of the area. Hoodoos are deep grooves created by the erosion of water, wind and ice in the rock, and you can walk through them using pre-designed paths. Legend has it that the hoodoos are actually an ancient legendary people, turned to stone by the coyotes as punishment for doing evil deeds.
Included: rental, entrance in Bryce Canyon Money Pot: fuel Not included: food and beverages, other activities
Monument Valley
90 %
10 %
The Mittens
The last few miles of the I-163 Byway offer us a unique panorama where the Mittens appear in the distance, here we realise we have finally arrived at Monument Valley. If you're tired of walking, there's the chance to go on a wonderful hike... on horseback! A truly unique experience. We'll even get the chance to meet real native Americans who'll tell us all about their traditions!
A mesmerizing sunset
We'll then admire the sunset from the Monument's most famous point, John Ford's Point. It is in the middle of the Navajo Nation3: here the colours of the rocks, earth and sky intensify and create an environment that seems unreal, dreamlike!
Included: Rental, Monument Valley entrance fee Money Pot: fuel Not included: food & beverages, other activities
Sunrise over the Grand Canyon
75 %
25 %
Sunrise over the Grand Canyon
Up early again to watch the sunrise over the Grand Canyon!Our focal point will be Mather Point for a great group selfie! We will then move on to Powell Point, a peninsula of rock from which we can watch the major and minor rapids, and hear the roar of the water below us.
Las Vegas
In the evening we'll arrive in Las Vegas: we can dine in one of the many restaurants and try our luck at the casino. You'll never sleep here! A popular activity in Las Vegas is to get married in one of the many themed chapels, but we don't necessarily recommend it... 😉
Included: rental, Grand Canyon entrance fee Money Pot: gas Not included: food & beverages, other activities
Viva Las Vegas!
70 %
30 %
Strip Boulevard
There are so many strange things to see and do in Las Vegas, so the day is mainly dedicated to exploring this city. We start with a stroll down this famous street, which also means exploring reconstructions of famous cities such as Venice and Paris, and admiring the ancient Egyptian pyramids and sphinxes of Luxor. We take a look at gigantic (and definitely kitschy) hotels, which we can enter freely... In each one we find a themed reconstruction and, of course, the ever-present shiny casino.
Bellagio's fountains
The Bellagio is a huge hotel that mimics the landscape of Lake Como, and is rich in glass and marble decorations reminiscent of Italian art. Every 30 minutes, thousands of tourists stop in front of the Bellagio to admire the impressive spectacle of water, lights and music. The water moves in time to the music, the fountains light up dancing incredible choreographies with jets that reach 140 metres in height.
What happens in Vegas...
In Las Vegas, when it gets dark, everything lights up and it's a spectacle like no other! If you're looking for a crazy night out, you've come to the right place!
Included: rental Money Pot: gas, Not included: food & beverages, other activities
Going to Death Valley
70 %
30 %
Furnace Creek
From Las Vegas we'll head to the lowest and hottest point in North America: Death Valley, an expanse of sand alternating with salt flats, hills, canyons and jagged rock formations. It is said that in 1849 a group of gold miners died in this huge desert isolated from everything, crossing it in an attempt to find a shortcut to the central valleys of California. The tour starts at Furnace Creek, the main centre of the valley, and continues to Zabriskie Point, Dante's View - located at 1,800 metres - Artist Drive, Artist's Palette and Badwater, the lowest point in North America.
Included: rental Money Pot: gas Not included: food & beverages, other activities
L.A Baby!
70 %
30 %
Los Angeles
For those of us who are early risers, this morning we can wake up before the sun to catch an incredible sunrise in the middle of... nothing. Written like that, it sounds bad, but we assure you: it is absolutely worth it! We enjoy these last few moments of peace before returning to the hustle and bustle of the big city: in fact, we spend most of the day on the road to get back to where our journey began: Los Angeles. The scenery has changed completely; moving from the endless deserts to the bright, enveloping atmosphere of the "Golden State" will be incredible. This first evening we settle in: we have dinner in a typical restaurant and then spend the evening in a bar, enjoying a good cocktail.
Entrance fees, meals and drinks will be paid by the participants.
Beverly Hills
20 %
60 %
20 %
Walking through the city of angels
Today we'll be wandering around the city: a trip to Hollywood to spot some VIPs, a detour to Beverly Hills - to see if we'll get kicked out of the luxury stores on Rodeo Drive like in Pretty Woman, and then we launch into the magical world of Universal Studios, a key stop on our journey. Attractions from the best-loved films (such as Jurassic Park, Terminator, and the legendary Back to the Future), shows where some fascinating special effects are unveiled, real film sets (such as the grim Bates Motel from the famous classic Psycho). A perfect day out for film lovers and stargazers.
Money Pot: transportation Not included: food & beverages, entrance fees
Santa Monica & Venice Beach
15 %
70 %
15 %
The beaches of L.A.
Arriviamo al molo di Santa Monica dove termina la Route 66 e prendiamo… le biciclette!Proseguiamo per Venice Beach, con le infinite spiagge di sabbia bianca, i surfisti e gli artisti di strada.Insomma, oggi ci concediamo una giornata di relax tra le splendide spiagge di L.A. per concludere al meglio il nostro viaggio americano.
Cheers to the next one!
The time has come for the farewell dinner: who will stop us from toasting and planning our next tour together? Absolutely no one! 😊
Included: farewell dinner Money Pot: transportation Not included: other food & beverages
Check-out and goodbyes!
Time to say goodbye ): Until our next WeRoad Adventure!
End of services. The itinerary may undergo some variations that differ from what is stated above. These variations may be unforeseen or beyond WeRoad's control, i.e. climate conditions, national holidays, strikes, etc.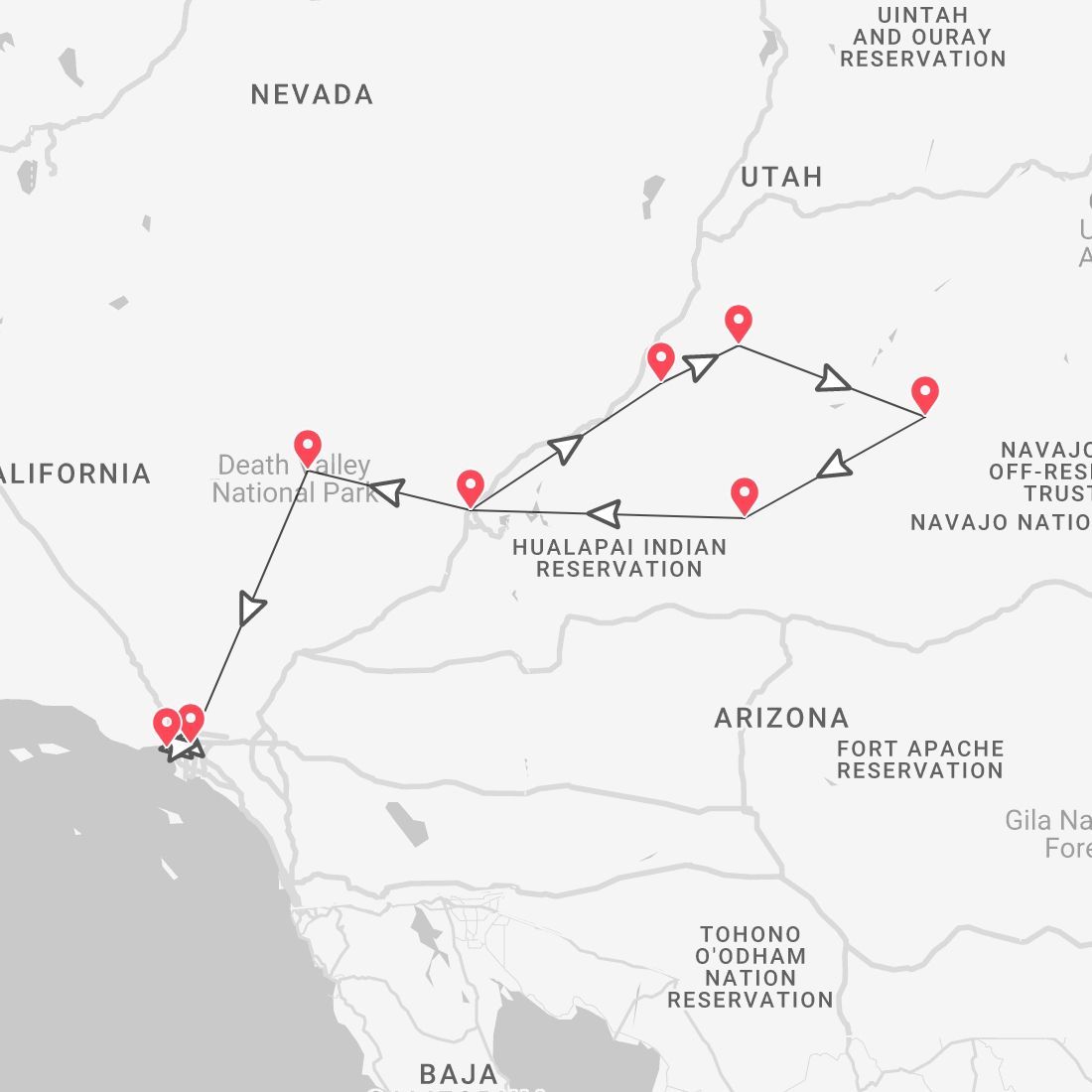 Show maps