Itinerary - Swedish Lapland: Hunting for the Northern Lights
Stockholm
100 %
Venice of the North
Roundtrip flights are not included in the package, so you can choose from where and when you want to fly. We have arrived in the "Venice of the North". Stockholm is located on an archipelago of 14 islands, all connected by bridges. Time to break the ice with our welcome dinner, made up of some local specialities. There is no shortage of fresh fish here, so just choose between salmon, herring and lobster!
Included: Welcome Dinner
Stockholm
50 %
50 %
Exploring the capital
Yesterday we found out that Stockholm is built on many small islands, and today we will discover one of them. Djurgården, which is not only an island but also a park, has about 800 inhabitants so don't expect to find too many people around. In the morning we will visit the Vasa Museum, which exhibits the only ship from the 17th century that has remained intact. Since we're in the area, we will also drop by the Skansen Open-Air Museum. In the afternoon we are free to visit other museums (Stockholm is full of them) or to roam the streets of other islands to truly discover the city. Next we propose a street art tour... in the metro! Stockholm is famous for its underground stations, which are true works of art, accessible to all.
On board the night train
We end the day with the first WOW moment of the trip! A beautiful night train awaits us, taking us directly into the heart of Lapland, more than a thousand kilometres north of the capital. Who knows, maybe we'll be lucky and see the northern lights filtering through the windows!
Included: Overnight train.
Money Pot: activities and entrance fees.
Not included: meals and drinks where not specified.
Kiruna
100 %
Dog sledding
What's it like to wake up on a train and see the unspoilt scenery of Lapland whizzing past your window? It's time for a quick stop to drop off our luggage at the hotel and then we're off to pick up the cars. Nordic countries and snow immediately make us think of one thing: dog sledding! Here, we will go on an excursion on a sledge pulled by huskies, either as passengers or drivers. For those who don't feel up to it, an alternative activity here is... a safari! We can get on horses and ride along a route trying to spot moose, reindeer and other animals typical of the area. And if we still have energy afterwards, how about some fishing in the frozen lake or an ice sculpture course?
Included: dog sledding.
Money Pot: entrance fees.
Not included: meals and drinks where not specified.
Abisko
100 %
Hiking in the National Park
Today we take a trip out of town and travel to Abisko. This town is famous among aurora hunters because it is a light pollution-free zone and the driest area in the country, thanks to the mountains that block the passage of precipitation. There are almost 200 clear days out of 365, so if you have a cloudy night... that's bad luck! Apart from the auroras, here we can roam the Abisco National Park, which, especially in winter, boasts incredible scenery. We can explore it on foot with snowshoes or even by cross-country skiing.
Included: car rental.
Money Pot: fuel and entrance fees.
Not included: meals and drinks where not specified.
Kiruna
50 %
50 %
Discovering the Sami people
Let's immerse ourselves in the local culture as we visit a Sami village to discover the history, traditions and way of life of these people. We will have the chance to taste the local cuisine in a café set up like a typical lavvu, the camp of the nomadic people of the area. We can befriend the reindeer too, which are closely linked to the lives of these people. This evening, we'll have a farewell dinner to celebrate the trip! As tomorrow night we will be on the night train, we will take our time to eat (and drink) at our leisure and get ready for the last real night in Lapland to see the Northern Lights

Included: Car hire and visit to Sami village.
Money Pot: Petrol and entrance fees
Not Included: Meals and drinks where not specified
A bit of relaxation
Today is a flexible day: we can decide together how to spend our time! Our advice, however, is to think about relaxing before returning home. So what better option than a nice sauna? After pampering ourselves and warming up, there's only one thing left to do: get ready for another night on the train to Stockholm. But remember, eyes on the windows in case we get a last glimpse of the aurora on our way home.

Included: car rental and night train.
Money Pot: fuel and entrance fees.
Not included: meals and drinks where not specified.
Goodbye
We arrive at the station in Stockholm at 9am! Consider taking your flight back to the UK in the afternoon, so you have plenty of time to spend a few last hours in the city and go to the airport at your leisure! That said, bye bye Sweden, and goodbye fellow travellers: see you on your next adventure with WeRoad!
End of services.
The itinerary may undergo some variations that differ from what is stated above. These variations may not be foreseen or dependent on WeRoad's control, i.e. climate conditions, national holidays, strikes, etc.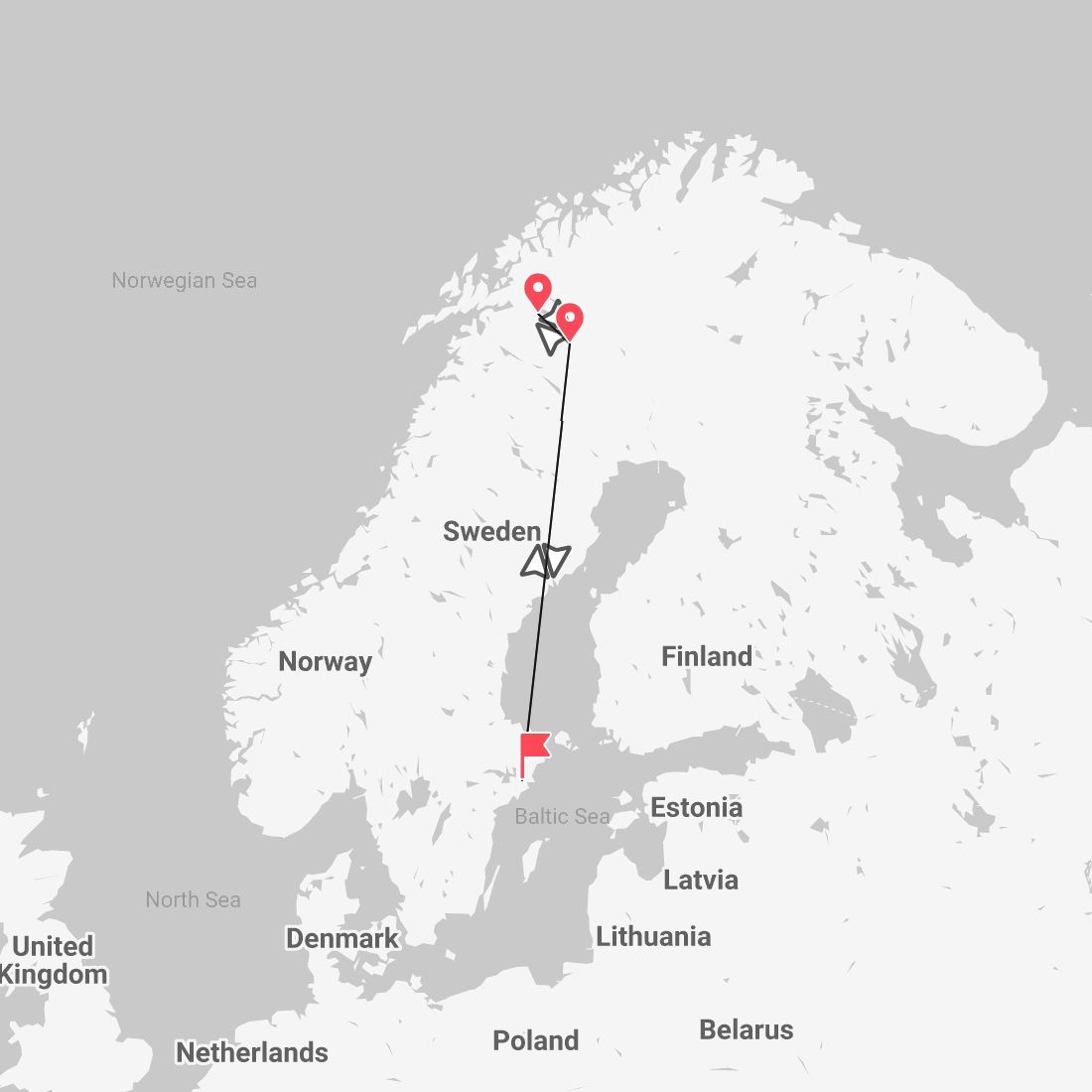 Show maps