Itinerary - Lake District Express: canyoning and hiking
Lancaster and Windermere Lake
80 %
20 %
Welcome to Lancaster
The starting point of our tour will be the city of Lancaster. You'll meet the WeRoad travel coordinator, as well as your travel buddies by midday. Transport is not included in the package, so you can choose when and how to travel.
Exploring Windermere Lake
Today we are picking up our rental cars: the tour begins! First stop, it has to be a lake of course! Windermere Lake is a beautiful body of water. We'll have the opportunity to go on a cruise and admire our surroundings. It'll be a little taste of what we can expect in the next few days: enchanted countryside villages and unspoilt nature.
In the evening we'll have time to settle in and get ready for our welcome drinks. It'll be a great opportunity to break the ice and get to know each other a bit better - in front of a good pint of beer, or two!
Included in tour price: welcome drink and car hire.
Included in Money Pot: fuel and excursions.
Not included: extra food and beverages.
Around Windermere
50 %
25 %
25 %
The largest lake of the district
Good morning, WeRoaders! It's an early rise today but don't worry, we've got you covered. First things first, a hearty breakfast as we'll need plenty of energy for the day ahead! After breakfast, let's put on our hiking shoes and head to the trail which will lead us to Windermere Lake. The viewpoint above it is the perfect spot to admire the lake in all its beauty.
"The loveliest spot that man hath found"...
We'll have a lovely picnic lunch and while we eat, we can discuss what to do for the rest of the day. We can head to Hill Top, in search of Peter Rabbit, or maybe explore around Esthwaite Water. Or perhaps we could follow the footsteps of William Wordsworth around Rydal Water and Grasmere, which he described as 'The loveliest spot that man hath found".
Tonight we'll find a cosy pub for dinner and then back to our B&B. There's something about the countryside that just makes you want to curl up in bed with a hot cup of tea. Plus, get your beauty sleep because tomorrow it'll be another day full of fun and adventure!
Included in tour price: car hire.
Included in Money Pot: fuel and excursions.
Not included: Food and beverages
Keswick
70 %
20 %
10 %
Adventure time!
Today we are heading to Derwentwater Lake for an adrenaline-packed morning. You are about to Ghyll Scramble, an exhilarating and fun activity which involves going up stream, sliding down waterfalls and jumping into pools of water. It's hard to describe it but trust us, you won't easily forget it!
The very best of Keswick
After lunch and a bit of relaxation, we'll head to Castlerigg Stone Circle, an ancient monument dating back to the late Neolithic times. We could even hire bikes and ride around the area, enjoying the panoramic views over the surrounding mountains. Are you up for it?
Tonight we can try to catch a show at the Theatre By The Lake, one of the most beautiful theatres in the world!
Included in tour price: car hire and Ghyll Scramble adventure.
Included in Money Pot: fuel and others excursions.
Not included: Food and beverages
Derwentwater Lake and Cockermouth
60 %
40 %
Hiking and kayaking
Put on your hiking shoes, WeRoaders, 'cause it's time for another hike! Today we're off to the Catbells Walking Route, one of the most famous trails of Lake District. Have your cameras ready, you'll definitely need them! Later on we'll hire some kayaks and explore Derwentwater Lake, this time not just admiring it from above but actually getting in the water. The local community often organises clean up sessions to preserve the habitat and the nature of these waters so we could actually take up the chance and do our small part to help protect the environment.
Whisky tasting and farewell dinner
A good deed is its own reward… but we definitely deserve a little treat after the adventures of the last few days. This is why we are spending the afternoon at the award-winning Lakes Distillery, in Cockermouth. It is England's largest distillery, so get ready to discover all the hard work that's behind a good bottle of whiskey. You'll appreciate it even more once you get to sample and taste it! Then it's time for our farewell dinner! The tour may have been short but it was definitely intense, so let's raise a glass to the adventures of the past few days… and the many more to come!
Included in tour price: car hire.
Included in Money Pot: fuel and excursions.
Not included: Food and beverages
Check out and car drop off
It's unfortunately time to go! We'll head back to Lancaster to drop off the rental car and say goodbye: see you on the next WeRoad adventure!
End of services.
The itinerary may undergo some variations that differ from what is stated above. These variations may not be foreseen or dependent on WeRoad's control, i.e. climate conditions, national holidays, strikes, etc.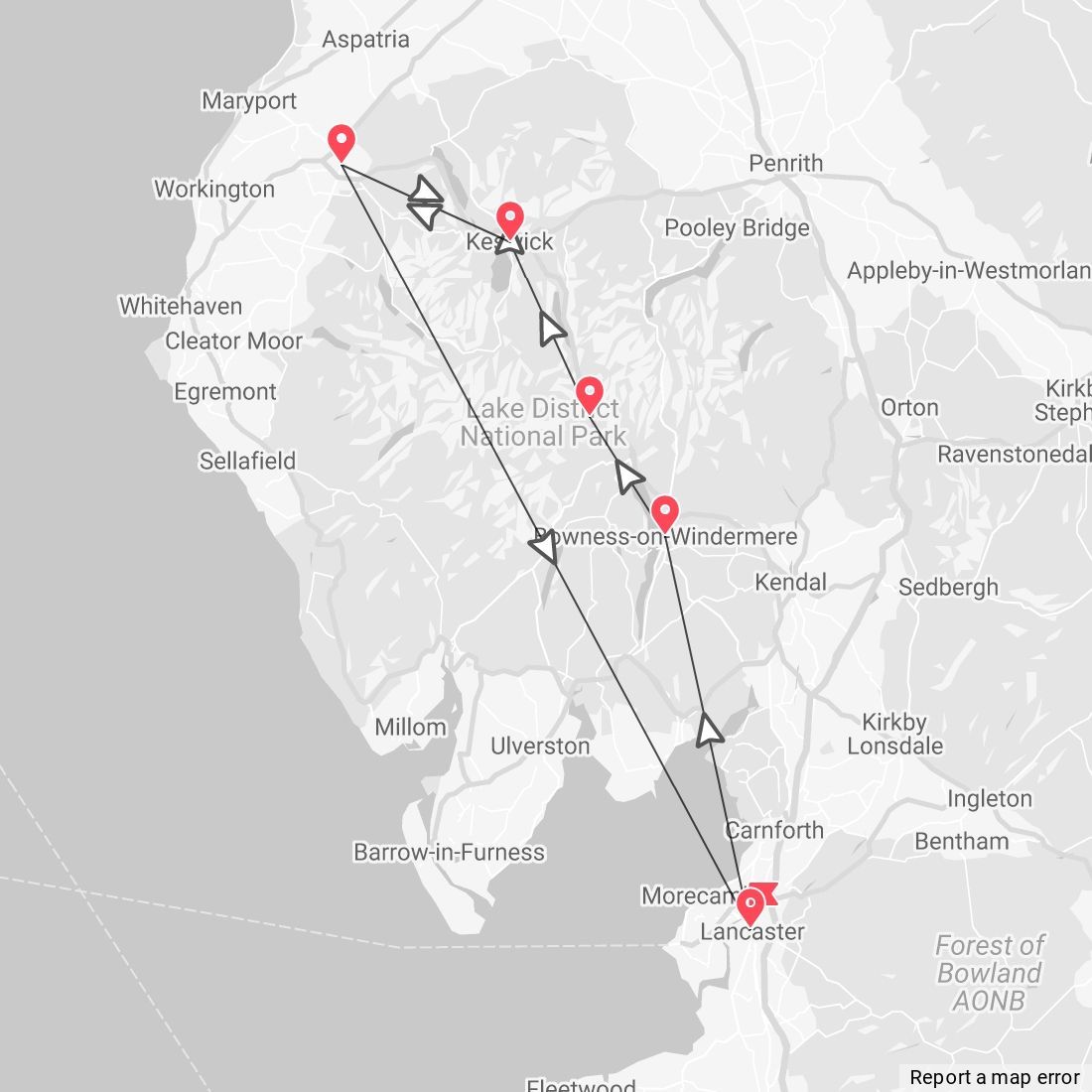 Show maps