Itinerary - Fuerteventura: beaches, nature and surfing on the island of eternal spring
Bienvenidos chicos!
100 %
Fuerteventura, the island of eternal spring
Flights to and from the UK are not included in the package, so you can decide from where and when you want to leave! This gives you complete freedom of choice to adjust your travel itinerary to your needs.

Check-in at the hotel in Fuerteventura and welcome meeting. We can already feel the sun kissing our skin: here, even in winter, there are those pleasant 20 degrees that make us forget the British cold. We break the ice with a good aperitif - tapas, of course - and get to know each other better. A toast to this adventure and to the next few days together is a must: salud!
Not included: Food and Beverages
Pop Corn Beach & Majanicho
50 %
40 %
10 %
Pop Corn Beach & Majanicho
We pick up our cars, our faithful travelling companions for the next few days, and off we go: our first stop is a very unusual place... Pop Corn Beach! What a strange name, you'll say: well done, you're sharp people - and it's not a random name. In fact, this beach is not made of fine white sand like the ordinary ones in the Caribbean, no: here there are popcorns - but let's not taste them, we might break some teeth. These pebbles in the shape of America's favourite snack are actually coral, washed ashore by the current: time to take photos to clog up our Instagram! We then move on to El Cotillo, a beautiful but decidedly less unusual beach: if the temperatures are right, we can even go for a swim - or at least "pop" our feet!
El Cotillo: playa las escaleras and breathtaking sunsets
In El Cotillo we also stop for lunch, as there is a small town here which is nothing more than an old fishing village. We sample some local produce - there's no shortage of fish! - and then on we go, this time towards Playa de la Escalera, which on tripadvisor is described as "speechless" - and we believe it. As the name suggests, you have to go down some stairs to get to the beach, so legs on your shoulders, down we go! We then climb back up to reach the last beach of the day, La Concha, not to miss the first breathtaking sunset and the welcome dinner. Now we can say it: the journey has officially begun!
Included: Car rental. Money Pot: Fuel and parking. Not included: Drinks and beverages.
Cofete: the wildest beach in Fuerte
70 %
30 %
Gran Valle: trekking to Cofete
After a whole day spent between more or less edible beaches, and after a hearty welcome dinner, we can consider ourselves fully charged up for today, which according to many includes the most beautiful beaches of Fuerteventura. We get into the car and start heading downhill: we have to get to Cofete beach, but to do that we will stop for a snack on the way!
Cofete: relaxation and sunbathing
We arrive at Cofete beach and it feels like paradise: miles and miles of beach all to ourselves! We explore the beach a bit and wait for the sunset because it's really worth it! Are we tired? Well, we are a bit: this evening we deserve a great dinner - fried sama, arroz con verduras, conejo al salmorejo... we're sure to find something to recharge our batteries!
Included: Car rental. Money Pot: Fuel and parking. Not included: Drinks and beverages.
Surf and dunes
60 %
40 %
Everybody's gone surfin'
This morning we brave the waves and try to stand on our boards for at least 2 seconds. No worries: the waves will be within everyone's reach, so even if it's our first time, we're sure to get through it unscathed - hopefully. It's going to be an intense session anyway (standing up on the board is no child's play!), so as well as lunch we treat ourselves to a good dessert - maybe try rapaduras, an almond cake covered in honey.
Corralejo Dunes Natural Park
The day doesn't end here, but continues with something a little softer: we reach the dunes of Corralejo, and suddenly we feel like we are in a faraway place... here we are in a natural park that is a real sand desert - perfect for taking a thousand photos, especially at sunset. We can decide whether to see it here (it's worth it) or whether to head out to sea - perhaps with a nice cold beer, which never hurts!
Included: Surfing lessons and car rental. Money Pot: Fuel and parking. Not included: Drinks and beverages.
Wonders of the South: Ajuy Caves and Sotavento beach
70 %
30 %
Ajuy Caves and Black Beach
If we've learned one thing: Fuerteventura offers incredible scenery. Today will be no different: we reach the town of Ajuy in the morning, where nature dominates the landscape, except for a small fishing village. We start our exploration of the surroundings by the black beach - in fact, it's impossible not to notice it, given the colour that clashes with the blue of the sea. If we also manage to spot the colourful boats on the shore, we'll have the perfect photo op of the day.
Sotavento and sunset at La Pared
There is more to see here than just the black beach. Hidden in the cliffs along the coast, are the Ajuy caves, which have been carved out by the ocean over the centuries - there's even a path to get to them, so of course we don't back down! After a bite to eat, we continue on to Sotavento beach, the 'changing' beach - in fact, depending on the tide, the beach changes from a lagoon to a Caribbean-like paradise. Where do we watch the sunset this evening? We move on to La Pared beach, another little natural jewel, and enjoy this peaceful moment.
Included: Car rental. Money Pot: Fuel and parking. Not included: Drinks and beverages.
Isla de Lobos
50 %
50 %
Discovering the island of Lobos
It's time to say goodbye to Fuerteventura for a while (a very little while, don't worry!). Today we're off to Isla de Lobos, which is easy to reach given the mere 2 kilometres that separate it from Fuerte. We explore the length and breadth of this little island, if you can call it that: there are only two roads here, one leading to the lighthouse, the other to the town - consisting of just a few small houses that don't even have electricity. The tranquility here is unparalleled, and you can truly enjoy the crystal-clear sea in peace.
Well-deserved relax
We return to Fuerteventura in the early afternoon. We have some free time and our advice is, of course, to go to the beach. We have to make the most of this beautiful sunshine, don't we?
Included: Car rental. Money Pot: Fuel, parking, Ferries to/from Isla de Lobos. Not included: Drinks and beverages.
Take your time
60 %
40 %
Last day
Last day of adventures in Fuerteventura; we are free to decide how best to spend our time here. Here or... elsewhere: today we can consider going to Lanzarote and spend the whole day exploring it - even here there is no shortage of beautiful things to see, such as the Timanfaya National Park, with its stunning volcanic landscapes. Alternatively, we can stay in Fuerte and relax on the beach or maybe do some water sports - it's the last chance to brave the waves again, so we can take advantage of it!
The last supper
After a busy day, the farewell dinner awaits us, the last moment to share together and look back over the days spent in Fuerte: it will be difficult to say goodbye to the island, but let's toast to the next trip!
Included: Farewell dinner. Money Pot: Fuel, parking. Not included: Drinks and beverages where not specified.
Check out
We have to say goodbye: see you at the next WeRoad adventure!
End of services. The itinerary may undergo some variations that differ from what is stated above. These variations may not be foreseen or dependent on WeRoad's control, i.e. climate conditions, national holidays, strikes, etc.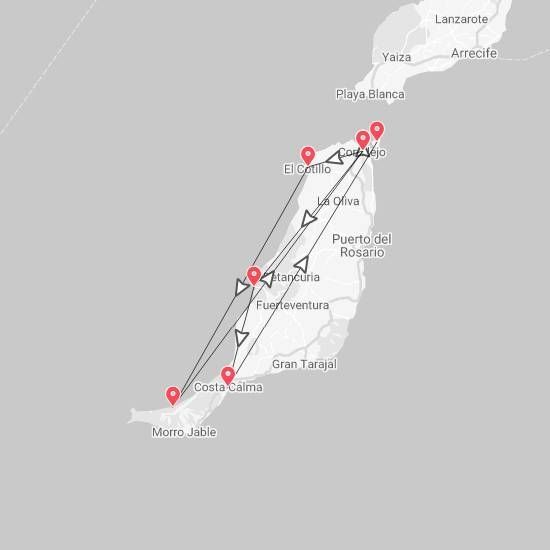 Show maps