Itinerary - Egypt: from the pyramids to the Valley of the Kings
Cairo
100 %
Welcome to Egypt!
Flights to and from the UK are not included in the package, so you can decide from where and when you want to leave! This gives you complete freedom of choice to adjust your travel itinerary to your needs.
Check-in at the hotel in Cairo. It's hard to arrive in Cairo and not be fascinated by this ancient city. The first settlement here dates back to Roman times, but a little further south are the ruins of Memphis; the ancient capital of Egypt which was founded in 3100 BC. Basically, you breathe history from the very first moment you set foot here. Let's take the chance to get to know each other a little better during the welcome dinner; it will be the perfect moment to taste the local cuisine and get this adventure off to a great start!
Saqqara and Giza
80 %
20 %
Starting from Giza...
Today we take our private minivan to the ancient capital of the Kingdom of Egypt. We drive to Giza, the first of the many UNESCO sites we will visit during this trip. We marvel at the pyramids of Cheops, Chephren and Mycerinus, which are undoubtedly the three best-known Egyptian pyramids in the world. It is, however, the majestic Sphinx that takes our breath away. It will be incredible to finally see these colossal monuments in the flesh, an example of ingenuity that has truly stood the test of time.
... and on to Saqqara!
In the afternoon we discover the necropolis of Saqqara, where less than two years ago a new, incredibly well-preserved tomb was discovered! It is thought to belong to an Egyptian official who lived here 4400 years ago.
Although parts of the site are not yet open to visitors, the charm is palpable: here we find the pyramid of Djoser, the oldest in the country. A total of 17 pharaohs have been buried here! If we have the time, we won't miss a visit to nearby Dashnur, always accompanied by a local guide of course, who will explain everything there is to know about these places.
On the road... via train!
After visiting the length and breadth of this corner of Egypt, we reach the train station and board a night train. We will cross half of Egypt tonight and wake up tomorrow morning in Aswan, ready for new adventures. We have dinner on board the train, settle into our bunks and enjoy the evening amongst ourselves - can we all fit into one compartment for a game of cards?
Included: Night train and dinner.
Money Pot: Entrance fees and local guides.
Not Included: Meals and drinks where not specified.
Assuan
80 %
20 %
An island in the middle of the Nile
We wake up much further south than the capital: overnight our train has taken us from Cairo to the city of Aswan, which lies along the Nile just beyond Lake Nasser. This is another city with ancient origins. In ancient Egypt, stone caravans used to leave from here for the construction of the Giza necropolis, which we visited yesterday. We leave our backpacks in our accommodation and then take a quick transfer to reach the island of Elephantine, which is located right in the middle of the Nile near Aswan.

We spend the late morning exploring the island. Here, like everywhere else in Egypt, we find remarkable archaeological remains, including a Jewish colony that probably took refuge here to escape deportation to Babylon. We have lunch on the island, perhaps tasting the mahsi, a delicious vegetable and rice dish. After exploring the island some more, we board a felucca (a typical sailing boat) from these parts, and prepare for a dreamy sunset!
Money Pot: Entrance fees, transport and local guides included.
Not Included: Meals and drinks where not specified.
From Assuan to Abu Simbel
70 %
30 %
Morning in Assuan and transfer
This morning we wake in beautiful Assuan which is a popular destination thanks to many factors: its nature, the colours of the Nubian houses, the beauty of the Nile river, the simple and good people as well as the spectacular monuments... We have a free morning in Assuan and after lunch we leave for the archaeological site of Abu Simbel.
Included: Private transfer with driver and local guide included in the tour fee. Entrance fees included.
Not Included: Meals to be paid for by individual participants.
Abu Simbel
70 %
30 %
Opposite Ramses II
Today we're at the archaeological site of Abu Simbel, which might not sound familiar, but one look at a photo and we'll immediately recognise it. Within the site there are two main temples carved into the rock, but it is undoubtedly the Main Temple that is the most famous. The temple was built by Ramses II to deify himself; on the façade we can even see the four statues of Ramses II which stand at 20 metres high.
A colossal move!
The interesting thing is that here we are not in the exact place where Abu Simbel was built, in 1964, the entire archaeological site underwent a 'move' by UNESCO. This is because the then Egyptian president announced the construction of a dam and a reservoir near the temples, which risked damaging them. So the whole site was dismantled and then rebuilt 65 metres higher and 210 metres further back, where we see it today. This means we can still appreciate it in all its splendour, and be grateful that such beauty is protected and safeguarded. We return to Aswan in the late afternoon, where we can relax and spend the evening in good company.
Included: Private transfer with driver and local guide included in the tour fee. Entrance fees included.
Not Included: Meals to be paid for by individual participants.
Kom Ombo and Edfu
80 %
20 %
Ancient buildings
We say goodbye to Assuan, which has been our home for the last two days, and head for Edfu. On the way, we have time to make a quick stop at Kom Ombo, a place of worship built during the rule of the Ptolemaic dynasty. We stretch our legs as we get our daily dose of history! We then continue on to Edfu, here too, we are faced with an ancient place of worship dating back to the Old Kingdom but which has seen several restorations. The structure here is very special and is called "a telescope" - and it won't take you long to understand why!
Towards Luxor!
Luxor, here we come! Luxor was Egypt's capital during the Middle Kingdom: we are in the ancient city of Thebes and it is still an incredibly important place from an archaeological point of view. In the afternoon we'll concentrate on exploring the temple complex of Karnak, which stands on the east bank of the Nile: the uniqueness of this place lies in the fact that over some 1600 years every pharaoh or king has left a trace of himself and what we see today is practically an open-air history book.
Included: Private transfer with driver and local guide included in the tour fee. Entrance fees included.
Not Included: Meals to be paid for by individual participants.
Luxor
100 %
An unforgettable experience!
Good morning Luxor! We are ready to be charmed and fascinated by your history, secrets and beauty!
There is no better way to start the day than with a hot air balloon flight at dawn... an experience to check off the Bucket List!
Yesterday we explored Luxor's east bank, today we move on to the west bank. After so many days spent exploring these archaeological sites, we will feel like Indiana Jones ready to discover new treasures, and today will be no different! Our guide will take us past the Colossi of Memnon, erected over 3400 years ago, and then on to visit the Valley of the Kings, home to the tombs of many pharaohs - for 500 years, in fact, it was the burial place of choice for rulers.
More graves!
We continue our discovery of Ancient Egypt and visit the funerary temple of Hatshepsut, also known as Djeser-Djeseru. Dedicated to the solar divinity Amun-Ra, it is also the home of Howard Carter, the celebrated archaeologist who is credited with finding the tomb of Tutankhamun - the pharaoh who lived at the end of the 18th dynasty and is known to most for the alleged curses that befell the archaeologists involved in the discovery of his tomb!
Included: Private transfer with driver, local guide and hot-air balloon flight included in the tour price. Entrance fees included.
Not Included: Meals to be paid for by individual participants.
From Luxor to Cairo
50 %
50 %
Back to the capital
We are almost at the end of our trip to Egypt! Today, an internal flight awaits us, taking us straight back to the capital: we arrive in Cairo in the afternoon and leave our rucksacks in the hotel to explore the city a little. There is no shortage of architectural beauty here: there are several eye-catching mosques as well as the Citadel to see, which is elevated above the other parts of the city and gives us a unique view of this great African metropolis.
Included: Internal flight and local guide included in the trip fee. Local transfers in Cairo and entrance fees included in the tour fee.
Not Included: Meals to be paid for by individual participants.
Cairo
60 %
40 %
Get lost in the streets of Cairo!
It's our last day in Egypt and we're sad but we don't lose out! We have a whole day to discover unique corners of the city - our local guide will certainly help as he takes us through the streets of Cairo. The city's souk, Khan el Khalili, is a must-see on this tour. We can find everything from ancient Egyptian artefacts (reproductions, of course!) to lamps, vases and papyrus sheets... The question is, who will find the most original souvenir to take home with them?
Relaxation or more history?
We have a free afternoon. If all the days spent discovering the ancient Egyptian civilisation have not been enough, we can pop into the Egyptian Museum, where we can see a myriad of artefacts. These include artefacts found during the excavations of the pyramids and various tombs, as well as some mummies and the famous Tutankhamun's death mask. If the museum doesn't entice us, there are other areas of the city to explore, such as the district called Islamic Cairo. Whatever we choose, tonight we all meet up for a farewell dinner; time to say a proper goodbye and spend one last evening together.
Included: Farewell dinner.
Money Pot: Local transport, entrance fees and local guides.
Not Included: Meals and drinks where not specified.
Check-out and goodbyes
Time to say goodbye ): Until our next WeRoad Adventure!
End of services:
The itinerary may undergo some variations that differ from what is stated above. These variations may be unforeseen or beyond WeRoad's control, i.e. climate conditions, national holidays, strikes, etc.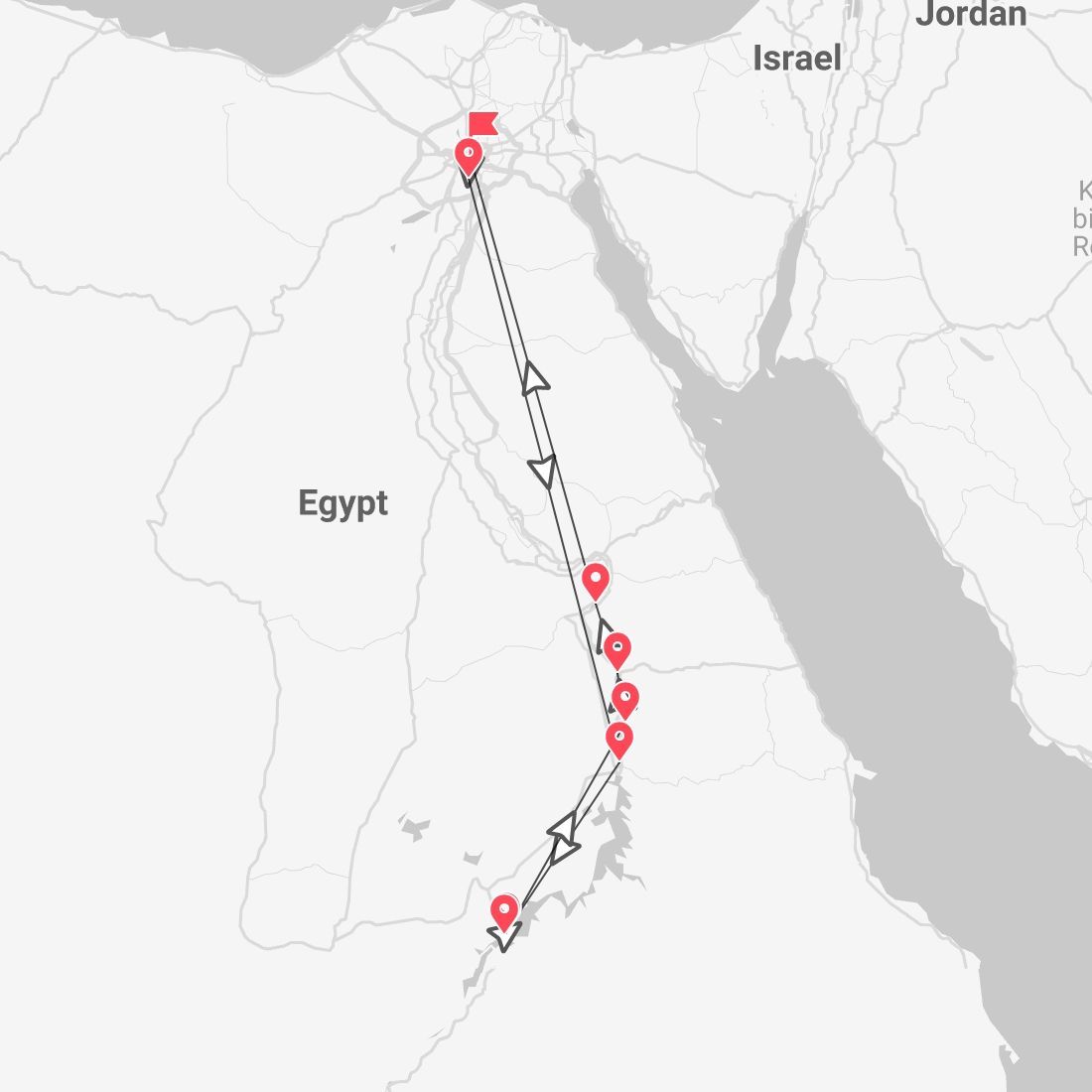 Show maps