Itinerary - Costa Rica: Pacuare River, Arenal and the Pacific Coast
Welcome to Costa Rica
100 %
Check-in
International flights are not included in the package so you are free to decide where to depart from, at what time and with which airline.

Check in at the hotel in San Jose, drop your bags, and then step outside for your first taste of Costa Rica's underrated capital city. Tonight is all about getting to know your new found friends, and what better way to do that than with a Welcome Dinner at a local restaurant. Why not do it like the locals do and try casado - a dish composed of rice, beans, salad, fried plantain and meat or fish. A real adventure awaits, so raise a glass to your group and the memories you're about to make.
Included: Welcome Dinner
Rafting the Pacuare River
100 %
Rafting!
On this trip, we don't waste any time getting the adventure started. After being picked up from the hotel, and making a stop for breakfast, we'll get our first glimpse of the mighty Rio Pacuare. The river looks great from the bank but even better when you're on it - so grab your paddle and hop in your raft! There'll be times when the river is calm and we can enjoy the scenary, and others when we'll have to work together to conquer the rapids. Is there a risk of getting wet? Yes, and we absolutely love it!
The road to La Fortuna
After all that adrenaline you'll be ready for lunch, so we'll refuel before taking our transfer north to La Fortuna. Once a small farming town in the shadow of the Arenal Volcano, La Fortuna is now Costa Rica's premier adventure destination. It's also home to numerous hot springs so why don't we take a tip in soothing water in preparation for an action packed day to follow.
Included: Transport, lunch and rafting on the Pacuare River
Money pot: Other entrance fees
Not Included: Meals and drinks where not specified
All action at Arenal Volcano
100 %
Pure adventure
Today we can hike through the jungle trying to spot parrots and monkeys on the way to La Fortuna waterfall, one of the most beautiful in the country. Don't forget your swimming costume as you'll be able to take a dip in the natural pool just below the waterfall. If you're looking for a breathtaking view, and a shot of adrenaline, you can take a zipline through the tree canopy. And the activities on offer don't end there. In the park you will also find Arenal Lake, the largest in Costa Rica, where you can kayak with the majestic view of the volcano in the background. It's going to be a busy day so it's lucky that the thermal pools are waiting for you.
Included: Car hire
Money Pot: Petrol and entrance fees
Not included: Meals and drinks where not specified
The ocean is calling
50 %
50 %
Tenorio National Park
We're leaving behind Costa Rica's mountainous interior and heading for the golden sands of the Pacific coast. But there is one more jewel in Costa Rica's crown for us to see first. Tenorio Volcano National Park with its tropical rainforest and sky blue waters is not to be missed. It's up to us how we choose to explore the park, we can hike to the famous Celeste Waterfall or hit the water and tube our way through the jungle.


To the beach!
We'll finish off today's road trip by driving the final few hours to the coast and the laid back, palm-fringed town of Samara. Find a beach side table for dinner and watch the sunset over the Pacific safe in the knowledge that we have time to settle into this little piece of paradise.
Included: Car hire
Money Pot: Petrol and entrance fees
Not included: Meals and drinks where not specified
Relaxation and sunsets on the beach
40 %
40 %
20 %
Pura Vida
We've had a busy few days so with the sand between our toes, the sea breeze in our hair and all the fresh coconuts you could want, the time has come to kick back and relax. Or not! Maximum chill time isn't the only thing on offer in this beautiful little corner of Costa Rica. We can take surf lessons, go snorkelling, kayak through the mangroves, or saddle up for horse riding at sunset. Either way, it's up to us, and the best part is that we have two full days to enjoy it all. As day turns to night there remains plenty to keep us entertained. Cocktails by the beach and live music? Yes please.
Included: Car hire.
Money Pot: Petrol and entrance fees.
Not included: meals and drinks where not specified.
San José: the capital city of colour
50 %
50 %
Enjoy the capital
It's time to hit the road one last time as we're heading back to the capital for our final day in Costa Rica. We can soak up local life with a stroll through central San Jose, enjoying the musicians and dancers sharing their art with passers-by as we go. Then let's grab a coffee (we're in Costa Rica, afterall) and a slice of famous tres leches cake and watch the world go by. We end our adventure with a farewell dinner, giving us another chance to try more typical dishes, such as sopa mariscos, chicharrones or chifrijo. We'll raise a toast to the memories we have made together, before carrying on the celebrations at a bar in the centre of town. It's our last night here and we have to make the most of it!
Included: Car hire and farewell dinner.
Money Pot: Petrol and entrance fees.
Not included: meals and drinks where not specified.
Check out and farewell
It's sadly time to say goodbye to wonderful Costa Rica.
End of services.
The itinerary may undergo some variations that differ from what is stated above. These variations may not be foreseen or dependent on WeRoad's control, i.e. climate conditions, national holidays, strikes, etc.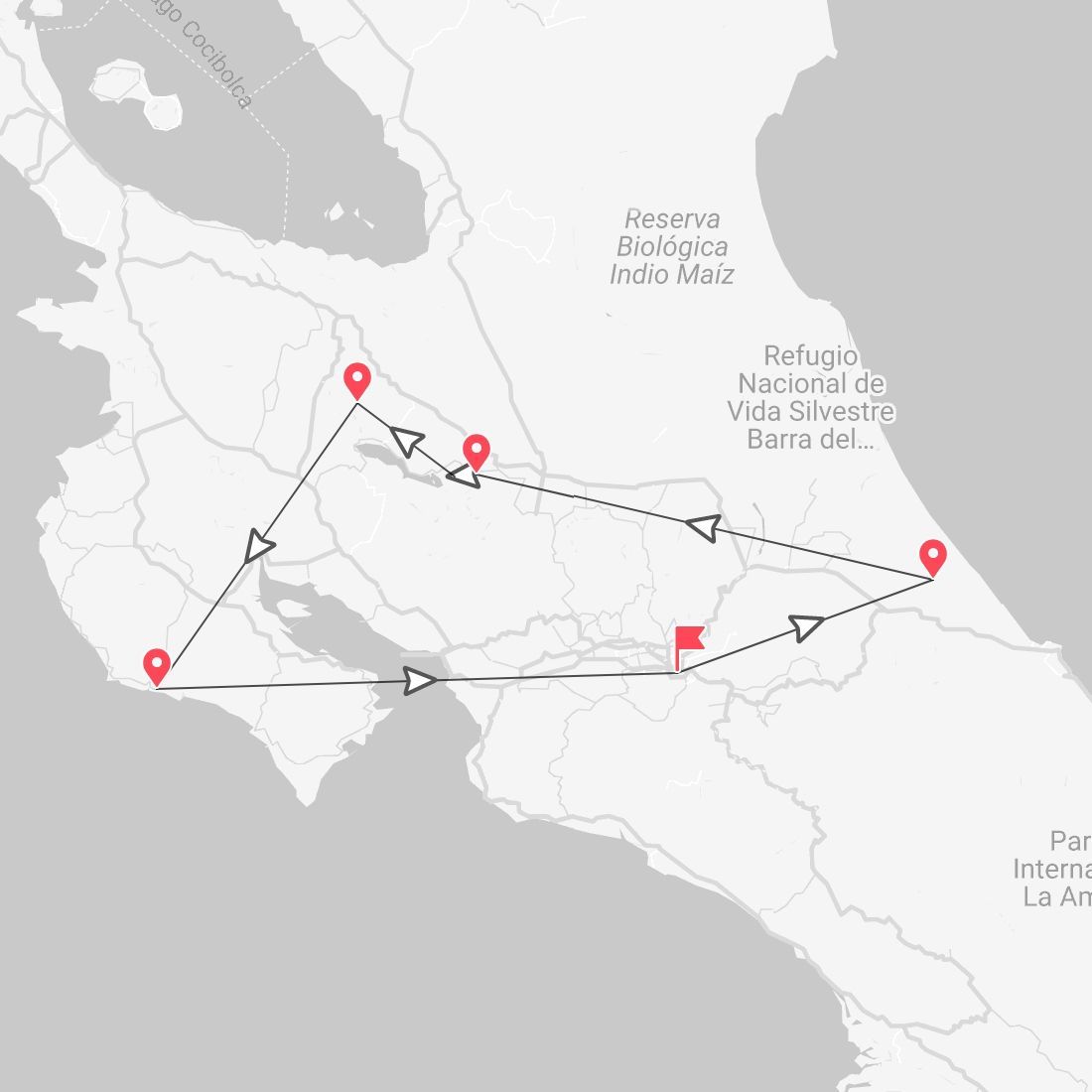 Show maps