Itinerary - Italy: exploring Sicily from Mount Etna to the Southern Coast
Catania: this is where it all begins!
100 %
Welcome to Sicily
Roundtrip flights are not included in the package, so you can choose from where and when you want to fly. Check-in to your hotel in Catania, put your backpack down and get ready to… eat! Cannoli, arancini… What shall we taste first?
Nice to meet you!
It's time to meet your fellow WeRoaders and get to know each other, in front of a refreshing glass of fizzy tamarind. Let's raise a glass to the start of a wonderful adventure!
What's not included: food and beverages
From Mount Etna to Siracusa
50 %
30 %
20 %
Trekking on an active volcano!
Rise and shine, everyone! It's time to head to the tallest active volcano in Europe: Mount Etna. It takes about an hour in the car to reach our destination. After that, you can put on your trekking boots and admire the variety of landscapes around you. Green vines and olive trees, as well as oaks and chestnuts, create a stark contrast with the black plains made of volcanic rocks. Once we reach the summit we will be greeted by the beautiful Ice Cave. As the name suggests, this volcanic cave is famous for its stalactites and the presence of ice, even during the hottest of summers! For lunch, we'll stop at one of the typical mountain huts (rifugi), where you'll also be able to shop for lovely souvenirs.
On the road to Siracusa
After lunch, we'll take it easy and head towards our next stop for the day: Siracusa. We'll settle into our hotel, grab a shower and then it's time for aperitivo and our welcome dinner… Italian style, of course!
Included: car rental, trek on Mount Etna with a local guide and welcome dinner
Money Pot: petrol
What's not included: food and beverages where not specified
Siracusa, Noto and Marzamemi
50 %
30 %
20 %
Siracusa and Noto
What a better way to start the day than with a stroll around Siracusa? We'll head to the iconic Greek Theatre, one of the most visited places in all of Sicily. After that, it's time to visit the Ear of Dionysus, a beautifully carved limestone cave, and the Roman Amphitheatre. Last stop is the Island of Ortigia, before heading to Noto for lunch. You'd better keep an empty stomach, because here we will be tasting delicious traditional dishes such as octopus with potatoes and pesto sauce, pasta with swordfish and aubergine or the famous seafood spaghetti "allo scoglio". Yum!
Marzamemi
After lunch it's time to visit the beautiful seaside village of Marzamemi. This old and charming town is full of shops selling local artisans' crafts. After a bit of shopping, let's spend the afternoon relaxing in one of the many beach front bars. How about a delicious aperitivo? We'll then head to Modica, where we'll spend the night and get some rest before tomorrow's adventures.
Included: car rental
Money Pot: petrol
What's not included: food and beverages
Modica and Scicli
80 %
20 %
Modica
Today we'll have plenty of time to visit Modica and stroll along its streets. Soak up the beautiful atmosphere and breathe in the history of this city. Narrow alleyways leading up to steep staircases: a beautiful baroque city in the south of Sicily. Another perk? Modica is famous for its…. chocolate! A tradition dating back almost 400 years, it's surely nothing like what you have tasted before!
Scicli
This afternoon we'll head to Scicli, a town off the beaten track but definitely worth a visit. Its cave settlements and baroque architecture transport you right back in time. Scicli is also known for being the backdrop of an extremely famous Italian TV series, "Inspector Montalbano", so we definitely don't want to miss this gem!
Included: car rental
Money Pot: petrol
What's not included: food and beverages
Ragusa: it's beach time!
80 %
20 %
A little slice of Heaven!
Picture this: blue skies, golden sand and crystal clear waters. Nope, it's not a tropical island, it's what you can expect from Marina di Ragusa! A short distance from the town is Playa Grande; this beach can be accessed with a short walk through unspoiled nature, but the view awaiting will be absolutely worth it. The bay is at the end of the Nature Reserve of the River Irminio; a great spot for a group snap! We'll spend the evening in one of the many bars on the promenade in Marina di Ragusa, sipping cocktails and dancing the night away!
Included: car rental
Money Pot: petrol
What's not included: food and beverages
Scoglitti: it's time to relax
80 %
20 %
A good dose of Vitamin Sea!
Another day brings more beautiful beaches to explore! Today we head to Scoglitti, a fishing village in the south of Sicily with a picturesque harbour, a lighthouse and the Lanterna Promenade. The beach here has all the facilities you may think of, but there are other smaller bays to discover around the area, such as Baia del Sole or Baia Dorica. If you fancy a change of scenery, the afternoon can be spent exploring Ibla and Ragusa, walking around the streets and soaking up the romantic atmosphere. Evenings here are just as magical; shops are open until late, so plenty of time to get your hands on some lovely handcrafted goodies!
Included: car rental
Money Pot: petrol
What's not included: food and beverages
Catania
70 %
30 %
Back to where it all began
It's time to head back to Catania, so get comfy in the car. The journey will take a couple of hours so choose a road trip playlist and get singing!
Exploring the city
Catania is an ancient port city at the foot of mount Etna, a true gem of Sicily's east coast. Get lost in one of the many churches, squares and little alleyways, as you admire the wonderful architecture. A must stop is the Fera 'O Luni, the old market in Carlo Alberto Square. This is just the spot for some last-minute shopping! Another great place to visit is the terrace on Sant'Agata Abbey, overlooking the city and offering a wonderful view. The right backdrop for another group snap… Say "Cheese!" Tonight's farewell dinner will be a special celebration of all the adventures we have shared in the past week, in front of some amazing food…and a glass of wine, of course. Salute!
Included: car rental and farewell dinner
Money Pot: petrol
What's not included: food and beverages where not specified
Bye bye Sicily
We have to say goodbye: see you on your next WeRoad adventure!
End of services:
The itinerary may undergo some variations that differ from what is stated above. These variations may not be foreseen or dependent on WeRoad's control, i.e. climate conditions, national holidays, strikes, etc.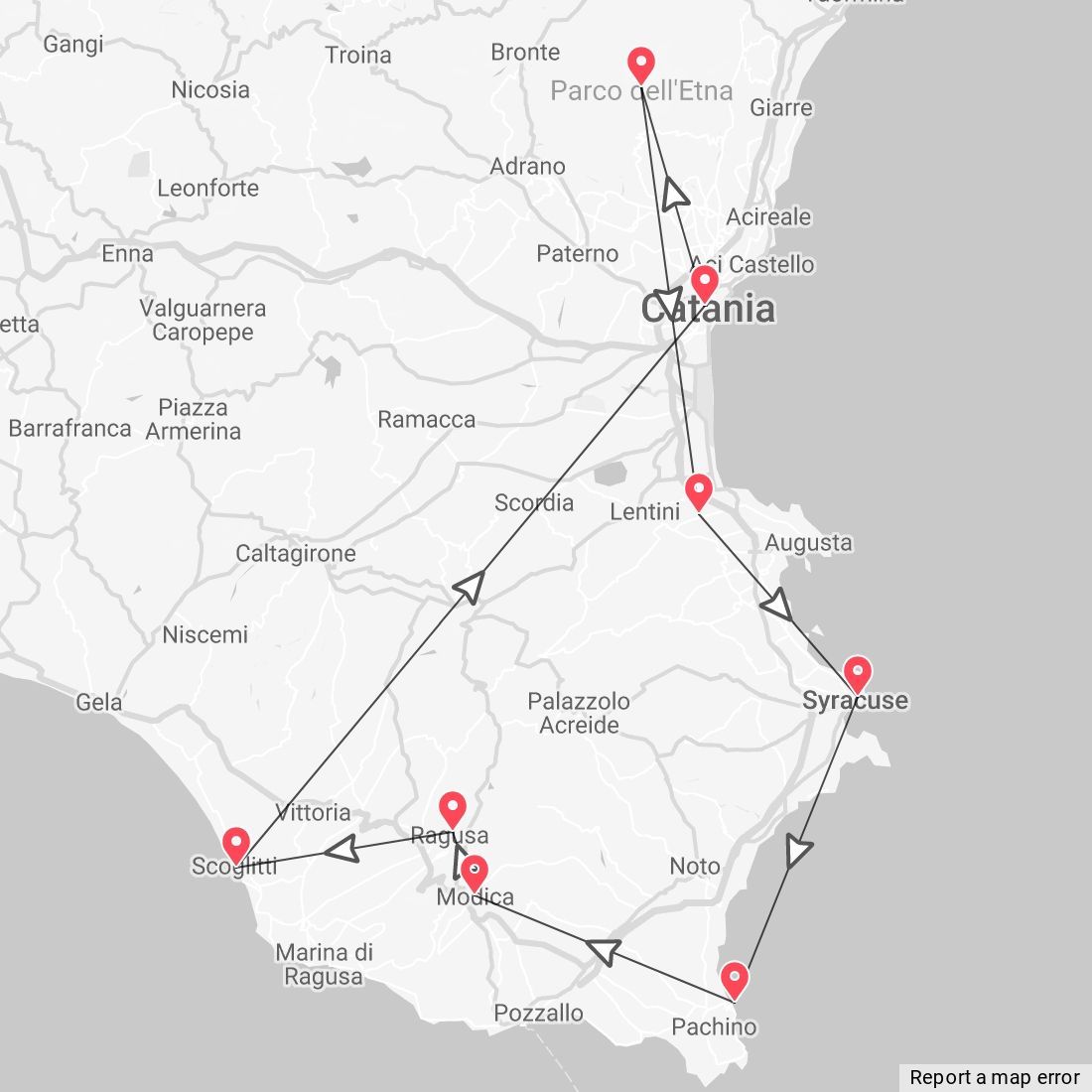 Show maps