Itinerary - Italy: exploring the Dolomites between Veneto and Trentino
Treviso
100 %
Welcome to Treviso
Roundtrip flights are not included in the package, so you can choose from where and when you want to fly. Treviso is a charming city full of history. It was once called the "little Venice" of Italy, and you'll definitely see why once you get here. We'll then take a walk along the old Roman walls surrounding the city. Finally, it's time to get to know each other in front of a glass of Aperol Spritz: welcome to the tour, Veneto style!
Zumelle and Cison
30 %
50 %
20 %
Time travel… to the Middle Ages!
Good morning, WeRoaders! Are you ready to start this adventure? Today we're going to travel back in time, visiting historic villages and ancient castles. Our first stop is Zumelle Castle: nearly 2000 years old, it was often the centre of conflicts, because of its strategic location. The castle was then rebuilt in 1311 and it now stands in all its glory. Wanna know the best part? We'll get to play real knights and dames, and have a themed lunch with typical mediaeval drinks and foods. After lunch it's time to visit the beautiful Blue Cave of Mel, a turquoise paradise hidden in the woods of Valbelluna!
Historic villages
The afternoon will be spent in one of the most charming places in Italy, Cison di Valmarino. This little historic village is nestled in the Prealps so expect beautiful nature hikes, horseback rides and typical agriturismi (local farmhouses) where you'll be sampling delicious homemade produce. The highlight will surely be Castelbrando, the castle overlooking the village. Here, you can sip a refreshing aperitivo inside the castle's walls, or why not treat yourself to a nice hot jacuzzi bath, overlooking the valley below? However you choose to spend your afternoon, let's not forget tonight's welcome dinner… Andiamo!
Included: welcome dinner and car rental
Money Pot: petrol and castles' admission fees
What's not included: food and beverages where not specified
Lagazuoi
50 %
50 %
To the top of the Mountain!
Today we'll be reaching the highest peak of our tour, on Mount Lagazuoi. We'll hike through the mountain and climb back out using a tunnel which had been originally built during the first world war, to protect soldiers. The peak stands above 9000 ft and the wartime tunnel will be an emotional journey through nature and history. The hike takes about two hours; it's not strenuous but it does require a bit of physical effort. Alternatively, we can reach the summit using the cable cars, and then descend on foot. The choice is all yours!
The Pearl of the Dolomites
This afternoon we'll head to Cortina d'Ampezzo, a celebrity destination when it comes to the Italian Mountains. Cortina is a true gem in the heart of the Dolomites, with the view of the mountains surrounding it and the many typical restaurants where we'll be tasting some local delicacies.
Included: car rental
Money Pot: petrol and admission fees where applicable
What's not included: food and beverages
Braies
100 %
A bright blue mountain lake
Lake Braies is the most photographed lake in the Dolomites. A quick Instagram search will definitely explain why, but we suggest saving the surprise and coming along on this tour to find out exactly why! There is a beautiful loop trail all around the lake and in winter, the water turns to ice and you can actually walk all over it! We'll have plenty of time to stop and admire this wonderful landscape so breathe in the fresh air and recharge your batteries!
Included: car rental
Money Pot: petrol
What's not included: food and beverages
Three Peaks
100 %
The three peaks of Lavaredo
Another day packed full of adventure awaits you! Today we're off to the Three Peaks of Lavaredo! We'll park the car at Rifugio Auronzo and start our 5.5 mile hike from there. No need to panic: the walk is mostly flat with only a few climbs along the way. Nothing too steep though, we promise! Halfway through, we can stop for a picnic lunch in the fields, or in one of the mountain huts along the hike. After around 4/5 hours we'll be back at Rifugio Auronzo for a well deserved salami sandwich and a refreshing pint of lager. Authentic afternoon snack, Veneto style!
Included: car rental
Money Pot: petrol and road tolls
What's not included: food and beverages
Possagno and the wineries of Valdobbiadene
30 %
20 %
30 %
20 %
Antonio Canova's house
Today is all about Italian culture and art history. We are heading to Possagno, the hometown of Antonio Canova, where you'll be able to visit his house. Canova is one of the most famous Italian sculptors of the 1800 and one of his most famous pieces, The Three Graces, is displayed at the V&A in London! Before lunch, we'll make our way to Asolo, another beautiful historic village. It's time for an aperitivo on the castle's grounds and a typical lunch in a local inn. Buon appetito!
Prosecco is always a good idea!
This afternoon we'll visit the wineries in Valdobbiadene, where the iconic Prosecco is produced. We'll learn how the wine is made and how to recognise the many varieties. And what better way to learn, than to actually sample the product itself? You'll dazzle everyone with your wine knowledge, at your next dinner party!
Included: car rental and visit to a winery
Money Pot: petrol, admission fees where applicable and wine tasting
What's not included: food and beverages where not specified
Treviso
70 %
30 %
Back in Treviso
It's time to head back to beautifulTreviso and visit all this city has to offer. Let's take a stroll along the narrow streets to the old town centre and then head to Piazza dei Signori, Piazza del Duomo with its magnificent cathedral, and finally the famous Piazza delle Tette (literally, Boob Fountain!) Again, we won't spoil too much about it, but you'll definitely learn a lot about the legends surrounding this monument! Tonight is our farewell dinner, the last chance to taste some more local delicacies (as well as some delicious Aperol Spritz!). After dinner, we'll check out some of the most famous bars in the city and spend the night together, remembering the adventures of the last few days.
Included: car rental and farewell dinner
Money Pot: petrol and admission fees where applicable
What's not included: food and beverages where not specified
Bye bye
100 %
Check out and goodbye
We have to say goodbye: see you on your next WeRoad adventure!
End of services:
The itinerary may undergo some variations that differ from what is stated above. These variations may not be foreseen or dependent on WeRoad's control, i.e. climate conditions, national holidays, strikes, etc.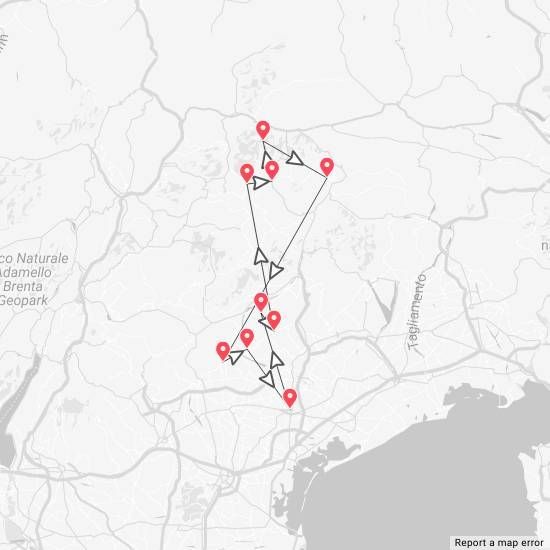 Show maps