Itinerary - Thailand: Bangkok and the Beaches of Krabi
Welcome to Thailand!
100 %
Check-in and welcome meeting
International flights are not included in the package so you are free to decide where to depart from, at what time and with which airline.

Check into your hotel in Bangkok and prepare for your first evening in the Land of Smiles. Tonight is all about getting to know your new travelling companions, and the bustling Khao San Road area of Bangkok is the perfect place. So settle in and enjoy the tasty street food and buzzing bars because when the sun goes down, Bangkok comes alive. Let's raise a glass to the start of our Thai adventure!
Not Included: food and drinks
Bangkok's temples and markets
40 %
40 %
20 %
Temples and markets
Good morning Bangkok! There a few cities in the world which capture the senses like Thailand's sprawling capital. It is at once both chaotic and refined, spiritual and hedonistic, modern and historical. And having already enjoyed the nightlife, it's time to see what is on offer by day. And there is a lot to choose from! We can first hit some of the most important cultural sights, and in Bangkok that means temples. Two must sees are Wat Pho, with its giant reclining Buddha, and Wat Arun which sits majestically on west bank of the Thonburi River.
In the afternoon we can bring things up back up to date and explore some of Bangkok's most interesting markets and neighbourhoods. There is the Folding Umbrella Market, famous for the train that runs right through the middle of it several times a day. Or there is the floating market at Damnoen Saduak, where vendors sell their produce from narrow boats as they bob on the canal. Be sure to grab a snack from one of the floating kitchens! A local guide will be with us throughout the day to help uncover hidden gems and give us a real understanding of the people and places we encounter along the way.


Welcome dinner
We'll round the day off with the welcome dinner to reflect on the awesome day we've just enjoyed and look forward to the rest of our adventure. Beaches and islands, here we come!
Included: local Bangkok guide, welcome dinner

Money Pot: admission fees where applicable

Not Included: other food and drinks
Take us to the beach!
50 %
50 %
From Bangkok to Railay
The beach is calling our name and we can't wait any longer. So we'll catch our internal flight south to Krabi ready for the next phase of our adventure. This is the Thailand of your dreams, where spectacular limestone outcrops punctuate the landscape and soft white sand fringes the warm Andaman sea. Our home for the next four nights is Railay, a small but lively town that sits on a peninsula jutting out into the ocean.

Cut off from the rest of the mainland by enormous cliffs, Railay can't be reached by road, so we'll hop on a long tail boat for the 15 minute ride and our first glimpse of some of the best beaches in all of Thailand. The rest of the afternoon is ours to enjoy however we please and as evening approaches we can enjoy a beautiful sunset from the beach before strolling down walking street with it's souvenirs, bars and restaurants. The perfect place to sample the cuisine that this region is famed for - delicious, fiery-hot curries. So grab a beer and prepare your tastebuds!
Included: internal flight to Krabi, transfer to Railay

Money Pot: admission fees where applicable

Not Included: food and drinks
Rock climbing in Railay
20 %
80 %
Let's try rock climbing
Railay isn't only famous for its beaches and landscapes. The imposing limestone cliffs that tower over the sea are a haven for rock climbers who travel from around the world to test their skills on the crags of Railay. It's a must-try while in the area, so this morning we're going to follow in the footsteps of the local monkeys and attempt to reach the top of the wall where the prize is an incredible view of the beach and ocean below. We'll be in the capable hands of expert instructors and there are options available for climbers of all abilities, even if you've never tried it before. And who knows, maybe you will come back with a new hobby!

After a morning of climbing we've earned a break. So, the beach anyone? We're spoilt for choice, but nearby Phra Nang Cave Beach has been voted one of the best in the world, and is a candidate for the most beautiful in all of Thailand. Sounds pretty good to us!
Included: half-day rock climbing activity

Money Pot: admission fees where applicable

Not Included: food and drinks
Kayaking, snorkelling, sunbathing... you decide!
30 %
30 %
40 %
The choice is yours
So what is on the agenda for today? Well, it's up to you! Or we can set sail for some of the islands just off shore, and which you've likely been admiring from the moment we arrived. First stop is Tub Island, a magical place where three islands are connected by a sandbank at low tide. Then it's on to Chicken Island - see if you can spot the chicken head rock formation that gives the island its name - where the coral reef is stocked with abundant marine life making it a perfect snorkelling spot. Finally we can stop by Koh Poda to relax on the beautiful beach and snap photos of the famous rock looming just off the beach which you'll recognise from the postcards sold back in town.

Or we can explore under our own steam and hire sea kayaks to get a stunning new perspective on Railay's beautiful coastline. Many of the most dramatic spots in the area can only be reached by boat so this is the perfect way to to seek out hidden inlets and secret beaches. Alternatively, for a cultural fix, we could head inland to Tiger Cave Temple - one of the most sacred Buddhist temples in Thailand. It's a steep climb to the top where a huge gold buddha sits, but the views of the jungle, mountains, oceans and islands are well worth it. And if our trip falls over a weekend, we can make the short journey to check out Krabi Town's famous night market for a glimpse into local life, live music and senstational street food.
Money Pot: admission fees where applicable

Not Included: food and drinks
Koh Phi Phi and that beach
50 %
50 %
That famous beach
It's our last full in Railay so let's make it one to remember. A boat trip to Koh Phi Phi is just the ticket. Made world-famous by Leonardo DiCaprio in The Beach, this archipelego of six islands lies 42km off the mainland in the middle of the Andaman Sea. We can spend the day sunning, swimming and snorkelling as we hop from one picture postcard stop to the next, including Pileh Lagoon, which is surrounded almost entirely by enormous cliffs and Maya Bay, the perfect crescent beach you will recognise from the movie. Back on the mainland we will be sure to mark our final evening by the beach in style with drinks on the beach as the sun sets, partying with sand between our toes one last time.
Money Pot: Koh Phi Phi boat trip, admission fees where applicable

Not Included: food and drinks
Back to Bangkok
50 %
50 %
On the way back
We have one last morning in Railay. We can chill on the beach and take one last dip in the water or we can take on the short but steep hike to Railay Viewpoint for superb views of our new favourite place. Then we will take a transfer to back to Krabi airport for our short flight back to Bangkok. Once back in the capital we will have time for souvenir shopping before our farewell dinner and a final taste of authentic Thai food that tastes so much better than it does at home. As the curtain drops on a wonderful adventure, we can spend our evening in one of Bangkok's rooftop bars savouring every last second of our time with new friends in maginficent Thailand.
Included: transfer to Krabi airport, internal flight to Bangkok, farewell dinner

Money Pot: admission fees where applicable

Not Included: other food and drinks
Check out
We have to say goodbye: see you on your next WeRoad adventure!
End of Services:

The itinerary may undergo some variations that differ from what stated above. These variations may not be predictable nor depend on WeRoad's will, i.e. climate conditions, national holidays, strikes, etc.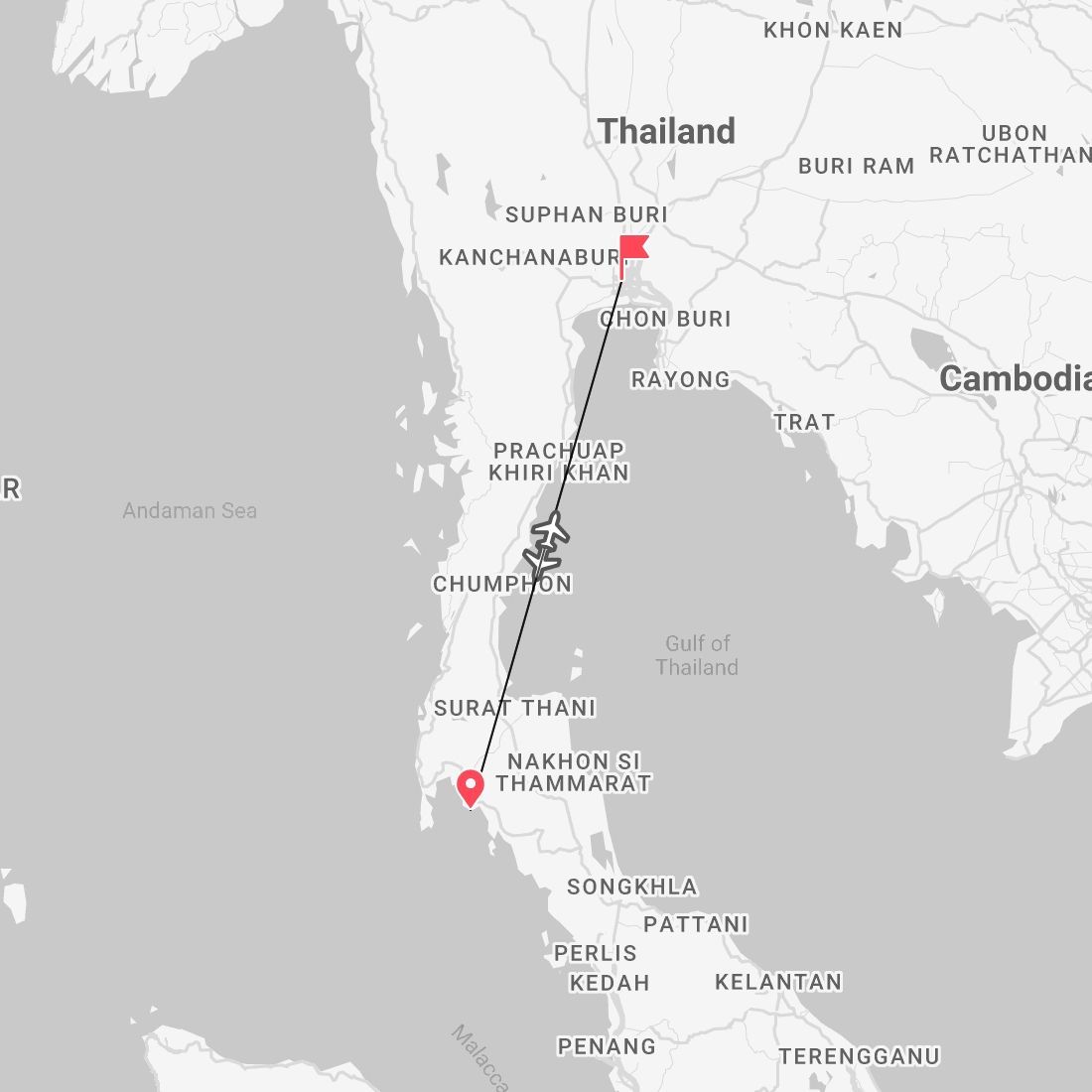 Show maps