Itinerary - Thailand 360° - Winter
Bangkok and evening in Khaosan
100 %
Arrive at the Hotel
Flights to and from the UK are not included in the package, so you can decide from where and when you want to leave!
What better way to get to know each other than over tasty Thai food? Let's all raise a glass together to the start of this adventure! We continue the evening in the Khao San area. This is one of the best streets to enjoy Bangkok's nightlife, when the sun goes down everything comes alive!
Included: Welcome Dinner
Temples north of Bangkok
100 %
Ayutthaya
Just over an hour from Bangkok we visit the UNESCO World Heritage archaeological park of Ayutthaya. We rent bicycles and start by seeing Wat Pra Si Sanphet, an important temple complex covered in 250kg of gold, that once housed the Buddha. We can't miss Wat Phra Mahathat either, where we admire the Buddha's head inserted between the roots of a tree - probably one of Thailand's most famous and iconic images. After cycling all day we have earnt a delicious dinner: we have to taste something typical and so we start looking for the restaurant that tantalizes the tastebuds. We expect exotic dishes such as rice in pineapple or mango salads.... but watch out for the spicy ones!
Money Pot: Transport and entrance fees. Not included: meals and drinks where not specified.
The ancient capital: discovering the monasteries of Sukhothai
100 %
Sukhothai
We set off very early because we have a 6-hour drive ahead of us to reach the ancient capital of the kingdom, Sukhothai. The journey will certainly not be boring: outside the window the magical Thai landscapes will keep us company, or it will be the perfect opportunity to take a nap. As soon as we arrive, we stretch our legs after many hours of sitting, we take a relaxed tour of the city... again by bicycle, which is the best way to see it. Sukhothai is one of the most spectacular places in the whole country: a vast complex of temples, monasteries and statues so well preserved that they will leave you speechless! Sukhothai means "Dawn of Happiness"... and happiness and wonder are what we will feel in front of the mysterious Wat Sangkhawat, a group of ruins surrounded by vegetation. We'll also be left hypnotised by the majesty of the Buddha statue in Wat Si Chum, which will make us feel tiny.
Included: Transport, and entrance fees. Not included: meals and drinks where not specified.
Chiang Mai: an experience at Doi Suthep
30 %
50 %
20 %
Exploring Chiang Mai
After a 5 hour transfer (the scenery will take our breath away again today), we arrive in Chiang Mai, a city on the banks of the Ping River. Full of beautiful temples and sculptures, it will amaze us with its architectural beauty and its markets in the city centre, where traders and craftsmen try to sell practically everything! Once we get here, we can't miss the Doi Suthep Temple: there are 300 steps to conquer, but we won't be alone - stone dragons decorate the steps and show us the way. After our exertion, we can treat ourselves to a traditional Thai massage and recharge our batteries. How to end the evening? If we arrive here on a Sunday, we can't miss out on a bit of shopping at the colourful and immense Sunday Market, where you can enjoy real Thai street food - AKA dinner tonight! Oh, and we also stay at homestay!
Included: Transport, and entrance fees. Not included: meals and drinks where not specified.
Forests and elephants
100 %
A day in nature
A 100% nature day
Today we say goodbye to the chaos of Chiang Mai and immerse ourselves in the jungle! Surrounded by greenery, we will be able to admire the local fauna in a cool and relaxing environment. Elephants will become our friends as we feed them, roll around in the mud with their babies and bathe in the river together. It is an experience that will remain in our hearts forever, with full respect for the elephants' health. We continue with a river adventure that will leave us wet but certainly happy! Tonight we will have the opportunity to live a very wild experience by sleeping in a typical homestay surrounded by nature and its sounds.
Included: Elephant experience and rafting. Money Pot: Transport and entrance fees. Not included: meals and drinks where not specified.
To the sea!
100 %
Discovering Khao Lak
We depart in the morning on a flight from Chiang Mai to Phuket. We leave Phuket's hustle and bustle for the last few days and head north to Khao Lak - a small seaside village that is still not very known and therefore off the beaten track. We finally see the sea: we leave our rucksacks in the hotel, put on our swimming costumes and dive into the crystal clear waters of Khao Lak. We enjoy the sun and some well-deserved relaxation until sunset - dinner this evening is obviously based on fresh fish.
Included: domestic flight. Money Pot: Transport and entrance fees. Not included: meals and drinks where not specified.
Surin Island: arriving in paradise
100 %
In a tent on the beach
Today we set off very early for the most evocative and magical excursion of our trip... We disconnect from the rest of the world for a couple of days, moving to a small island that is basically paradise: white beaches, crystal clear water, jungle and mangroves. We spend the days as we please, trekking through the jungle, snorkelling in the mangroves or simply sunbathing and enjoying the peace of this paradise! But it is in the evening that the real magic of this place is revealed: when the day trippers leave, only a handful of people remain on the island. It feels like having an entire tropical island at your disposal. And where do you sleep? Well obviously in a tent on the beach! Will we stay up all night stargazing or fall asleep to the sound of the ocean waves?
Included: Excursion to Surin Island. Not included: sports activities, meals and drinks where not specified.
Wake up in front of the sea and back to Phuket
25 %
25 %
50 %
In the nature park!
We are woken up by the sun's rays filtering through the tent: it'll be impossible to start the day in a bad mood! We spend the morning taking our last swims in this paradise. In the afternoon, a ferry and then a private minivan will take us back to Phuket. Once in Phuket we discover all the hidden sides of Thai nightlife: this town is the most famous when it comes to partying and we don't back down!
Included: Excursion to Surin Island. Money Pot: transport. Not included: sporting activities, meals and drinks where not specified.
Last day in Phuket
100 %
Relaxation or adventure?
This day has both relaxation and adventure all over it, you can choose to recover on the beach, or go sailing, diving, snorkelling or canoeing in the waves. The perfect mix! We recommend a tour of the Phuket peninsula passing by Freedom Beach - a natural gem surrounded by greenery and blue. Here, we can enjoy the sea and end the day at the Big Buddha, a giant Buddha on top of a hill. We reach it for sunset: from up here we will enjoy a unique panorama of the whole peninsula.
Included: Transport and entrance fees. Not included: meals and drinks where not specified.
Back to Bangkok
100 %
Shopping and markets
We take a flight to Bangkok and use these last two days to visit the capital of this wonderful country. Today we can devote our last few days to souvenir shopping among the stalls of Chatuchack, a huge open-air market with more than 15,000 stalls selling street food, clothes, books, vintage items... and offering everything at very low prices. As it is only open at weekends, there is another alternative shopping street: Khaosan Road, Camden-style in London. Here the stalls are more punk, with massage parlours on every corner, small shops and restaurants - and it's always crowded. In the evening we enjoy a delicious cocktail on the rooftop of one of Bangkok's tallest skyscrapers, more than 240 metres high!
Included: Flight to Bangkok. Transport and entrance fees. Not included: meals and drinks where not specified.
Bangkok and the Royal Palace
20 %
50 %
30 %
Exploring the capital
There are always places in a city that you shouldn't miss. That's why in the morning we'll take a walk through Bangkok's temples, starting with the Royal Palace and continuing on to Wat Pho, with its giant reclining golden Buddha, and Wat Arun, on the other side of the river - we'll take a short boat trip to get there. Known as the 'Temple of Dawn', it has a timeless atmosphere that instils a deep peace. In the afternoon we have some free time to do some last shopping and then it's time for a farewell dinner! We can only tell you that it will be unforgettable! The rest is a surprise.
Included: Farewell dinner. Money Pot: Transport and entrance fees. Not included: meals and drinks where not specified.
Check-out
End of services. The itinerary may undergo some variations that differ from what is stated above. These variations may not be foreseen or dependent on WeRoad's control, i.e. climate conditions, national holidays, strikes, etc.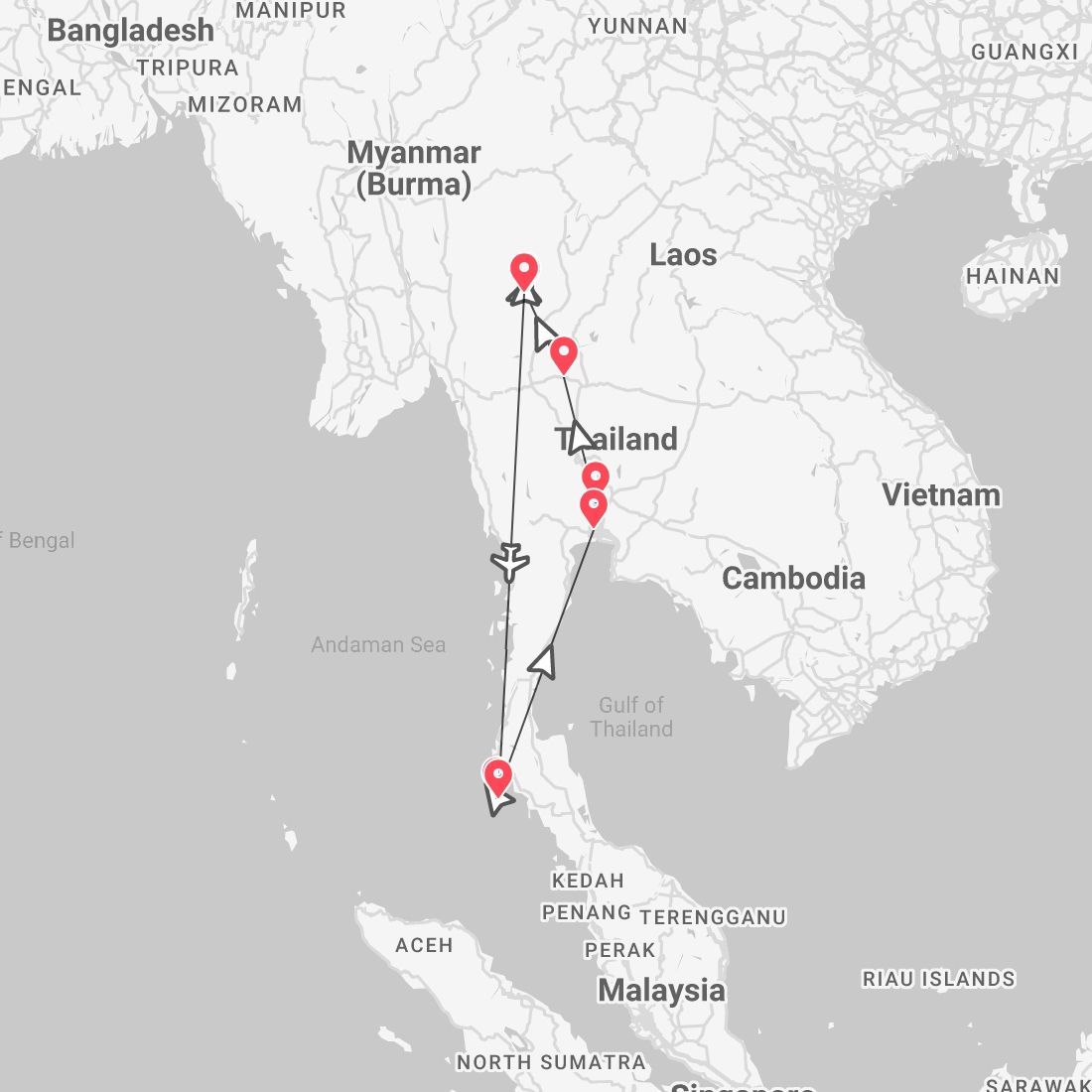 Show maps