Itinerary - Santorini and Paros: island hopping in Greece
Welcome to Greece!
100 %
Check-in
Roundtrip flights are not included in the package, so you can choose from where and when you want to fly. Check-in to your hotel in Santorini and get ready for your tour! We start in one of the most famous Greek islands, chosen by many as a honeymoon destination. Now, we are not matchmakers but we can promise you, you will fall in love… with the beauty of this island! Let's enjoy our first Greek dinner, tomorrow we are heading to Paros!
What's not included: food and beverages
Next stop: Paros!
50 %
50 %
The real Santorini
It's time to start our tour and discover the lesser known parts of Santorini, not so glossy and glamorous, but certainly authentic. We're talking about the small villages like Emporio and Megalochori, labyrinths of cobbled alleys where time seems to have completely stopped. Take a stroll along the streets and enjoy these idyllic towns!
Paros here we come!
We'll have plenty of time to better explore Santorini in the second half of the tour so for now, say goodbye to this pretty island and get ready to set sail towards another one… Paros here we come! We'll stay in a hotel located in Naoussa, an old fishermen's village which has now become a favourite destination for all travellers who are coming to the island. It's time to get ready for our welcome dinner - it'll be the perfect time to taste some authentic Greek delicacies, and toast to the start of our beautiful tour!
Included: rental car, ferry, and welcome dinner
Money Pot: petrol and excursions
What's not included: food and beverages
Antiparos
50 %
50 %
A little slice of heaven
In the heart of the Cyclades archipelago, there is a tiny island off the beaten track, not very well known to tourists. Do you know its name? We'll give you a hint: it's the hideaway of a very famous Hollywood actor. "Run, Forrest, run!". Yup, Tom Hanks usually spends his summer holidays on the island of Antiparos. Who knows, we might even bump into him!
We'll hop in the car and board a ferry from Paros to take us to the hidden paradise of Antiparos. We'll go for a stroll through the cobbled streets, work on our tan and bathe in the crystal clear waters. Perfect day? We think so! In the evening we'll head back to Naoussa for a scrumptious dinner. How about some baked feta tonight?
Included: rental car
Money Pot: petrol and return ferry to Antiparos
What's not included: food and beverages
Along the East coast of Paros
40 %
40 %
20 %
White, blue and pink
It's our last day in Paros so we'll head to the beautiful east coast, to visit the picture perfect fishermen's villages. We'll start from Ampelas and then head south, towards Marpissa. Here, the narrow streets are surrounded by white houses with blue doors, and dotted with flourishing, pink bougainvillaea. Have your cameras ready and click away! For lunch we must stop in the little fishing port of Piso Livadi. Here we will find the cutest tavernas, small restaurants serving authentic Greek cuisine.
Did anyone say beach?
Another afternoon, another long list of pretty beaches to choose from. We'll go to the Golden Beach for some paddle boarding, and then maybe perhaps head to Logaras and Faragas. Let's enjoy one last sunset on this idyllic island (probably with a beer), before heading back to Santorini tomorrow!
Included: rental car and paddle boarding lesson
Money Pot: petrol and excursions
What's not included: food and beverages
Back to Santorini
50 %
30 %
20 %
Santorini, here we come!
Time to say goodbye to Paros! This morning we'll take it easy and enjoy a hearty breakfast before heading to the port. We'll return the rental car and jump on board the ferry, which will take us right back to where our tour started. It will be a beaut' ride, surrounded by the deep blue Aegean sea. Approaching Santorini, we'll be able to admire the island's unmistakable half-moon shape, cradling the submerged volcanic crater. Upon arrival we are off to the hotel to settle in and get ready to enjoy the next few days.
The hike from Fira to Oia
Our tour of Santorini starts with a bang! We're about to hike the 4 hour round trip from Fira to Oia. The path boasts breathtaking views which will lead you to the most photographed sunset on the island (we think this might be one of the most beautiful ones you'll ever see, but you can be the judge of that). After sunset, we'll find a cute spot for dinner... how about gyros?
Included: ferry from Paros to Santorini and transfer to the accommodation
What's not included: food and beverages
Let's sail around Santorini
60 %
40 %
The view from our catamaran
Good morning WeRoaders, are you ready to spend a day sailing around some of the island's most picturesque locations? The catamaran will depart in the morning from the beautiful Vlychada Marina and will take us to explore Santorini from a different point of view. We'll be able to reach hidden coves and beaches, only accessible via the water, and we'll swim and snorkel in the clearest natural pools. We'll even sail inside the caldera and around the submerged volcano with the beautiful cliffs of Santorini surrounding us. Finally we'll take a dip in the hot springs, the island's natural spa!
Happy hour on the beach
Is this it for the day? Of course not! After the catamaran tour, we'll have a bit more time to explore one of the beaches in the south of the island, before heading back to the hotel. A quick shower and then out we go for some fun in one of the beach bars in Perivolos. Want a little taste? Just google "Chilli Bar Perivolos"!
Money Pot: catamaran tour
What's not included: food and beverages
Last day in paradise
20 %
50 %
30 %
Relaxing, shopping or sightseeing?
It's our last full day on the island so let's try to make the most of it. We could spend the day at the beach, or take a walk around Fira's town centre and do some shopping (which is never a bad idea). Perhaps we could explore the archaeological site of Akrotiri, a kind of miniature Greek Pompei dating back to the Minoan age.
One more sunset
Before we go, let's enjoy one last sunset from either Akrotiri Bay or from the top of the village of Pyrgos. Then, it's time to say goodbye, WeRoad style, at the table in front of some delicious food, in a typical Greek tavern for our farewell dinner!
Included: farewell dinner
Money Pot: further excursions and admission fees
What's not included: food and beverages where not specified
Bye bye Greece!
100 %
Check-out and farewell
Check-out and farewell. It is time to say goodbye until your next WeRoad adventure!
End of services
The itinerary may undergo some variations that differ from what is stated above. These variations may not be foreseen or dependent on WeRoad's control, i.e. climate conditions, national holidays, strikes, etc.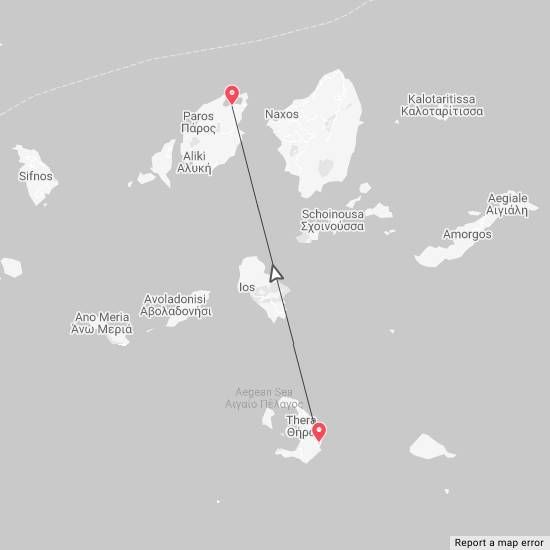 Show maps