Itinerary - Portugal: Lisbon & Algarve
Welcome to Portugal!
100 %
Check-in
Roundtrip flights are not included in the package so that you can choose where from, when and with whom you want to fly. All of that is up to you! Check-in at your hotel in Lisbon and then it's time for the welcome meeting! How about we start off right? Let's order a beer and let's celebrate the beginning of this trip! This is the right night to go for a walk in the city center and choose the bar with the best vibes!
Towards the south: Sines and Lagos
40 %
30 %
20 %
First stop: Sines!
We'll hit the road just after getting the rentals; say goodbye to the beautiful Capital and we'll drive the first hundred miles singing the greatest hits we all know and share the first stories to start knowing each other, until we'll arrive halfway between Lisbon and Lagos, in Sines. We'll stretch our legs taking a walk in this town that overlooks the Atlantic Ocean and find a nice local restaurant for lunch -we really need to try the bolinhos de bacalhau, the best appetizers here!
Algarve, finally!
Let's walk off the lunch visiting the Medieval Castle and Sines' historic center and right after we'll get back on the road! A couple more hours and we'll be in Lagos: we finally got to the southern coast of Portugal, in the beautiful region of Algarve. Let's explore the older part of the city, the cobblestone streets, the churches and the plazas -what? time to drink again? must be the sea air! Tonight the welcome dinner awaits us, where we'll get to taste portoguese delicacies and say "cheers" to our new adventure!
Included: rental car & welcome dinner
Money Pot: any other transportation, tolls, petrol and entrances
Not included: food and beverages
From Ponta da Piedade up to Cabo de Sao Vicente
50 %
20 %
30 %
Portugal or California?
Late night partying won't stop us from getting up early to move further south; say goodbye to the city center and get ready to arrive in Ponta de Piedade one of the most wonderful natural landscapes in the whole Algarve region. Once we get there we'll decide whether to explore these huge cliffs on foot - there are many trails on the coastline - or to sail by boat through the monumental rock formations. We advise you to give the sailboat a chance, but whatever you choose, do not forget your swimsuit because diving in the crystal clear waters is a must do!
We can't go further South!
For lunch time we'll drive to Sagres, which is a top surfing spot in Europe and we'll have a portuguese style lunch in a surf-themed restaurant! We'll tour this town starting from Forzaleza de Sagres, a fort from where we'll have the opportunity to gaze at the breathtaking landscape of the steep cliffs overlooking the sea, and we absolutely can't miss the chance to visit Igreja de Nossa Senhora da Graça, one of the most ancient buildings here. Since we're already here let's go to Cabo de São Vicente, The most southwesterly point in mainland Europe, and while we walk on the cliffs let's decide whether or not it's worth a stop 'till sunset. We'll get back to Lagos for dinner - how about another few beers?
Included: rental car
Money Pot: gas, highway toll, boat trip
Not included: food and beverages
Benagil Caves and Albufeira
20 %
40 %
40 %
Rolling… East!
Say goodbye to Lagos and get ready to move east, towards Praia Marinha. Wear the most comfortable shoes you got and put a tonne of sunscreen on; the Percurso dos Sete Vales Suspensos, the most scenic hiking route in the whole Algarve, awaits us! Let's park the cars in Praia Marinha and we'll leave from there to get through this splendid cliff hike, until we get to Praia Centeanes. From here we'll get on a dinghy to get to the Benagil Cave, the most famous spot of southern Portugal.
Albufeira
In the afternoon we'll move towards Praia Marinha, in between Portimão and Albufeira, one of the most beautiful beaches here in Algarve and after the morning fatigue we'll dedicate the afternoon to tanning and relaxing. As soon as we're roasted enough we'll get back in the cars and drive towards Tavira, but first we shall stop in Albufeira! Let's find a bar and get some pestiscos de taberna (portoguese tapas) and a cerveza, and afterwards we'll move to a local restaurant because we have to try the Cataplana de Marisco: lobster, clams, calamari and the catch of the day!
Included: rental car, Benagil Caves boat tour
Money Pot: Gas, tolls and entrance fees
Not included: food and beverages
On to Faro
50 %
50 %
City centre, sea or surf?
Good morning Algarve! After getting to Faro, we can choose how to use our day. We can visit the city and get lost wandering through the streets. What about enjoying the last hours of the day by the sea, carving out a corner on the beach? What about a surf lesson? We can also divide up, so everyone can do what they fancy!
Included: Rental cars
Money Pot: Any excursion or entrance fees
Not included: food and beverages
Lisbon - exploring the capital!
50 %
50 %
Back to Lisbon
After breakfast we return to Lisbon where it all started. If we want to leave early, we can also stop at the beautiful Evora, a UNESCO World Heritage Site, on the way. Evora boasts Gothic, Renaissance, Neoclassical, Mannerist, and Baroque architecture... in short, there is a bit of everything!
We dedicate then next few hours to exploring the capital, Lisbon! We begin the tour to discover the city by getting on the famous tram 28, which winds its way through the most characteristic streets of the city. Its route starts from Campo de Ourique and runs through the most picturesque neighborhoods of Lisbon from Alfama to Graça to Prazeres and ending at Praça Martim Moniz. Along the way, an obligatory stop is Mercado da Ribeira where we can give in to our gluttony...
The last evening in Portugal
We spend the last afternoon of the trip wandering through the characteristic alleys of Alfama, the most picturesque and ancient district of the city. Most of the houses here are pastel coloured or covered with chipped azulejos. We will see the Castillo del S. Jorge and in Largo da Sé, the cathedral of Lisbon. Finally, the farewell dinner awaits us, during which we can talk about all the adventures lived together!
Included: farewell dinner
Money Pot: transports, entrance fees
Not included: food and beverages where not specified
Goodbye Portugal!
50 %
50 %
Check-out and farewell
Time to say goodbye: see you in your next WeRoad adventure!
End of services:
The itinerary may undergo some variations that differ from what stated above. These variations may not be predictable nor depend on WeRoad's will, i.e. climate conditions, national holidays, strikes, etc.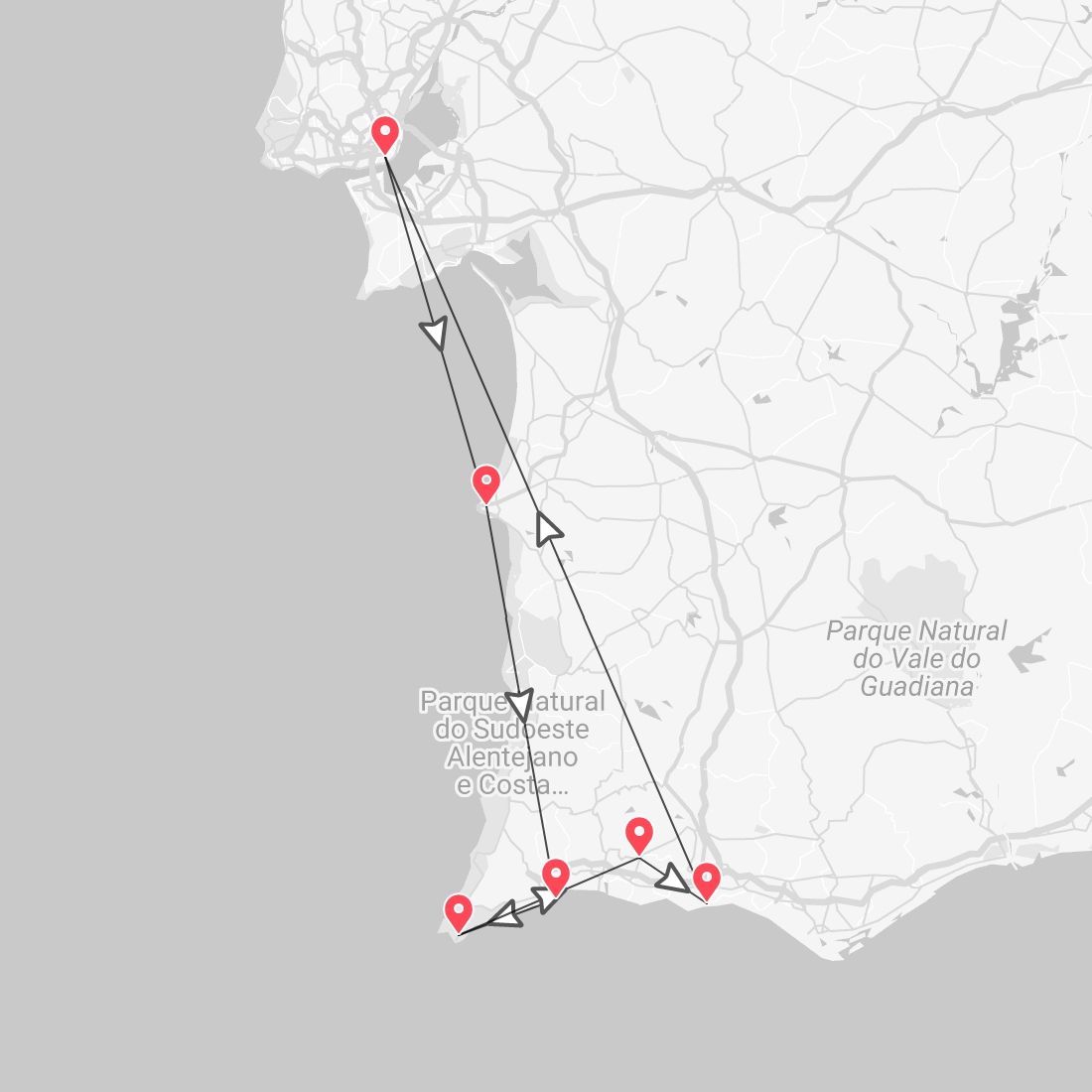 Show maps