Itinerary - Norway: from Lofoten to North Cape
Tromso
100 %
Welcome to Norway!
Roundtrip flights are not included in the TO Services so that you can choose where from, when and with whom you want to fly. All of that is up to you! Hotel check-in and welcome meeting. We are in the northern part of Norway, the Northest place in Europe: only being here feels magical! We'll spend our first night here exploring nearby places, already getting amazed by these fairy tale landscapes. We'll then enjoy our welcome dinner, the perfect moment to get to know each other and start off this trip just right!
Welcome dinner included in TO Services.
On the road to Lofoten
70 %
30 %
Going toward Lofoten
Today begins the real journey to discover the beautiful Lofoten Islands, an archipelago connected by a road interspersed with tunnels and viaducts that is considered one of the most beautiful in the world. We'll pick up our rental cars and head south: our final destination today is Harstad, just over four hours from Tromso. Our final destination today is Harstad, just about four hours from Tromso. The beauty of our adventure through the Norwegian is the road tripping itself, which gives us the opportunity to immerse ourselves in the landscapes of these lands.
Waterfalls and Wolves
A few stops along the way are a must-do! We'll for sure stop to admire the Målselvfossen waterfalls - where we'll be able to stretch our legs! Here we could take a short 3 km trek and get our first taste of Norway and Lofoten's nature. Another stop we could do is the Polar Park, where we could meet the local wildlife (including wolves!). After these stops, we'll set off again once we arrive in Harstad in the afternoon. We'll spend the evening in the city, perhaps in a little restaurant where we could try some local soups - definitely one of the best dishes in these parts!
Included: car rental Money Pot: gas, entrance fees Not included: food and beverages
Nusfjord & Moskenes
60 %
40 %
A Fishermen Village
Our on-the-road journey carries on: today we'll continue our descent towards the south of Lofoten to reach Moskenes, one of the southernmost villages of the archipelago. Obviously, along the way, there are some stops we cannot miss out on. One of these is undoubtedly Nusfjord, one of the oldest fishing villages in Norway, with the typical red-painted wooden houses which we've probably realised by now that are a characteristic of this area. Unfortunately, this village is not permanently inhabited, but it's more like a museum: we'll stop and take the opportunity to go as far as the lighthouse, from where we'll get to enjoy the beauty of the fjord and the village seen from the sea.
On the Vikings Path
We'll then continue our journey: we'll notice how the landscapes are becoming more and more fairytale-like, with the cold sea on one side and the high, dark mountains on the other. Here, nature is pure and unspoiled, and our passage should be as well: these places must be preserved in all their beauty! On the way we'll also stop to visit the Lofotr Viking Museum, where we'll get to learn something about the Vikings who inhabited these lands - the museum reproduces how the Vikings lived and we'll also get to wear the typical clothes of their time. We'll finally arrive in Moskenes in the evening, ready to enjoy the sunset - assuming there is no midnight sun!
Included: car rental Money Pot: gas, entrance fees Not included: food and beverages
Discovering Lofoten
100 %
Enchanting Views...
Today we'll spend the whole day exploring Lofoten. There are many things to see and do, so we'll decide together which ones we absolutely cannot miss out on. We can go to Å, which is not only one of the countries with the shortest name in the world, but also houses the stockfish museum - cod fishing is traditional in these parts. If you prefer natural landscapes, there are many places of interest: the ones that will drive the photographers of the group crazy are Sakrisoy, Hamnoy, Skagsanden and Storvatnet - all of them offer enchanting views of the islands!
...or trekking?
You want to work out? Very well: the Reinebringen trek is waiting for us. Don't take it lightly, though: it is very tiring and it takes a long time to reach the viewpoint you see in all pictures. However, we can say that all the effort would be rewarded because from there the landscape is truly breathtaking and hard to forget. Let's figure out together which alternatives we'd like best and make the most of this day.
Included: car rental Money Pot: gas, entrance fees Not included: food and beverages
Svolvaer
100 %
Looking for Eagles!
Today's wake up call is early, we'll have a day that'll be one for the books! We'll say goodbye to Moskenes and this part of Lofoten and we'll reach Svolvaer in about two hours, just in time for a hot breakfast and to get ready for our tour... by dinghy! We'll board the boat and explore Lofoten by sea, not only to enjoy the incredible scenery but also to spot eagle rays - and maybe get lucky and see some other marine animals too! The adrenaline will be pumping today as the dinghy speeds through the fjords and the cold wind will keep us awake and alert. It will be hard to forget this morning! We'll get something (warm) to eat and then head back to Harstad, where we'll spend the rest of the day relaxing. At the end of the day, after getting up so early this morning, we'll more than deserve it!
Included: car rental Money Pot: gas, entrance fees Not included: food and beverages, dinghy trip (the excursion may not be available for unforeseeable reasons beyond WeRoad's control (e.g. bad weather conditions, sold out, etc.)
Tromso
50 %
50 %
Breathtaking views
We'll return where it all started, Tromso - but only to continue our journey, this time northwards! Today we'll be in no hurry whatsoever and we'll take our time to walk around the city: the city centre contains the largest number of old wooden houses in the area - the oldest of all was built in 1789! If the town won't interest us that much, we could get back to nature and climb to the top of the mountain overlooking the town. We'll have two options: by cable car, enjoying the view, or on foot, walking uphill for about two hours. The compromise that everyone always likes? Get on the cable car and walk down! Either way, getting to the top will be totally worth it!
Included: car rental Money Pot: gas, entrance fees Not included: food and beverages
Alta
100 %
Getting to Alta
We'll get back on our journey on the road and this time we'll point our compass northwards. We'll set off early: the road to Alta is very long - about 6 hours - but of course the Norwegian landscapes will keep us company. There will be several stops along the way - not only to eat but also to enjoy the view. Once in Alta, we'll consider what to do: will we want to relax or will we still have energy for some activities? If the second option wins, we'll head to the harbour and rent kayaks or canoes to explore the surroundings by water. Tonight, however, how does an icy cocktail sound? Let's pop down to the Ice Bar for a truly alternative evening!
Included: car rental Money Pot: gas, entrance fees Not included: food and beverages
North Cape
100 %
Still in Alta
Are you ready to reach the northernmost point in Europe? But first, we'll make another stop in Alta to visit the Alta Museum, where we find rock engravings: there are more than 5,000 across the site and they date back to 4200 BC. Obviously it has been included in the UNESCO World Heritage list and is definitely worth a visit. Inside the museum we'll be able to see a summary of the history of Norway, starting with the Vikings and ending with the Olympic Games!
North Cape , Finally!
In the afternoon we'll say goodbye to Alta and we'll carry on to Honningsvag, where we will spend the night. After dropping our backpacks off at the hotel and recharging our batteries, we hit the road, this time to finally reach North Cape . Arriving here gives anyone a unique thrill and the feeling is magical: we'll get out of the cars and we'll walk to the iconic metal sphere, officially the northernmost point on the European continent. Some of us will be lucky enough to come here during the midnight sun - definitely an incredible spectacle that delivers intense emotions. But even without the midnight sun... it's definitely worth it!
Included: car rental Money Pot: gas, entrance fees Not included: food and beverages
North Cape & Alta
100 %
North Cape and chill
This morning we'll return once again to North Cape. If there is no midnight sun, we could come here at dawn and watch the sun peep over the horizon - how many people can say they have seen the sunrise from the most northerly point in Europe? As of today, we can! The area also offers a number of hiking trails and paths, so we can follow some of them and discover hidden places that may open up to unique views of the sea. At this point in our journey we should have understood that Norway is full of surprises, hidden behind every corner! In the afternoon we'll return to Alta: it'll be the right time to find some typical Northern European spas and let ourselves be pampered! Who's up for it?
Included: car rental Money Pot: gas, entrance fees Not included: food and beverages
Back in Tromso
50 %
50 %
Back in Tromso
We are at the end of our Norwegian adventure: today we'll be driving back to Tromso, where our journey began. Let's enjoy our last on-the-road trip - will we have been able to agree on the best playlist for an on-the-road trip by now? Once in Tromso we'll have some free time to explore the city or relax, ready for our last evening together. Tonight we'll have our farewell dinner, and it will be a little sad to toast the end of this adventure - but we're sure we'll have plenty of other equally wonderful ones to enjoy.
Included: transportation from Remedios to Havana Money Pot: local transports, entrance fees Not included: food & beverages
Check-out and goodbyes
We must say goodbye to our fellow travelers and to Norway ): 'Till the next WeRoad adventure!
End of services. The itinerary may undergo some variations that differ from what stated above. These variations may not be predictable nor depend on WeRoad's will, i.e. climate conditions, national holidays, strikes, etc.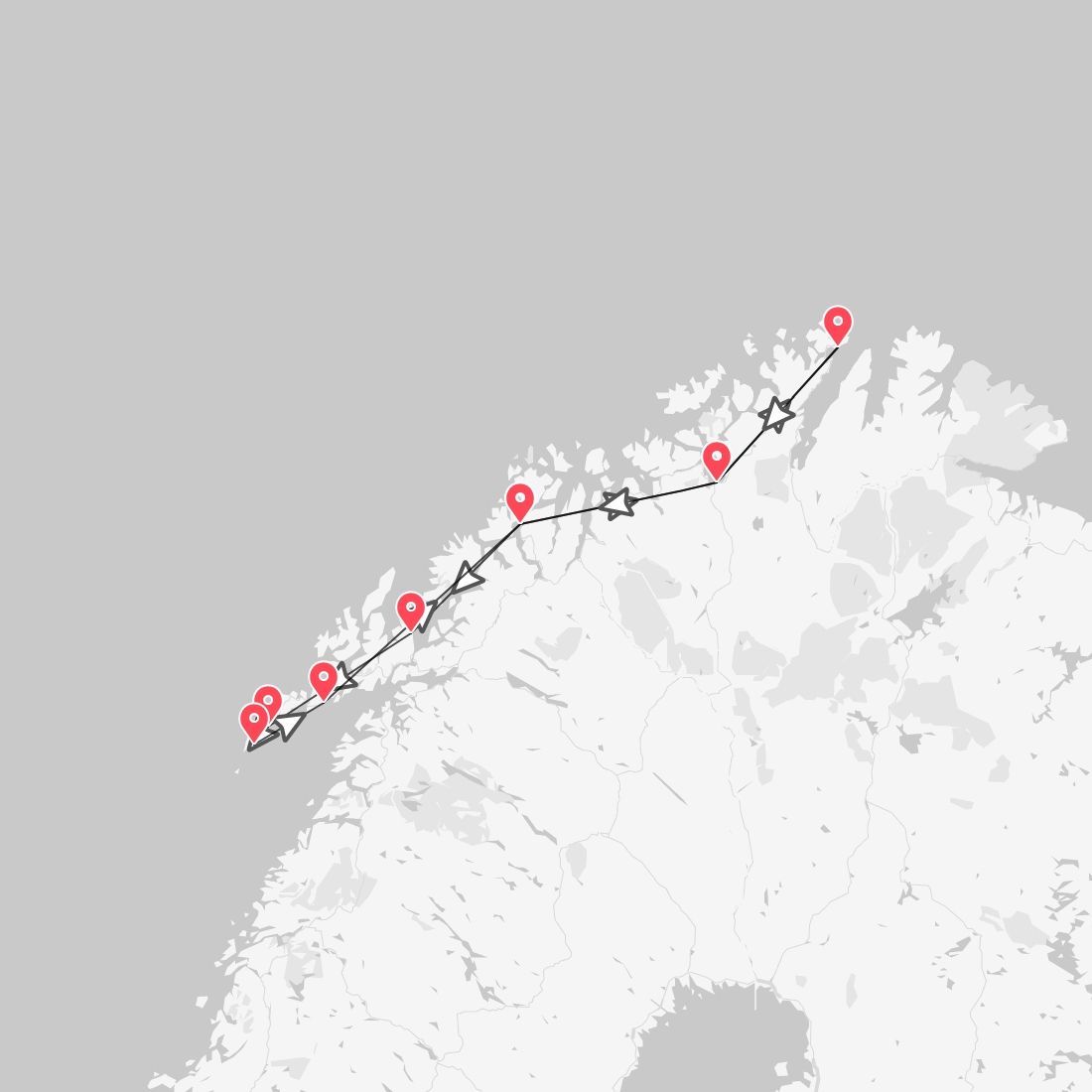 Show maps