Itinerary - Italy: exploring Sardinia's beaches between the Maddalena & Costa Smeralda
Welcome to Sardinia!
100 %
Welcome to Sardinia!
Roundtrip flights are not included in the TO Services so that you can choose where from, when and with whom you want to fly. We'll meet up in Olbia where we'll pick up our rental cars. We'll take just the time to get comfortable and then we'll start exploring the area. Tonight we'll start off right with a seafood dinner, fresh from the catch of the day! We'll then move towards the beach where there are always parties and live music. Let's toast the start of this trip and enjoy the night!
Included: Rental car
Not included: Food and beverages
Del Principe beach
40 %
40 %
20 %
Caribbean who?
Another day, same beach, same sea? We don't really think so! Del Principe Beach is one of the most beautiful beaches in Costa Smeralda even though, to be fair, it's not easy to rank them! This beach is a narrow white-sanded strip placed right on the crystal clear water bay; for real though, Caribbean beaches could never!
Deep in the blue sea
Snorkeling is a must-do! There are so many natural beauties right under the waves it's almost a sin not to dive right in and swim with the local marine wildlife. After this intense beach day, we'll go back home and get ready for dinner - tonight we'll have spaghetti & bottarga! Just as we got back to Porto Pollo we'll have dinner, enjoy the nightlife on the beach, and work on our moonlight tan!
Included: rental
Money Pot: gas & highway tolls
Not included: food and beverages
Rena Majore
50 %
30 %
20 %
Get on the board!
More sports time for our trip! This time we'll try surfing, windsurfing or SUP. Practice makes perfect, and we all know one day of surfing won't make us pros, but either way, it's gonna be a success! Whoever had enough from the day before though, is free to choose their favorite spot on the beach, relax and enjoy the tan. Clearly, they're gonna be on picture duty for their fellow surfers!
Valle della Luna
It's time again to move away from Porto Pollo: not very far away, we'll find Rena Majore, another natural beauty Sardinia has to offer! Let's find the right kiosk for lunch and let's then dive right in the sea and let's try to find out every secret of it. Of course, snorkeling is the best activity around here -wear mask and fins and dive right in the blue water! We'll stick around until sunset, which we'll enjoy chugging a cold beer, and then we can decide if sticking around to enjoy the moonlight it's worth it. Hippie communities called this place Moon Valley (Valle della Luna) because of the reflection of the moonlight on the rocks around here!
Included: car rental and windsurf lesson
Money Pot: gas, highway tolls and entrances
Not included: food and beverages
Maddalena archipelago
30 %
50 %
20 %
Yo, Dude!
If you thought you'd come to Sardinia and sleep on the beach the whole time… well, you were wrong -There will be time for that, but not today! This morning we'll stay in Porto Pollo and try water sports: we can surf, windsurf, sail or SUP. Today's challenge: don't slip in the water! Tonight's drinks are on whoever falls first :P
Small Paradise
In the afternoon we'll have a wow-experience; we'll get to La Maddalena, 60 small mesmerizing islands that are a slice of heaven on earth. The local flora and fauna will leave you speechless, and we might even meet some local bottlenose dolphins, they're usually very friendly and you never know when they will come around!
Included: car rental
Money Pot: Maddalena excursion, gas, highway tolls, entrance fees
Not included: food & beverages
Caprera
50 %
10 %
20 %
20 %
A little bit of culture...
Seeing La Maddalena only once wasn't enough, so today we'll go back but we'll choose a specific spot! The whole day will be dedicated to exploring the island of Caprera which, just like the whole National Park of La Maddalena archipelago, offers postcard-worthy landscapes. First thing, we'll visit Garibaldi's home-museum, who landed here first in 1855, and after this cultural moment we'll have our packed lunch and get ready to spend the afternoon on the island!
...and a little bit of Tahiti!
We really can't miss out on Cala Coticcio beach, the most exotic beach in Caprera -so much that it was renamed "Tahiti". As usual we'll find fine, white sand and deep crystal clear water; we'll walk to Cala Coticcio and we'll enjoy it to the fullest. In the evening we'll go back to the base ready for more drinks and beach parties. Of course, if we don't feel like it, we can spend the fresh air night at home between ourselves and rest!
Included: Rental
Money Pot: Gas, highway tolls, entrance fees
Not included: Food and beverages
Thermes? Nope, kayaking!
Early rise and solid breakfast: all needed to face this day, which will be kinda different. Today we won't go to the beach, but we'll go inland and we'll get to Casteldoria's Thermes, and we'll spend the whole day at the SP… SIKE! Why would we spend a day relaxing when there is a river we can kayak on? We'll decide together what to do but the kayaks are calling us; we can relax tomorrow, today it's time to row!
Beach Chiringuitos
The kayaking route will make us discover a new Sardinia we haven't had quite seen, made of colored flora and ochre-colored rocks; row, row, row ya boat, and the day goes by fast! We'll then go back to Porto Pollo around dinner time, tired but satisfied -not too tired to miss out on a walk on the beach and stop by a Chiringuito!
Included: Rental
Money Pot: Gas, highway tolls and entrance fees
Not included: food, beverages
Porto Pollo
60 %
40 %
Surf Table of bed time?
Last night we might have got home really late; whoever has seen the sunrise and rathers rest, the bed is fresh and comfy and you can spend the whole morning in it! If you feel like spending the last hours here trying to dominate the waves, this morning we can try surfing again! Will you stay on top of the board today?
Porto Cervo!
We cannot miss out on one last time on the seaside! Since it's our last time on the seaside all together, we shall go to a special beach; we'll move towards Porto Cervo and we'll go to Liscia Ruja, the biggest beach in Costa Smeralda. Relax is the word for today, we'll chill on the beach, swim and enjoy these dreamlike landscapes. Last dinner and one last toast to our fellow travellers, and let's party! The night is always young here :)
Included: Rental
Money Pot: Gas, highway tolls and entrance fees
Not included: Food, beverages
Check out and goodbyes
These days will forever be in our hearts! Say goodbye to your new best friends - 'Till our next WeRoad adventure!
End of services:
The itinerary may undergo some variations that differ from what stated above. These variations may not be predictable nor depend on WeRoad's will, i.e. climate conditions, national holidays, strikes, etc.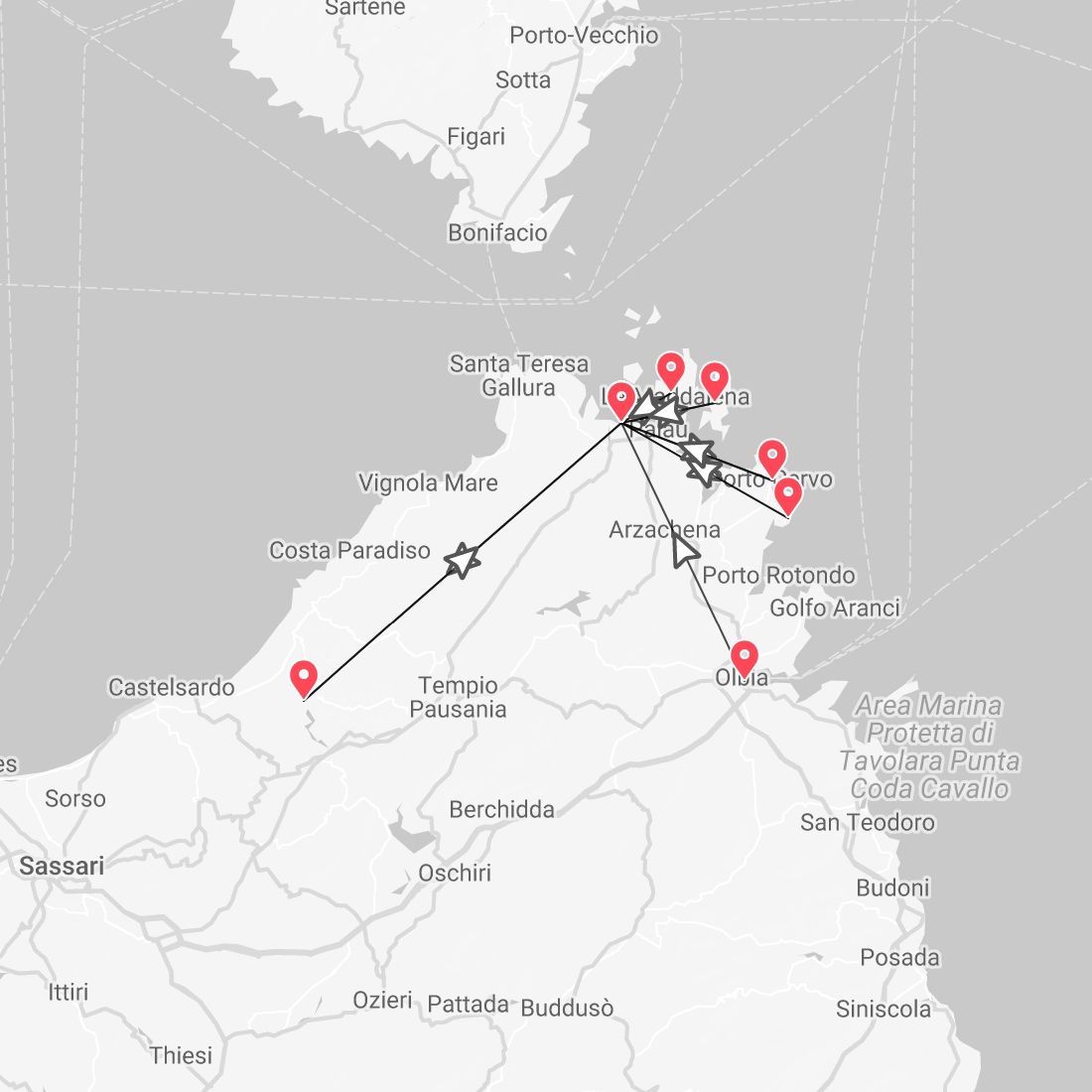 Show maps