Itinerary - New York 360°: discovering Manhattan, Brooklyn and Harlem
Welcome to New York!
100 %
Check-in
Roundtrip flights are not included in the package, so you can choose from where and when you want to fly. All of that is up to you! Hotel check-in in New York. Ready to start this trip the best way possible? We're talking about food, obviously. Tonight we'll have our welcome dinner and we'll get the chance to have a first taste of American food - hamburgers and fries? Well, we won't spoil everything, it will be a surprise!
Welcome dinner
We are all ready for our welcome dinner! Let's get to know each other and toast to this journey.
Included: welcome dinner
From Times Square to Brooklyn
30 %
50 %
20 %
Times Square and Grand Central Station
Our day starts in Times Square - where else? This is the heart of the Big Apple so get your first selfie in! Our next stop is the stunning Grand Central Station, that's way more than a simple railway station, it's the biggest one in the world and featured on many movies and tv shows.
Flatiron Building
Our day continues as we head south towards another famous NYC building that has a unique shape: we're talking about the Flatiron Building! Then it's time to explore the East Village and maybe find somewhere to eat before arriving at the Brooklyn Bridge. There are many cafes along the Hudson River so you'll be spoilt for choice!
Brooklyn Bridge and Dumbo
Brooklyn Bridge is one of the great symbols of the city: this afternoon we'll spend some time exploring it! In 1883, the year it was built, this bridge was the longest in the world and it is still a great vantage point to enjoy a view of Manhattan. On the other side of the river there's Dumbo, a famous art district where many artists lived in the '80s. Nowadays we can find many art galleries and scenic bars - surely we can spend the evening here!
Money Pot: local transports and admission fees if any
Not included: food and beverages
Harlem, Broadway and Central Park: art, culture and fun
10 %
20 %
60 %
10 %
Harlem
Our second day starts in Harlem: if we're here on a Sunday, we'll get the chance to assist a gospel mass in the First Corinthian Baptist Church. After singing along, it's time for breakfast - or should we call it brunch? Well, one thing is for sure: we want to try out some bagels!
Central Park
After a good breakfast, it's time to get lost in the New York jungle… Central Park! This park is HUGE: 843 acres packed with lakes, bike paths, ponds, baseball fields, flower gardens and even a zoo. You will find New Yorkers jogging or perched with friends and coffee on a bench. Keep an eye out for the squirrels that live here as they're not scared by humans and always hungry!
Which museum should we choose?
A quick lunch and then we have some time to visit a museum - there are so many here in New York! We can go to the American Museum of Natural History or visit the MoMA, if we're into art. Then we reach Saint Patrick Cathedral, the biggest gothic cathedral in the USA - it's weird seeing this old building surrounded by modern ones, but that's why NYC is so fascinating!
Saint Patrick Cathedral
The largest Gothic cathedral in North America, Saint Patrick boasts a neo-Gothic style, 100 metre high spires, and two aisles with many white marble sculptures inside. One of the most striking spots is the Lady Chapel, dedicated to the Virgin Mary.
Rockefeller Centre and Theatre District
We end the day in Rockefeller Centre and Rockefeller Plaza - the best time to be here is Christmas, and that's a fact. Surely you remember the scene from "Home Alone 2" when Kevin finally meets again with his mum? It was shot right here! During Christmas time there's an ice rink if you're feeling up to it!
Money Pot: local transports and admission fees if any
Not included: food and beverages
Please note: gospel mass is only on Sundays, hence every turn won't be able to attend
Ground Zero, Statue of Liberty and Wall Street
20 %
40 %
40 %
Ground Zero Memorial
Yesterday we visited the upper side of Manhattan, today it's time to explore the lower side. We arrive in the morning at Ground Zero Memorial, where the Twin Towers once stood. It's hard to describe how this place makes you feel, knowing the history it represents. We can visit the 9/11 Museum or go on top of the Freedom Tower, currently the tallest building in NYC and the fifth in the world. This area is called the One World Trade Centre and everything is a tribute to 9/11, a day that the USA (and the whole world) will never forget.
One World Trade Centre
The One World Trade Center houses among its complexes the Freedom Tower, the "Tower of Liberty", which is the fifth tallest skyscraper in the world. From 541 meters and 33 centimetres up in the sky, the view of the city literally takes your breath away! The height,1776 feet tall is not accidental, and represents the year of the United States declaration of independence.
Financial District
Not too far away from the One World Trade Centre, we will find the Financial District. We can have lunch here and then walk around until we find the famous Wall Street. Of course we all know this place given the New York Stock Exchange is one of the most influential in the whole world. Let's look for the Charging Bull and touch its testicles - it's good luck, they say!
Ellis and Liberty Islands
The afternoon is dedicated to discovering some other famous highlights of NYC. We can take a ferry to Ellis Island, where years and years ago all the people arriving from Europe had to stop before entering the country. Today Ellis Island is a museum - we can look for our last names in the logbooks preserved here and see if we can find any of our ancestors! Before heading back to Manhattan, we stop on Liberty Island to see another symbol of the USA, the Statue of Liberty. Then… how does a drink at a rooftop bar sound?
Money Pot: Ellis and Liberty Islands Tours, local transports and admission fees if any
Not included: food and beverages
Manhattan's neighbourhoods
20 %
80 %
Little Italy, Chinatown, Soho and the Summit
This is our last day here in New York and we have so much more to explore, so let's see as much as we can! We start the day in some popular neighborhoods, SoHo is the first stop to look for a cafe to grab a coffee to go and like a real New Yorker. Then we stroll around Little Italy, where you will find so many Italian restaurants that it will be hard to choose the best one! For lunch we can stop here or go to Chinatown for some stellar Asian food - although, maybe we can opt for take-out and find a park where we can eat!
Before lunch, we head towards the Summit, an incredible panoramic view point that promises a glimpse of Manhattan that'll leave you lost for words. The Summit is made up of 73 floors, and sits at 387 metres (well, 427 metres if you consider the pinnacle!). It's the fourth highest skyscraper in New York, and needs to be lived to be believed.
Empire State Building and Top of the Rock
We're off towards the Empire State Building, another iconic skyscraper recognisable from New York's famous skyline. We can do some souvenir shopping before getting on the roof of Top of the Rock for a 360° view of New York and sunset. Last but not least, tonight is our farewell dinner. Our time in the City is over, but what a time it was! Cheers to the incredible days we shared!
Included: entry to the viewpoint at the Summit and farewell dinner
Money Pot: Top of the Rock admission fee, local transports and other admission fees
Not included: food and beverages
Check out
Time to go back home: see you again on your next WeRoad adventure!
End of services.
The itinerary may undergo some variations that differ from what stated above. These variations may not be predictable nor depend on WeRoad's will, i.e. climate conditions, national holidays, strikes, etc.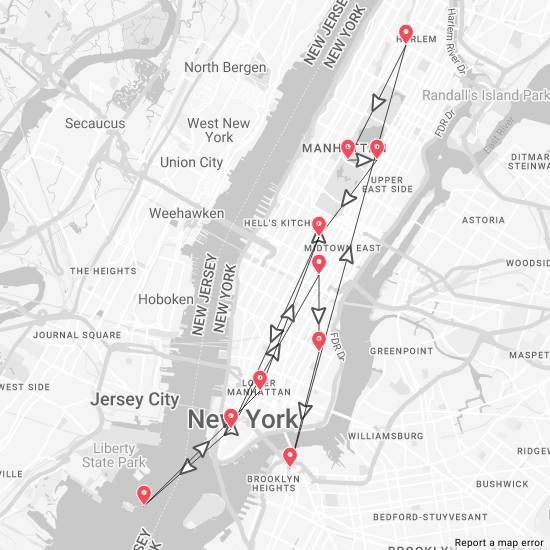 Show maps