Itinerary - Montenegro 360°: from the mountains to the beach
Welcome to Montenegro!
100 %
Check in
International flights are not included in the package so you are free to decide where to depart from, at what time and with which airline. Check into your hotel in Podgorica then it's time to start the tour right... with food of course! Tonight is all about making friends, and what better way to get to know your travel companions than with a delicious welcome dinner. Let's raise a glass to the start of our Montenegrin adventure.
Rafting Europe's deepest canyon
100 %
Full of adrenalin
After breakfast we will collect our rental cars and head north into nature. Our final destination will be Zabljak, the jumping off point for the impressive Durmitor National Park and, at 1456m, the highest altitude city in the Balkans. But we have an important stop to make along the way...
The mighty Tara River Canyon is 1300 m deep making it the deepest canyon in all of Europe, and today we're going to experience it in true WeRoad style - by white water rafting through it! It's the best - and most adrenaline pumping! - way to see this incredible natural feature and the perfect way to kick of our Montenegrin adventure.
Once we have our breath back we'll continue our journey to Zabljak where we can settle into our hotel and admire our surroundings, nestled as we are within the Dinaric Alps.
Included: rental car, white water rafting
Money Pot: petrol and admission fees where applicable
Not Included: food and drinks
A day in the mountains
100 %
Immersed in the Durmitor National Park
Today we have a full day in mountains which we can use however we wish. Zabljak is surrounded by alpine forests, towering mountain peaks and crystal clear lakes and from our base on edge of the Durmitor National Park we're in the perfect place to explore and drink in that clean mountain air.
We can head into the park and pick one of the many hiking trails on offer, including around the Black Lake - a stunning glacial lake surrounded by a pine forest, which casts a perfect reflection in the mirror-like surface of the water.
Or if you're looking for another adrenaline hit then you can head back to the Tara River and zipline over it for a bird's eye view, or try your hand at canyoning at the Nevidio Canyon with its deep gorges and cascading waterfalls.
Included: rental car
Money Pot: petrol and admission fees where applicable
Not Included: food and drinks
On the scenic road to Kotor
50 %
50 %
The Monastery of Ostrog and Kotor
We are on the move this morning bidding farewell to the mountains and heading for the Adriatic Coast. Montenegro is famed for its spectacular, serpentine roads, so we'll take the scenic route to channel our inner Top Gear presenter and enjoy the panoramic views. On our way we'll stop at the gleaming white Ostrog Monastery, one of the most sacred sites in Montenegro, which sits miraculously in a cliff face 900 m above the Zeta Valley.
Our destination today is the medieval town of Kotor, perched on the edge of a majestic bay and jewel in Montenegro's crown. After checking in to our hotel, we can start to explore the maze of cobbled streets and charming piazzas, or take it easy with a drink in hand and watch the world go by as the sun glistens on the bay.
Included: rental car
Money Pot: petrol and admission fees where applicable
Not Included: food and drinks
The jewel in Montenegro's crown
50 %
30 %
20 %
Kotor
There are few better places to wake up than Kotor. Backed by mountains the city sits proudly on the Bay which takes its name, hemmed in by the fjord-like, thousand-metre cliffs that rise almost vertically from the serene waters.
Today we will tick off a must-do when in Kotor - climbing the city walls, parts of which date back to the 9th century. Take your time ascending the 1350 steps and stop to admire the churches, fortresses and bastions mixed in with the walls. At the top you will find the imposing Sveti Ivan Fortress, originally built in the 5th century to deter invaders, which stands guard over magnificent views across the bay.
The rest of the day is yours to enjoy. Enjoy a well earned rest of keep the action going with some kayaking on the bay.
Included: rental car
Money Pot: petrol and admission fees where applicable
Not Included: food and drinks
The Montenegrin Miami
50 %
50 %
Relax and nightlife
We have to keep this show on the road, and though we will be sad to leave Kotor we are not travelling far and our next stop is the Montenegrin Miami! Budva is a popular seaside town where the locals come to enjoy the Adriatic waters and to party until dawn.
We can choose how we want to fill our day, whether it be beach hopping along the coast, indulging in some watersports or meandering through the old town and enjoying the view from the Citadela. Another option would be hop on a local water taxi for the short ride across to uninhabited Sveti Nikola Island where you can lounge on the sand until your heart's content. And when night comes, we can dip our toe into Budva's famous nightlife and take our pick of the buzzing restaurants and clubs.
Included: rental car
Money Pot: petrol and admission fees where applicable
Not Included: food and drinks
Cetinje, Lovcen National Park and back to Podgorica
50 %
50 %
Back to Podgorica
It is our final full day in Montenegro, so we had better make the most of it. We are heading back to Podgorica today, but there is time to make a few more memories. We will head first to the royal city of Citanje, where, if they take our fancy, we can stop by the most important museums and palaces in Montenegro. From here it is easy to access another of Montenegro's stunning national parks - Lovcen, the black mountain which gave the country its name.
Standing atop the second highest peak is Njegoš Mausoleum, dedicated to the man who brought modernity and centralisation to Montenegro. We can take the short hike up to take in the views and soak in this important piece of local history. On the way back down it is virtually obligatory to stop in village of Njeguši to sample their famous prosciutto, cheese and honey. The perfect lunch in the perfect spot.
Then it's back to Podgorica to return our rental cars and celebrate our adventure with an epic farewell dinner, one last chance to taste delicious local dishes!
Included: rental car
Money Pot: petrol and admission fees where applicable
Not Included: food and drinks
Bye bye Montenegro
50 %
50 %
Until next time...
We have to say goodbye: see you on your next WeRoad adventure!
End of Services: The itinerary may undergo some variations that differ from what stated above. These variations may not be predictable nor depend on WeRoad's will, i.e. climate conditions, national holidays, strikes, etc.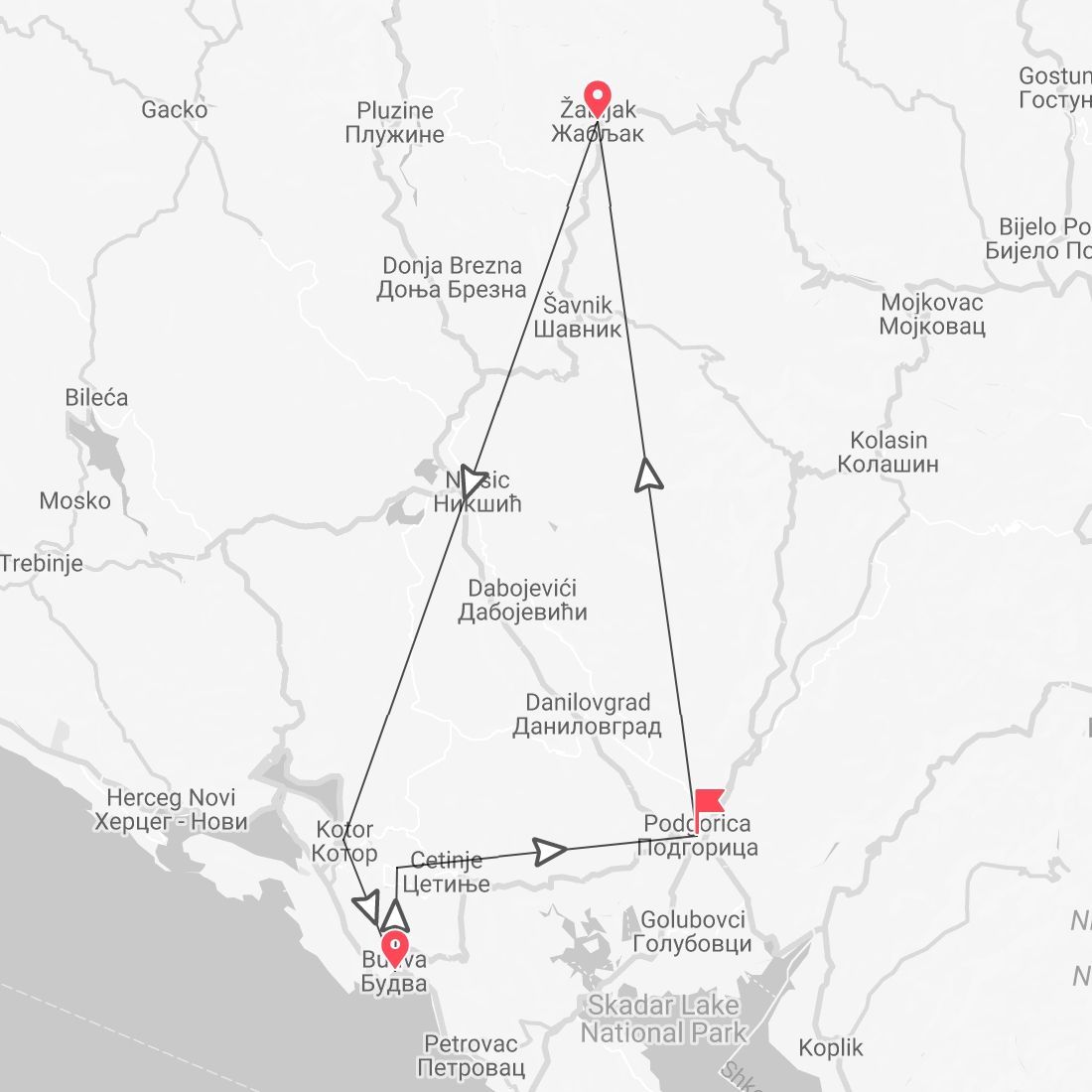 Show maps