Itinerary - Madeira 360°: canyoning and hiking
Welcome to Madeira!
100 %
Check-in
Flights to and from the UK are not included in the package, so you can decide from where and when you want to leave! This gives you complete freedom of choice to adjust your travel itinerary to your needs.Check-in at the hotel in Funchal. We are in the island's capital, whose name derives from the abundance of fennel that grows here (funcho in Portuguese). Fear not, our welcome dinner won't solely consist of this… Our first taste of Madeira will most likely be fresh fish from the Atlantic!
Included: welcome dinner Not included: food and beverages
Canyoning and Machico
100 %
Ready for canyoning?
Let's get our adrenalin pumping with canyoning, an immersive experience where you descend the course of a river by climbing, swimming, sliding and jumping! With its water-carved gorges, waterfalls and lush vegetation, Madeira is considered the best country in the world to do this sport!
Machico
After a quick lunch and chance to recover, we pick up our cars and drive to Machico, Maderia's second largest city. We stroll through the narrow streets of the town centre before reaching the seafront promenade full of cafes and restaurants, where we can try the famous 'bolo do caco' with a sea view! At sunset, we head to the Francisco Alvares Nobrega Miradouro for a spectacular view of the Ponta de São Lourenço.
Included: car rental, canyoning Money Pot: gas, admission fees if any, parking Not included: food and beverages
Ponta de São Lourenço and Porto Da Cruz
50 %
50 %
Trekking with a view
This morning we get up early because a wonderful hike awaits us.We head to the Ponta de São Lourenço, the easternmost point of the island. Our relaxing walk will take us along a path overlooking the Atlantic Ocean, where red earth cliffs and lush foliage line the way. There will be plenty of opportunities to take a dip in the natural pools, and enjoy a well-deserved 'poncha do pescador', a typical island drink made with rum, honey and lemon!
Included: car rental Money Pot: gas, admission fees if any, parking Not included: food and beverages
The eternal spring
Madeira is often dubbed the island where it is always spring due to its mild climate and sheer natural beauty. This morning we wake up at dawn to tackle one of the most beautiful hikes on the island, Pico do Areeiro - Pico RuivoWe have about 6 hours of walking ahead of us, so let's put on our walking boots and let the views talk for themselves!
On the roof of Madeira!
Pico Ruivo is the highest mountain on the island at 1862 metres. We set off on the trail and seek to maintain a good pace, crossing our fingers the weather promises clarity so we can soak up all the scenery. Once we reach the peaks, there is one last push to reach the summit, and although the overhangs are daunting, the path is safe and there are handrails in place. After a packed lunch, we retrace our steps and make our way back down the mountain to the cars, ready for a well-deserved evening of relaxation!
Included: car rental Money Pot: gas, admission fees if any, parking Not included: food and beverages
The natural pools of Porto Moniz
100 %
São Vicente & Seixal
Today we will visit the volcanic centre near the caves of São Vicente, before heading to the small village of Seixal! Seixal promises some much-needed vitamin sea, offering a variety of beautiful beaches to choose from.
Porto Moniz: waterfalls and natural pools
Although the Atlantic is notoriously cold, we at least test it to see if we'll brave the chilly temperature. We can then check out the Veu da Noiva viewpoint, which is located next to a waterfall of the same name, and enjoy yet another breathtaking view. We obviously seek to end our day on a high note! We head to the natural pools of Porto Moniz, a beautiful place where the temperature of the water is certainly more welcoming than the ocean. We can stay there until sunset, and lose ourselves in the enchanting beauty of this island.
Included: car rental Money Pot: gas, admission fees if any, parking, boat transfer to Porto Santo Not included: food and beverages
Cabo Girão and Ponta do Pargo
50 %
50 %
The island from above
We travel along the south coast starting from Camara de Lobos which, as some people know, hosted Winston Churchill, who was fascinated by this place during his trip in 1950. We ascend a little and prepare to put our vertigo to the test at Cabo Girão, a viewpoint from where you can see the entire southern coast of the island. Fear of heights will be truly tested by the glass platform standing 580 metres above ground, making it the highest cliff overlooking the ocean in Europe and second highest in the world! We pick up the cars and continue up to Ponta do Pargo, the westernmost point of the island. The view from up here is truly unrivalled, so why don't we stop here and watch the sunset?
Included: car rental Money Pot: gas, admission fees if any, parking Not included: food and beverages
Nossa Senhora do Monte, gardens and tropical fruit
50 %
50 %
Sledding in Madeira?
We have one last day to spend in beautiful Madeira. The island has already won us over, but there is one final activity that still stands to astound us. We take a cable car to the Igreja de Nossa Senhora do Monte (Church of Our Lady of the Mount), the most important pilgrimage site on the island. Aside from the incredible view, we also enjoy the botanical gardens, before descending in the strangest and most epic way possible; sledding! Toboggans were first used at the beginning of the 19th century as a means of public transport.
A tour of the local market
In the afternoon we are free to enjoy the island as we see fit. A must-see is the Mercado dos Lavradores, located in the centre of Funchal. Here we're guaranteed to find the freshest fruit and flowers, and the most intricate crafts of the island. After buying souvenirs to take home with us, we get ready for our farewell dinner, where we'll raise a glass to this incredible shared experience!
Included: car rental Money Pot: gas, admission fees if any, parking Not included: food and beverages
Home Time
Time flies when you're having fun: see you soon for another WeRoad adventure!
End of services. The itinerary may undergo some variations that differ from what is stated above. These variations may not be foreseen nor dependent on WeRoad's control, i.e. climate conditions, national holidays, strikes, etc.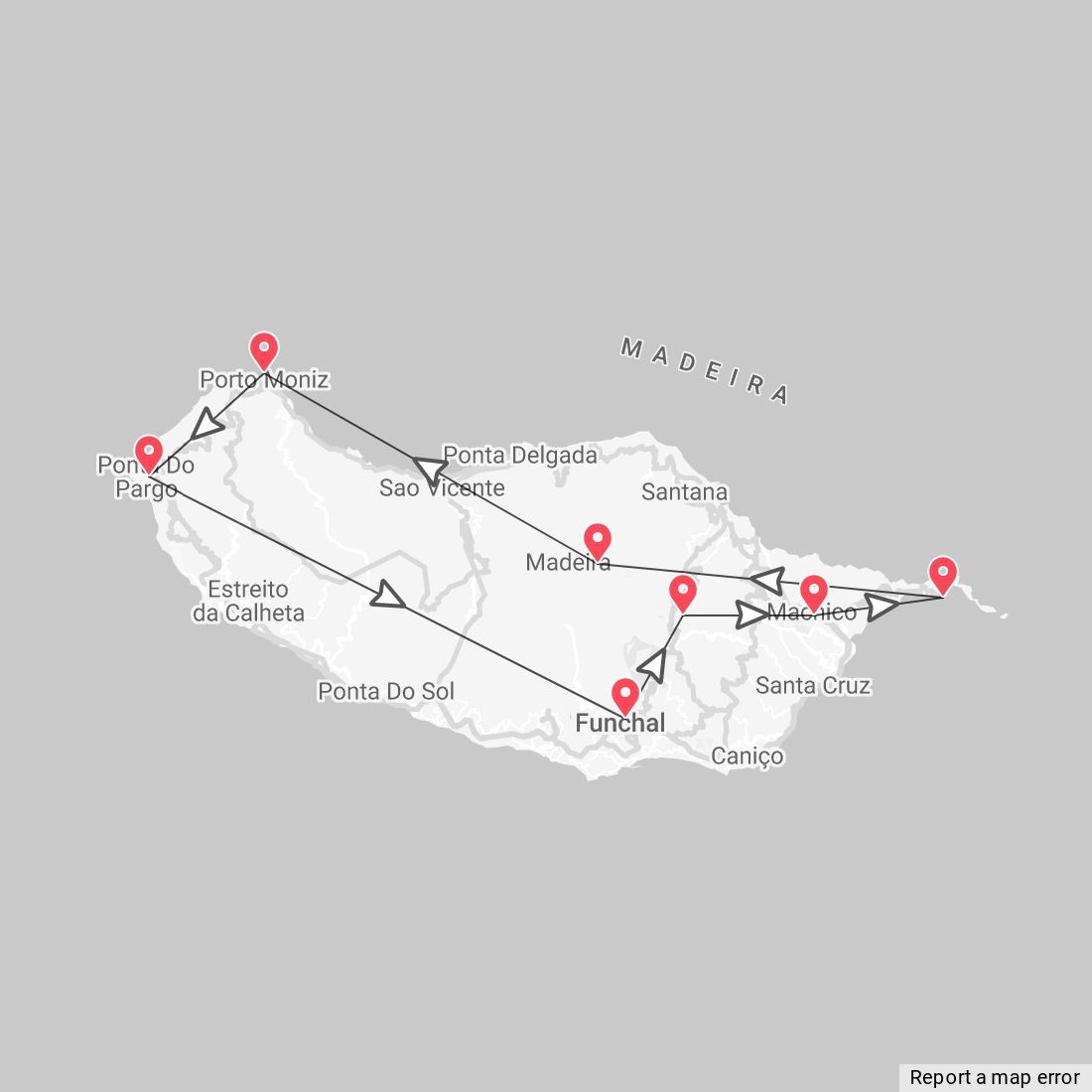 Show maps