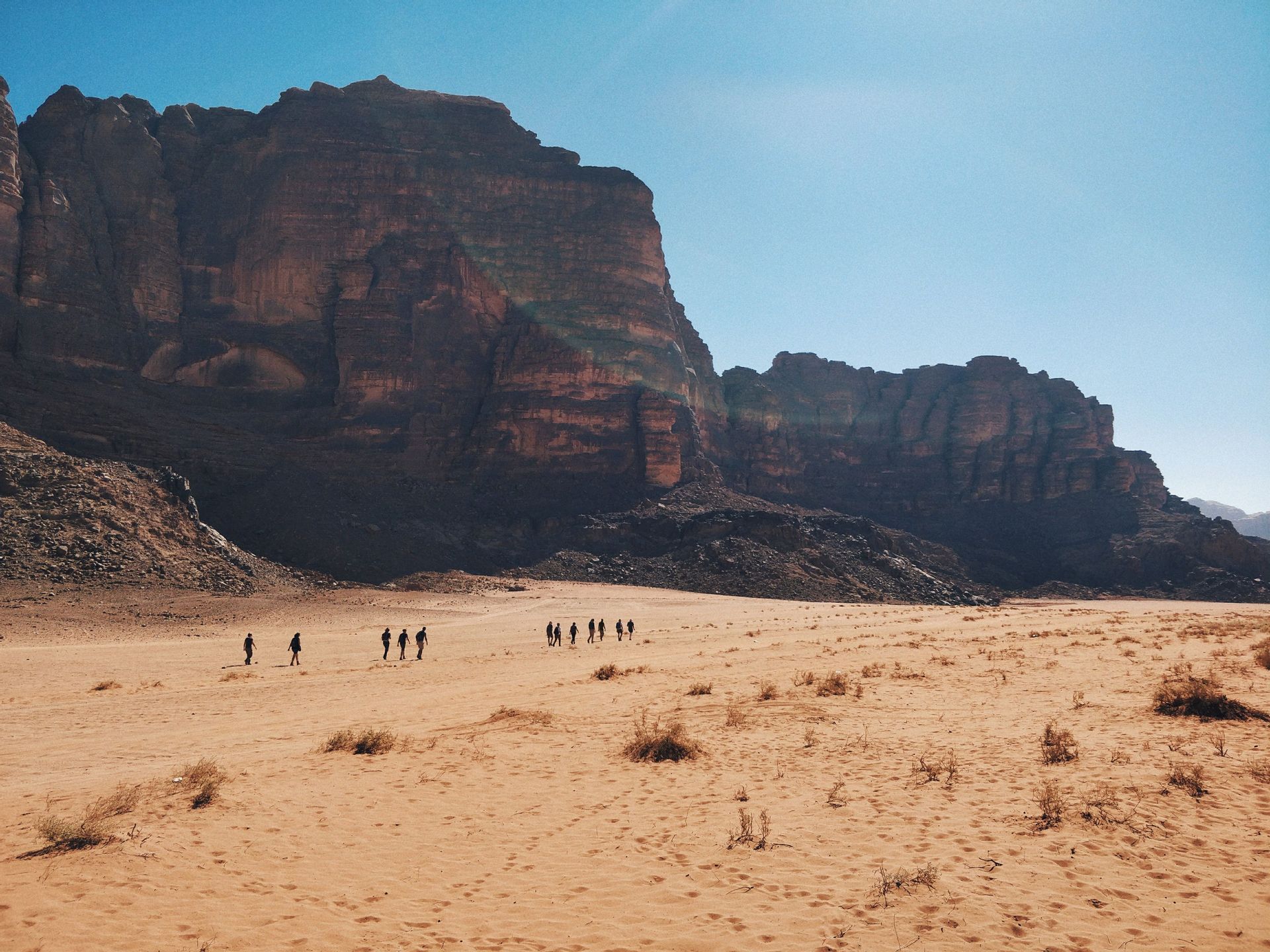 Frequently asked questions
There are currently no departure dates scheduled for this trip
Monuments and history
90%
The trip in a nutshell
This is Jordan - a once-in-a-lifetime experience. Why? Because there's no need for compromise: it allows us to discover a fascinating culture that is only a 5-and-a-half-hour flight from the UK, holds incredible treasures, testimonies of ancient civilizations, as well as varied and beautiful natural landscapes.
On this trip, we start from Amman - the effervescent capital that will be our first real adventure in Jordan. Then we will travel to the gorges of Wadi Mujib and enjoy the benefits of the waters of the Dead Sea. Then move south, journeying kilometers along the Kings' Road and passing through the Kerak castle before arriving at the real Treasure of this Middle Eastern country: Petra, the lost city. This is where we will be able to retrace the footsteps of Harrison Ford in Indiana Jones and the Last Crusade. Then there is the desert: the immense Wadi Rum, where we will sleep in a tented camp, dine with the Bedouins, and whiz around the dunes in a jeep - it will be an adventure we can be sure not to forget! We finish our trip by returning to Amman, where we get lost in the narrow streets of the souks. A journey that will stay close to your heart, forever.
Tour mood
Given the multiple transfers and accommodations, a backpack is mandatory - leave those suitcases at home!
Physical effort
This trip includes some light hiking. Whilst it won't be physically strenuous, it will probably be hot, so bring enough water and sun protection!
What do I need to enter Jordan?
Passport: valid for at least 6 months from the day you arrive
Visa: you can buy a single entry visit visa valid for one month on arrival at the airports or the Sheikh Hussein/North Border crossing at the Jordan/Israel border. The cost is 40 Jordanian Dinars
Jordan Pass: you will need to purchase the Jordan Wanderer pass via https://www.jordanpass.jo/buynow.aspx (this can also be used as your visa)
Certificates: you do not need to prove your vaccination status
Please note: all travellers, whether vaccinated or not, should complete the Travel To Jordan Declaration Form on the Gateway2Jordan platform
Arrival and departure
This trip will begin and end in Amman. Aim to arrive on the first day by 5pm - on the last day you are free to leave whenever!
---
What's included
7 nights accommodation in shared bedrooms

All breakfasts

Welcome dinner

Minivan with driver (from day 2 to day 7)

An exciting jeep excursion to discover the beauty of the fascinating Wadi Rum on day 5

"Local Experience": A night in a tented camp, under the starry sky of Wadi Rum, preceded by an authentic Bedouin dinner on day 5

Farewell dinner

Travel Coordinator services
Everything included in the tour fee outlined here
Read more
---
Frequently asked questions
Take a dip in the Dead Sea and discover the Wadi Mujib Reserve
Kerak Castle on the journey to Petra
The breathtaking city of Petra
Discovering the Wadi Mujib desert on the Um Fruth Bridge
Relax or get active at the Red Sea
Amman city: the old city to Jabal Amman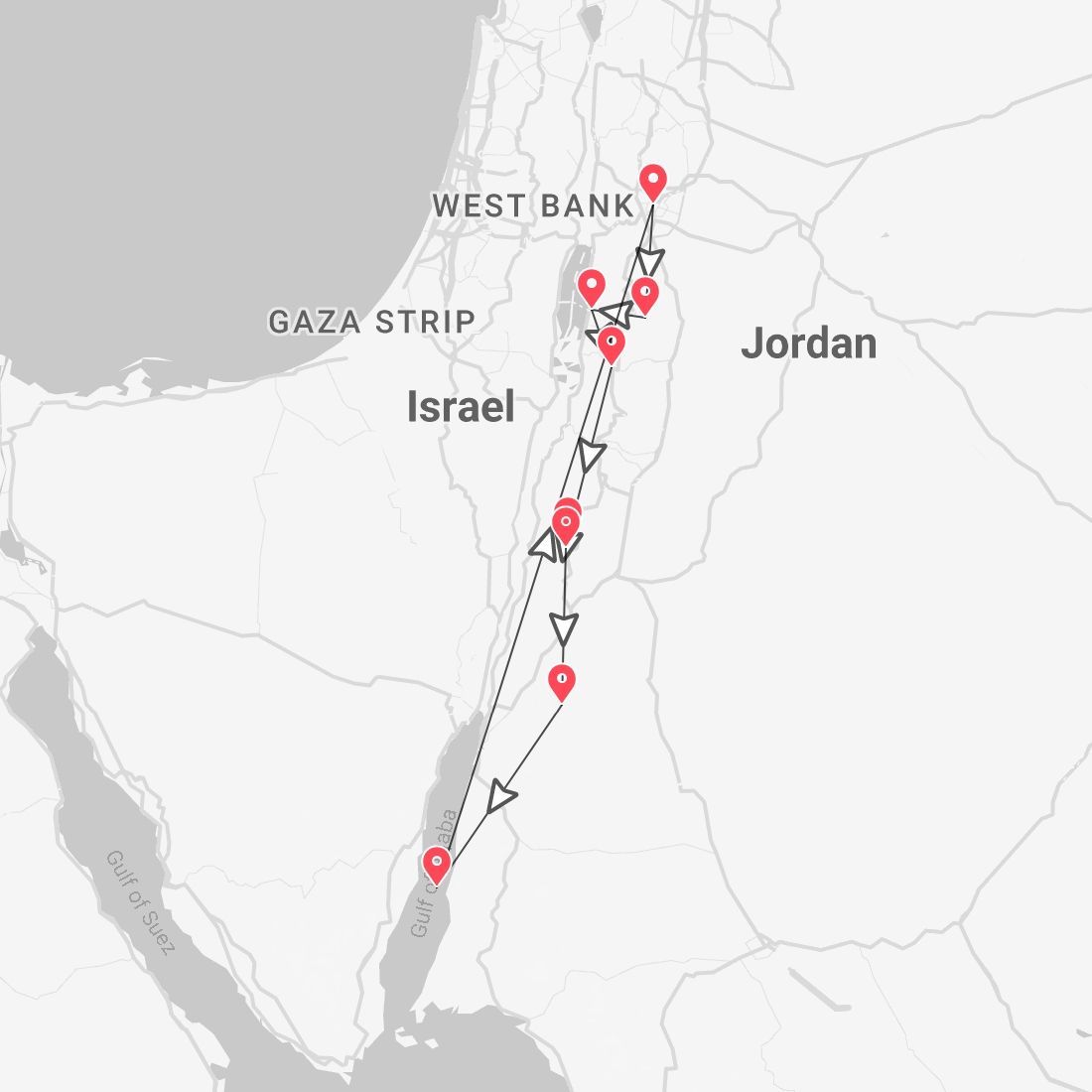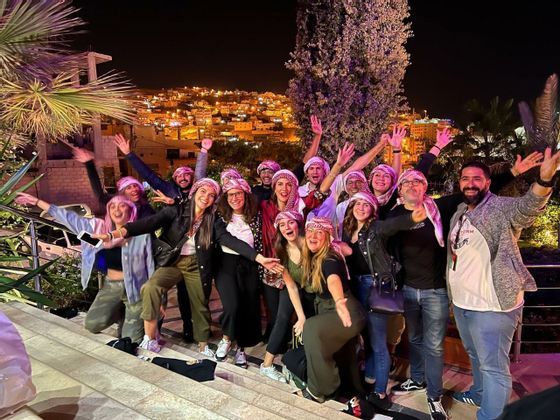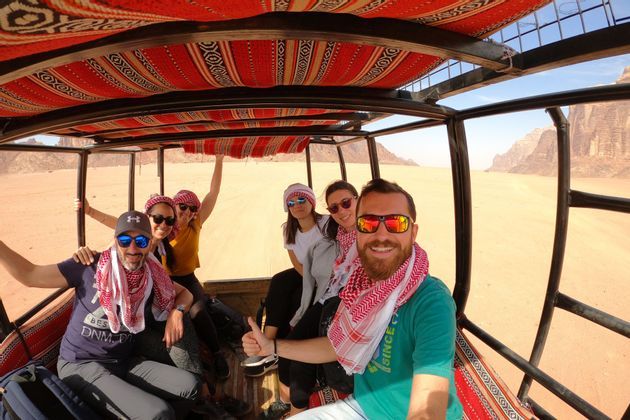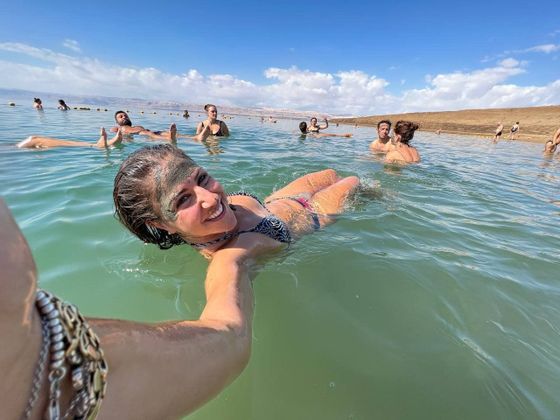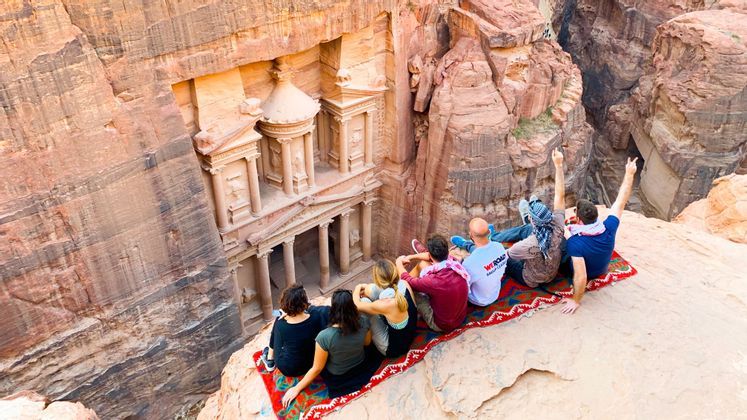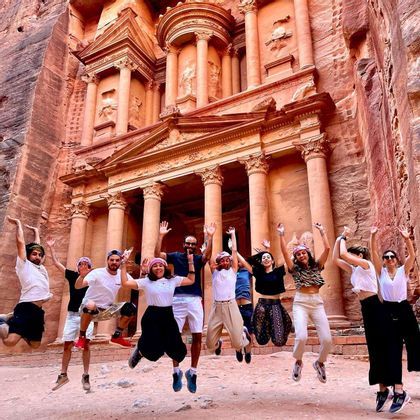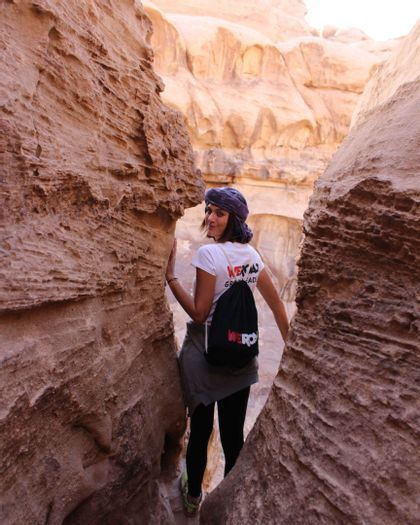 The travel coordinators
Our travel coordinators are chosen because they are people like you. Not only are they the best travel buddy you could hope for, but they're trained professionals guaranteed to show you a travel experience like never before
Info to know
Staff

You'll travel with a WeRoad Coordinator, which is more or less the best travel buddy one can wish for.


Visas and Vaccinations

Before booking, please make sure to check what documents, visas and vaccinations are required to enter the country. If you have any questions, please contact us.

Arrival and Departure Times

We always advise trying to get to the meet-up point for the first day of your tour by 5pm so you can make sure you arrive in time for the Welcome Dinner. On the last day of the tour you are free to leave whenever you want!

Local culture

From 22 March 2023 to 21 April 2023 it will be Ramadan period: this means that the trip can undergo changes based on the opening hours of public places. We will bring our own packed lunch and during the day we will be able to eat in private areas. Being a WeRoader also means respecting local traditions like this, it will be an opportunity to get to know them even more closely!