Itinerary - Greece: Kos & the unexplored islands
Kos: Welcome to Greece
100 %
Check-in
Round trip flights are not included, so you can choose from where, when, and with whom you want to fly. All of that is up to you! Hotel check-in and welcome meeting. We start this trip the best way possible: with food! We'll look for the best taverna we can find and have our first taste of the amazing Greek food - from grilled feta to Greek salad and gyros, we'll have one of everything, please!
Hello Kalymnos!
40 %
40 %
20 %
From Kos to Kalymnos
It's not time for the beach just yet (but no worries, we'll get there!): this morning we say goodbye to Kos and take a ferry to reach Kalymnos. This island is a lot wilder than Kos, proving a popular destination for hikers and outdoorsy types on the hunt for climbing and bouldering. We arrive in Pothia, the main city of the island, and get ready to properly start our trip: we check-in, pick up our rental cars and find a spot to have some lunch. So, who's ready to discover Kalymnos?
Welcome to Kalymnos
This afternoon we'll take a stroll on the seafront, or visit the sponge factory - the economy of Kalymnos was once all about sponge production! If we're not feeling either of those options, we can simply wear our swimsuits and go to the beach to finally enjoy the sea and the sun. We'll be sure not to miss the sunset - the very first one of this trip - and then head back to the hotel to get ready for our welcome dinner. Who will do the first toast? Let's raise a glass to us and this amazing adventure we're about to embark on!
Included: car rental and welcome dinner
Money Pot: ferry transfer from Kos to Kalymnos, petrol and admission fees if any
Not included: food and beverages
Discovering Kalymnos
40 %
40 %
20 %
Choices, choices
It's early morning here in Kalymnos: we have a lot to do, and we don't want to miss a thing! There are many beaches that simply can't be missed, so we'll start there, and then decide what to do with the rest of our day. If we are feeling adventurous, we can take a climbing lesson or rent some kayaks and explore the island from a new perspective. They say that around here it's even possible to see dolphins, so let's cross our fingers and scour the waves… hopefully, it will be our lucky day!
Included: car rental
Money Pot: petrol, optional activities and admission fees if any
Not included: food and beverages
Arriving in Leros
30 %
40 %
30 %
On the road to Leros
Time to say goodbye to Kalymnos: this morning we'll hop on a ferry to Leros. According to Greek mythology, Leros is the birthplace of Artemis, the goddess of the hunt. When we arrive, we're off to Agia Marina, which will be our "base camp" for the next two days, to start exploring our surroundings with the Pandeli Castle. From there we'll have an incredible view of the city and the sea from above - get your cameras out, it's time to take the perfect group selfie! We can stay up here until sunset - we don't need to remind you that'll be epic! Then it's back to the city centre to enjoy a relaxed evening.
Included: ferry transfer from Kalymnos to Leros and hotel transfer
Money Pot: admission fees if any
Not included: food and beverages
Boat tour around Leros
50 %
50 %
Discovering Leros by sea
Things to not forget today: sunscreen and sunglasses! A full-day boat tour awaits us so we can discover Leros the best way possible, by exploring its hidden beaches and undiscovered coves. We'll pop on our swimsuits and get ready to jump in the blue water of the Greek sea. We'll have the full day to relax, sunbathe, and enjoy each other's company - maybe we'll be able to see the sunset from the boat as well, how magical would that be? In the evening, how about a cute taverna to tuck into more delicious Greek food - have you tried the moussaka yet?
Included: full-day boat tour and lunch
Money Pot: local transportation and admission fees if any
Not included: food and beverages
Back to Kos
30 %
30 %
40 %
Kos all over again
For the early birds, there'll be time for a last swim in Leros' waters in the morning, while the sleepyheads can enjoy an extra hour in bed (no judgement here!). We get to the harbour to take the last ferry of the trip, which will bring us back to Kos. So let's enjoy this last ride and the magical view of the Greek sea. Once we arrive in Kos, we'll pick up our rental cars, check-in into our hotel and start exploring the island.
Spa time?
No beach time today though: we drive inland to visit the villages of Lagoudi Zia and Antimachia. We'll get the chance to see how Kos looked like in the past, way before tourism changed its panorama. Lagoudi Zia and Antimachia are mountain villages with an incredible view of the island - there are many trekking and hiking paths, so we can take one and see where it'll lead us! After a good sweat, what better way to reward ourselves than with a good spa? Here in Kos, there's a beach where hot water flows naturally from the mountain - the temperature is pretty high (about 50°C), so we'll better wait for the sun to set in order to avoid the hot weather of the daytime. Swimsuits out, we're ready to enjoy the starry night from this natural spa: who's in?
Included: ferry transfer from Leros to Kos and car rental
Money Pot: petrol and admission fees if any
Not included: food and beverages
Exploring southern Kos
30 %
70 %
Let's go south
Our plan for today is to head south and explore the beaches in the southern part of the island. First on our itinerary are Agios Stefanos Beach and Paradise Beach, which are sure to be little heavens on earth given the names! Relaxation is priority number one on the agenda: sunbathing, swimming, diving - basically, enjoying the beach! After a full day in the sun, we head back to Kos Town to enjoy the local nightlife: this island is pretty renowned for it, so let's hit the dance floor - don't worry there won't be any need to set an alarm for tomorrow morning, we promise!
Included: car rental
Money Pot: petrol and admission fees if any
Not included: food and beverages
Relax in Kos
50 %
50 %
Key word: RELAX
We promised that today there will be no rush to get up! We can decide how to spend our last hours on Kos together! We can hit up the shore for a final day at the beach, full of sunbathing and/or water sports. Or, we can take a ferry and go to Nisyros, a little island close to Kos with few inhabitants, and a dormant, active volcano. Tonight we'll have our farewell dinner, which will be the perfect goodbye. Let's have a toast: to us, and the adventure we shared!
Included: car rental and farewell dinner
Money Pot: petrol and admission fees if any
Not included: food and beverages
Check-out
Time to go back home: see you again on your next WeRoad adventure!
End of services:
The itinerary may undergo some variations that differ from what is stated above. These variations may not be foreseen nor dependent on WeRoad's control, i.e. climate conditions, national holidays, strikes, etc.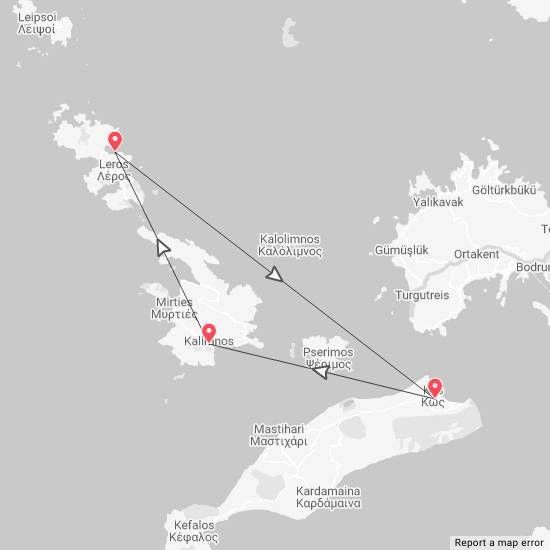 Show maps