Itinerary - Cuba 360°: from Havana to Trinidad
Havana: Meet Up in the Capital
100 %
Check-in
Flights to and from the UK are not included in the package, so you can decide from where and when you want to leave! This gives you complete freedom of choice to adjust your travel itinerary to your needs. Hotel check-in in Havana. Get ready, today begins our adventure in one of the most joyful and fun-filled countries on the planet.
Horse riding and Cigar Tasting in Viñales
100 %
A Slice of Heaven
Viñales is a small town cradled within a national park, and is home to just a few thousand inhabitants. Surrounded by breathtaking scenery, Viñales is a leading example of Caribbean life. World-famous Cuban Cigars are predominantly produced in… yep, you guessed it, Viñales! When we're there it'll feel like the set of a film, WeRoaders on horseback, surrounded by stretches of tobacco plantations, and mixing with locals. Needless to say, not only will we see how the cigars are produced, but we'll be able to try them (and it's perfectly legally to bring a few back home, don't worry!).
What better way to start getting to know each other than with Cuban specialities at our welcome dinner? Arroz con pollo, some Ajiaco... and obviously, lots of cuba-libre to toast the beginning of our adventure.
Included: Transportation from Havana to Viñales, welcome dinner, horseback riding, plantation entrance Money Pot: local transportation Not included: food and beverages
Cayo Jutas: Azure water and White Sand
100 %
To the Sea!
Today we'll leave the mainland in search of the sea. This is our first day of total relaxation, and at just one hour from Viñales, starting it will be easy. On arrival we'll be met with white sand beaches, azure water, and that sweet, sweet Caribbean breeze. First thing's first, we'll need to seek out the nearest chiringuito to get some well-deserved Piña Coladas. We'll sip them (straight out of the coconut of course) on the beach, and after we can lounge in the sun, swim in the sea, or take a long walk in search of Mangrove forests. The island is so picturesque, there will be no shortage of Instagram-worthy backdrops! In the evening we'll head back to Viñales where we'll experience the renowned cuban hospitality, and maybe, just maybe, we'll even learn some Salsa moves!
Money Pot: transportation & entrance fees Not included: food and beverages
Snorkeling, Hiking and Exceptional Playa Giron's Lobster
50 %
50 %
Playa Larga or Playa Giron?
Playa Larga and Playa Giron are two beaches overlooking the 'Bay of Pigs', which is particularly sought out by hiking enthusiasts! We'll be in the perfect place to practise our snorkelling skills, the sea is warm and crystal clear making the rainbow-coloured fish and corals a lot easier to see! We'll seek out a traditional restaurant for lunch, which provides the perfect opportunity to try the local, and incredibly affordable sea-food, lobster anyone?
Included: transportation from Viñales and Playa Giron Money Pot: Transportation and entrance fees Not included: food and beverages
The Colours of Trinidad and the Streets of Plaza Mayor
100 %
The Heart of Cuba
In just two and a half hours, we'll arrive in the pristine streets of Trinidad, which are peppered with colourful buildings and warm Cuban hospitality. The atmosphere of the streets is unparalleled, music fills our ears and the freshest fish and fruit fill our stomachs. The hospitality of locals is a well-known trait, you can walk into a bar a stranger and leave a friend, with the high-possibility of being taught some Salsa moves along the way! We'll have dinner on a terrace, to enjoy the mesmerising rooftop view of the city. As the night draws in, the music gets louder, all set to the steady flow of Piña Coladas and Mojitos!
Included: Transportation from Playa Giron to Trinidad Money Pot: Local Transportation and entrance fees Not included: food and beverages.
Playa Ancón: Relax to the Max
80 %
20 %
Beach Day
In the morning we'll go to Playa Ancón, one of the most beautiful beaches of the Cuban coast. White sand, turquoise waters, pretty kiosk for snacks and drinks, straw umbrellas and palm trees… Playa Ancón is the perfect place for relaxing, Right before lunch we'll leave on a catamaran… just like Pirates of the Caribbeans! It wouldn't be a proper day at the sea without a boat trip, that will be topped with mojitos and cigars all day long. All day. We mean it ;) Once we're back on the dry land we'll just have to wait for the right moment: a group picture at sunset on the Cuban seaside is a must do!
Included: Catamaran trip. Money Pot: , local transports, and any admission fees where required. Not included: food and beverages.
Topes de Collantes National Park and Salto del Caburnì Waterfall
40 %
40 %
20 %
Forests and Waterfalls
After yesterday's relaxation… it's time for adventure! Topes de Collantes is a fascinating natural park situated just outside Trinidad. We're off to the Cuban jungle, where we'll be hiking admist giant butterflies, vibrant hummingbirds and tropical plants. Sure, it'll be hot and humid, but the sweat is definitely worth the views! We'll walk towards Caburnì, where the route will be lined with thick, lush vegetation and breathtaking panoramic views. We'll walk through coffee plantations, traditional Cuban villages, before arriving at the famous Salto del Caburnì waterfall, where scintillating natural pools await… In the afternoon we'll head back to Trinidad for dinner and, if you remembered your dancing shoes, Salsa lessons!
Money Pot: transports, entrance fees Not included: food & beverages
Los Ingenios valley and sugar plantations
50 %
50 %
On the Road
The land around Trinidad is emblematic of Cuban prowess when it comes to shaping its rich landscape to reap all the possible rewards. While the north boasts tobacco plantations, the sugar plantations reign supreme here, with Manaca-Iznaga (famous for its bell tower) and Guáimaro (where you can find a Sugar Museum) stealing the show. We'll have the chance to walk up a colonial tower which dominates the whole valley, and where we'll be sure to take a group selfie! Our next stop is Remedios, and more specifically Santa Clara, which is famously known for the battle where the dictator Batista was defeated by Ernesto Guevara (AKA El Che) and his revolutionary forces. We'll also have the chance to visit his mausoleum, where we'll be able trace back all the key moments that shaped Cuba's modern history.
Included: transportation from Trinidad to Remedios Money Pot: local transports, entrance fees Not included: food & beverages
Cayo Santa Maria: Tropical Paradise
100 %
Caribbean Beaches
Picture-perfect sand and crystal-clear water: welcome to Cayo Santa Maria. A small island situated in the Jardines del Rey archipelagos, Cayo Santa Maria is a UNESCO Biodiversity Reserve, promising perfect opportuinites for snorkeling and diving. Not only do you stand the chance of finidng Nemo and his friends, but the water is so hot, it feels like a thermal bath. It certainly won't be easy to leave, but maybe our appetites will win… It's back to Remedios for dinner! Overnight stay in Remedios.
Money Pot: local transports, entrance fees Not included: food & beverages
Back to Havana
70 %
30 %
Back to the Capital
Once we get to Havana, we'll have a refreshing drink on the El Malecón beach.The famous promenade is the perfect place to admire pre-revolution architecture, grab a bite from one of the many restaurants and even hail a Cuban bike taxi! Did you know that Cuba's most popular drink isn't actually a cocktail, but beer? Fuerte Bucanero or a Cristal, the choice of cerveza is yours!
Included: transportation from Remedios to Havana Money Pot: local transports, entrance fees Not included: food & beverages
Discovering the Streets of Habana Vieja
40 %
40 %
20 %
La Habana Vieja
We'll spend the morning exploring the most famous sights of the city, Plaza de Armas, Plaza Vieja and Plaza de la Catedral, where the architecture is seeped in five centuries worth of history. The whole district is UNESCO world heritage site, so there won't be a shortage of epic photo opportunities! The iconic, vintage cars, hotels that hosted clandestine parties during the prohibition, the Bacardi building where the world-famous rum was invented, Cinema Payret, the legendary Floridita restaurant; It'll be a busy morning!
La Bodeguita del Medio
Tonight we'll be drinking a lot of mojitos, and not in a random bar, but the one that inspired Hemingway and Pablo Neruda! It's undoubtedly a very touristic spot so we'll grab a few drinks before moving on to a quieter spot for our farewell dinner!
Included: goodbye dinner Money Pot: local transportation and entrance fees Not included: food & drinks
Check-out and Goodbyes
We'll hug, we'll cry, we'll say goodbye, but only until our next WeRoad adventure!When we think of Cuba, it's this experience that will come to mind. Cuba es pura vida, puro amor!
End of services. The itinerary may undergo some variations that differ from what is stated above. These variations may not be foreseen nor dependent on WeRoad's control, i.e. climate conditions, national holidays, strikes, etc.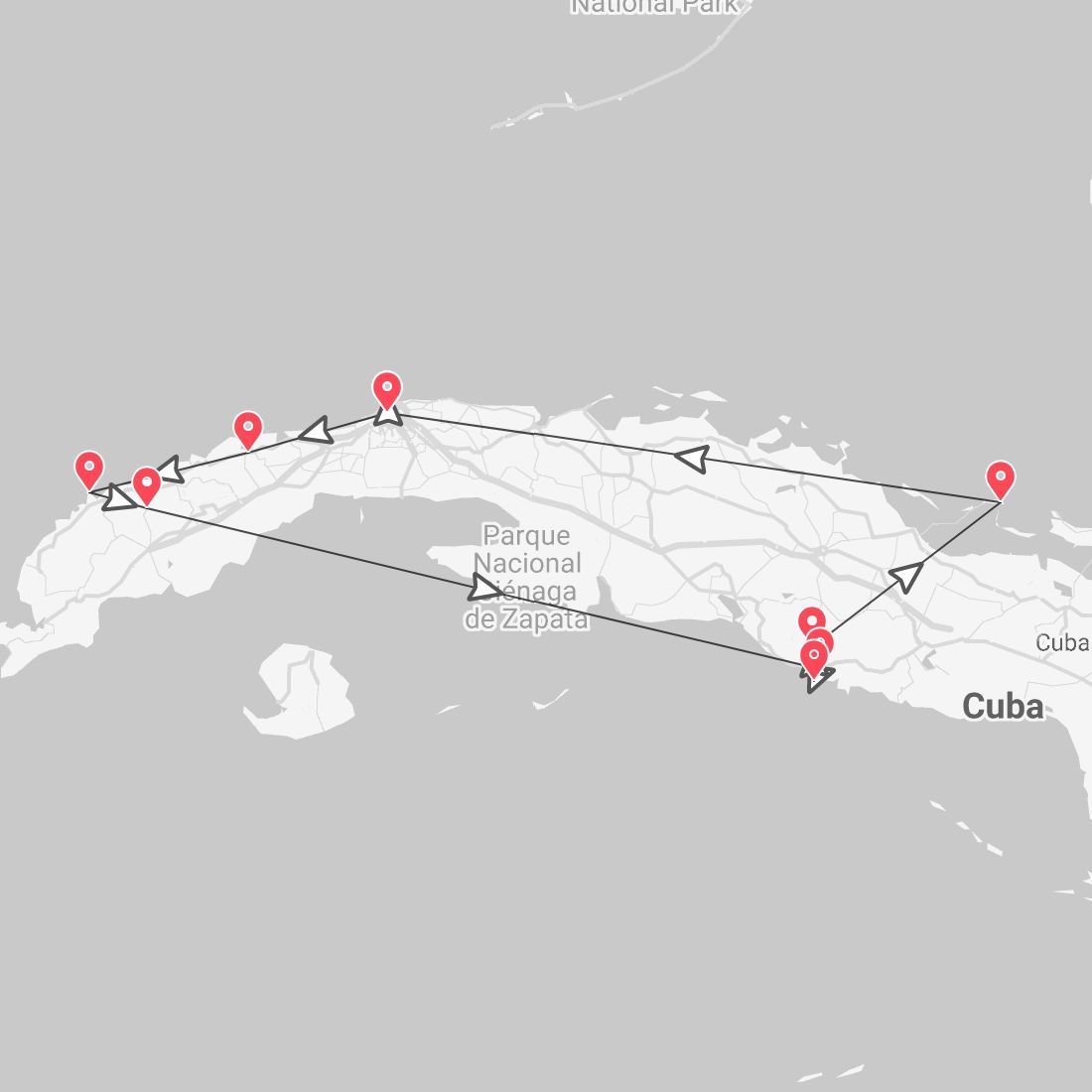 Show maps