Itinerary - Costa Rica 360°: from Tortuguero to Santa Teresa
Meeting in San José
100 %
Check-in
Flights to and from the UK are not included in the package, so you can decide from where and when you want to leave! This gives you complete freedom of choice to adjust your travel itinerary to your needs. Check-in at the hotel in San Jose and welcome dinner. To get a first taste of Costa Rica we start of course...with food! The welcome dinner will be the right occasion to taste casado, a dish composed of rice, beans, salad, fried plantain and meat or fish. Here they eat it for breakfast, lunch and dinner, so we can have seconds in the morning!
Included: Welcome Dinner
Tortuguero National Park: nature and trekking
100 %
Immersion in nature
Our adventure gets off to a flying start. It takes a little patience to reach Tortuguero, but it is completely worth it! The National Park is a pulsating green lung of life: nature reigns supreme here, with lagoons, rivers, rainforest and animals of all species. The name Tortuguero is derived from the turtles that come to the park's beaches every year to lay their eggs. If you are lucky, maybe you will witness newborn turtles on their journey to reach the sea. If the season is right, this is a sight we cannot miss! In the afternoon, we can stretch our legs with a bit of trekking. We'll be on the look out for monkeys, geckos, lizards, frogs and brightly-coloured birds that inhabit the forest and keep us company during our adventure.
Included: Transport and accommodation at Tortuguero Natural Park, lunch and dinner.
Money Pot: Entrance fee and any excursions.
Not included: meals and drinks where not specified.
Tortuguero National Park: canoe tour of the park
100 %
In search of animals
The best time to spot animals around here is early in the morning, so we'll wake up before dawn for a canoe tour of the park. No one likes to have their alarm clock set so early, but this time it will be worth it. The magic of the early-morning silence, broken only by the sounds of the animals and accompanied by the colours of the rising sun, will take us into a world far removed from our daily routine. Let's enjoy these moments of peace and quiet in nature before... a nice breakfast!
Towards the Rio Pacuare
Time to completely change landscape because we're moving to the second stage of our journey. In the afternoon we reach our lodge in the middle of the forests of the Pacuare river. After an early morning, this afternoon we take it easy, maybe taking a nap or a quiet walk along the river. For those who are used to waking up early and haven't yet used up their energy reserves, we can do some trekking or kayaking in the nearby area.
Included: Sunrise excursion, transport, breakfast, lunch and dinner.
Money Pot: Entrance fee and any excursions.
Not included: meals and drinks where not specified.
Rafting on the Rio Pacuare River
100 %
Rafting!
Today is another early morning but this time, adrenaline will be our caffeine! This morning we raft down the Rio Pacuare! There will be times when the river is calm and we can enjoy the scenery, and others when we will have to paddle hard to conquer the rapids! Is there a risk of getting wet? Absolutely, and we can't wait! After lunch, we reluctantly leave the park and return to San José to continue our Costa Rican adventure. Tonight we also take the opportunity, after eating a few more local dishes (maybe this time arroz con camarones), to go to the bars in the capital and hit the dance floor!
Included: Transport, packed lunch and rafting on the Rio Pacuare included in the trip price.
Not included: meals and drinks where not specified.
Manuel Antonio National Park: sloths and beaches
50 %
50 %
Between sea and nature
We say goodbye to the capital and head back to nature in the direction of Manuel Antonio (we're not going to a local's house, it's another national park!). We spend the next two days here and can decide how to fill our days with a variety of activities! We can trek in the park in search of sloths: Manuel Antonio is the best place to spot them going about their daily business! Or you can mimic the sloths and spend the day lounging on the beach. Here the water is crystal clear and super inviting, so feel free to enjoy some well-deserved relaxation. If you want, you can also go out on a catamaran in search of dolphins. And finally, the sunsets here will have a whole different flavour!
Included: Car hire.
Money Pot: Petrol and entrance fees.
Not included: meals and drinks where not specified.
Arenal Volcano National Park and its thermal pools
100 %
To the volcano!
Another day, another... transfer! We have a long drive ahead of us, but definitely worth it! Another National Park awaits us, perhaps one of the most famous in Costa Rica: the Arenal Volcano with a symmetrical conical shape which dominates the park's landscape. Until recently it was one of the country's most active volcanoes, with an average of 41 eruptions a day, but luckily for us it is currently in its dormant phase! It's time to take advantage of the numerous thermal pools and enjoy a soak surrounded by lush jungle and perhaps with a cool pipa fria, a drink served directly in a coconut. What more could you want?
Included: Car hire.
Money Pot: Petrol and entrance fees.
Not included: meals and drinks where not specified.
Jungle trekking between Arenal Lake and Venado Caves
100 %
Pure adventure
Today we can hike through the jungle trying to spot parrots and monkeys on the way to La Fortuna waterfall, one of the most beautiful in the country. Don't forget your swimming costume as you'll be able to take a dip in the natural pool just below the waterfall. If you're looking for a breathtaking view, you can take a tram to a vantage point and take a zipline over the park for an extra adrenaline rush you'll find hard to shake. The activities don't end there! In the park you will also find Arenal Lake, the largest in Costa Rica, where you can kayak with the majestic view of the volcano in the background. It's going to be a busy day and tonight the thermal pools are waiting for you too!
Included: Car hire.
Money Pot: Petrol and entrance fees.
Not included: meals and drinks where not specified.
Tamarindo: relaxation and sunsets on the beach
20 %
60 %
20 %
Surfing, yoga and relaxation
The last few days of our adventure are spent in paradise (although we can't complain about all the wonderful places we've been so far!). Tamarindo, here we come! We can take surfing lessons, go snorkelling, hike ... there are plenty of options to choose from! What about a horseback ride on the beach at sunset, just before ending our evening dancing in a bar overlooking the ocean?
Included: Car hire.
Money Pot: Petrol and entrance fees.
Not included: Meals and drinks where not specified.
San José: the capital city of colour
50 %
50 %
Enjoy the capital
We're back in the capital for our last day in Costa Rica, and can take advantage of the time to stroll down the main street to buy souvenirs and enjoy the musicians and dancers sharing their art with passers-by. It will be a chance to experience some more of the local life and culture. We end our adventure with a farewell dinner, where there will be more typical dishes, such as sopa mariscos, chicharrones or chifrijo. We raise a toast to ourselves and to the memories we have made together through this trip, and end on a high note by celebrating in a bar in the centre. It's our last night here and we have to make the most of it!
Included: Car hire and farewell dinner.
Money Pot: Petrol and entrance fees.
Not included: meals and drinks where not specified.
End of services.
The itinerary may undergo some variations that differ from what is stated above. These variations may not be foreseen or dependent on WeRoad's control, i.e. climate conditions, national holidays, strikes, etc.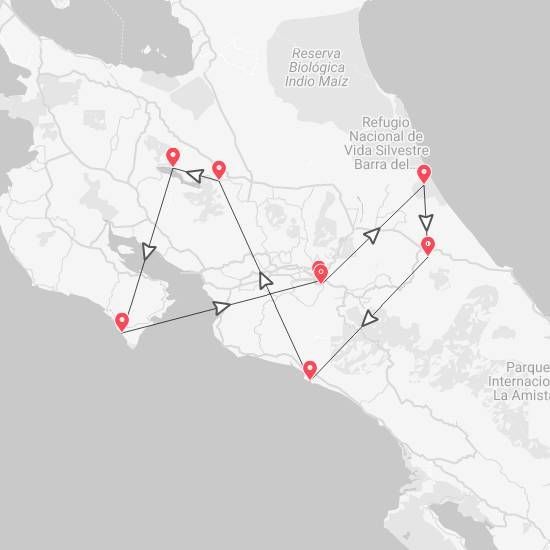 Show maps