Itinerary - Colombia 360°
Welcome to Bogotà
100 %
Check-in
Roundtrip flights are not included in the package, so you can choose from where and when you want to fly. Check-in at the hotel and get together for you welcome meeting! We begin our adventure with dinner, which provides us the perfect opportunity to introduce our taste buds to the colourful, Colombian cuisine!
Included: welcome dinner
Not included: all other food and beverages
Salento: Eje Cafetero
100 %
But first, coffee
Early morning wake-up so we don't miss a second of our adventure, today we're catching our first internal flight of the trip! We're off to Salento, one of the oldest towns in the department of Quindio (Colombia is a unitary republic and is divided into 32 departments). On arrival, we check in to our hotel, drop our backpacks and get ready to explore! The surroundings are characteristic of Colombia; verdant mountains line the horizon where coffee plantations grow in abundance. We seek out a small, local restaurant for lunch, and we're ready for a post-food pick-me-up in the best place for it; coffee!  We arrive in what can only be described as the 'cafeteria of Colombia': Salento, Philandia, and Armenia rely on coffee production for the majority of their economic income. Discovering the secrets to the perfect cup of local, Arabica coffee is a priority on our list today, so we spend the afternoon visiting a coffee finca! Our guide will take us through the plantations, explaining the coffee process and what, when, and how to make the perfect cup. We'll then kick back with the locals, enjoying the view with the perfect brew in hand.
Included: Internal flight and land transfer
Money Pot: Other transport and excursions included in the money pot.
Not included: Food & beverages
The Cocora Valley
50 %
50 %
Palms for days
Ready to see the tallest wax palms in the world? This morning we'll immerse ourselves in the majestic Colombian scenery by exploring the Valle del Cocora. Located 9 miles east of Salento, the Cocora Valley extends to the dramatic slopes of the Parque Natural de los Nevados. As soon as we approach the park we'll be faced with the incredible landscape: wax palms are the national tree of Colombia and tower over visitors, reaching nearly 200ft in height. We can explore the valley by foot, on horseback or even on a Willy; not a euphemism, we promise; it's the name of Colombia's famous jeeps. We'll channel our inner Bear Grylls and traverse forests, rivers and fauna, and if we're particularly observant we might even catch a glimpse of the enigmatic hummingbird…
Walking around Salento
After lunch we have the afternoon free, and being in Salento it's the perfect time to get to know the town. The streets are peppered with Colombian Artesanias, craft shops selling local creations, which we can peruse in search of souvenirs. As the day draws to a close, we head to the perfect viewpoint to admire the sunset over Salento, before returning to the centre for dinner!
Money Pot: Transport and any entrance fees
Not included: Meals and drinks
Medellin: Comuna 13 and Poblado with its "noche loca"
70 %
30 %
Early birds catch the bus to Medellin
Early start today because we have the longest transfer of the trip, so let's try to make the most of it! Some catch-up sleep, a binge of your favourite podcast, or getting lost in that latest album; before you know we're arriving in Medellin A.K.A the city of Pablo Escobar. Although most visitors can't unsee scenes of Narcos, Time Magazine declared Medellin the most innovative city in the world in 2013, since Medallo (as the locals call it) is the symbol of Colombia's future.
Comuna 13
Over the next 2 days we'll have the opportunity to explore every crevice of the city, jumping on the metro, riding the bus, and taking the tram, since public transport is at the core of Medellin's innovation. This afternoon, however, we do have one vital stop planned: a walking tour of Comuna 13. The once periculous barrio is perched on top of a mountain which rendered it almost inhabitable, but due to open-air escalators citizens are able to move around with ease. This is one of the key examples of Medellin's transformation over the years, where communities have had their lives revolutionised thanks to increased focus on technology.
Included: transfer from Salento to Medellin and the excursion to Comuna 13
Money Pot: transport and any entrance fees
Not included: food and beverages
The streets of Medellin or the colors of Guatape?
60 %
40 %
From El Basurero de Moravia to Ayacucho
Day 2 in Medellin, and we are truly spoilt for choice with what to do first! We could start with El Basurero de Moravia, a former landfill that was transformed into a nursery, before moving onto Ayacucho, a street defined by its murals and modern tram. Then there's Ciudad del Rio, the city's young and animated park that is surrounded by the MAMM (Museum of Modern Art), Parque de los Deseos, University of Antioquia, Parque Explora (science museum) and the incredible Jardin Botanico.
...or Guatape?
Alternatively, in case we aren't feeling like staying in the city, we can choose instead to spend the day in Guatape. Dubbed the most colourful city in Colombia, Guatape resides in the Antioquia department and boasts the famous national monument, El Peñón de Guatapé (also called Piedra del Peñol). The El Peñón de Guatapé is a granite monolithic structure which can be climbed to see one of the most breathtaking views in the whole country! Whatever we decide to do, one thing's for sure, tonight we'll dance the night away!
Money Pot: transport and any entrance fees
Not included: food and beverages
Tayrona National Park
50 %
50 %
Santa Marta
The time has come to say goodbye to Medellin and continue our discovery of Colombia. It's another early start, but only because we have another flight to catch! Today we're off to Santa Marta, where we'll leave behind the concrete jungle in search of the ocean. When we arrive in Santa Marta we'll catch a transfer to the entrance of Tayrona National Park (basically paradise), and we'll hike to the Cabo San Juan campsite where we'll spend the night.
Welcome to Paradise
Tayrona park boasts 46 square miles of protected land and 11 square miles of coral reef. Our campsite is practically by the sea, so we'll spend the afternoon enjoying this paradisaical setting or venture into the surroundings to explore. A welcome break from the big smoke, Tayrona provides us with the perfect nature getaway, which will be finished off with a night spent under the stars. Ready for an evening you'll never forget?
Included: Internal flight and land transport to the park entrance
Money Pot: Entrance ticket to Tayrona Park
Not included: Meals and drinks at the expense of individual participants
From Tayrona to Santa Marta
80 %
20 %
Another day in the Park
We wake up in Tayrona Park, so let's make the most of it! We can spend the morning lounging by the sea or immersing ourselves in nature. In the afternoon we'll trek back to the entrance of the park where we'll catch a bus to Santa Marta. It might be weird to go back to city life after our night in the park, but the journey must go on! We spend the evening in Santa Marta ahead of more adventures tomorrow.
Included: Transfer from Tayrona to Santa Marta
Money Pot: Local transport and admission fees if any
Not included: Meals and drinks at the expense of individual participants
Cartegena: welcome to the Caribbean
80 %
20 %
Towards the Caribbean
After a full day of relaxation it's time to get back on the road! It's an early morning, and post brekkie, we're off to make the most of the day! We load up into the minivan and make ourselves comfortable because we've got approximately 6 hours of transfer to reach today's destination. Perfect opportunity to catch up on some sleep. Around lunchtime we arrive in Cartagena de Indias, the architectural jewel of the Caribbean Sea, which is a UNESCO heritage site and perfectly preserved within a 13 km long wall.
Walking around Cartagena
In the afternoon we're off on a stroll through the streets of the Old City to be enchanted by its colours. We can also explore Getsemani, the coolest neighborhood in Cartagena, with bars and restaurants open until dawn. After sunset, the lights come on and the clubs come to life - so to travel authentically, we think it's time to join in!
Included: Transfer from Palomino to Cartagena
Money Pot: Local transport and admission fees if any
Not included: Meals and drinks at the expense of individual participants
Cartagena: a day to relax
40 %
60 %
Pure relaxation!
Today we stay in Cartagena, a city with a feel of "dolce far niente" (the beauty of doing nothing), and believe me, we need it! After a week on the road, catching flights, trekking, and various land transfers, what is needed is a day to completely disconnect and relax. Today we can calmly walk the wonderful and colourful streets of this city to shop and try some of the best flavours on offer in the tropics. The restaurants in the region are recognised for their high quality, flavour and variety.
Money Pot: Local transport and admission fees if any
Not included: Meals and drinks at the expense of individual participants
Rosario Island
60 %
40 %
We arrive in the archipelago
It's goodbye to Cartagena and we're off to Baru to get a transfer to Isla del Rosario, an archipelago made up of 20 odd coral islands. We can't do it justice with word, you'll just have to witness this paradise yourself - and we've got two days to do it!
Enjoy the sea
On Isla Grande and Isla del Rosario, the largest islands, we can discover the mangroves that grow along the fine white sand beaches. If we want adventure and adrenaline, there is no shortage of water sports, as well as the opportunity to snorkel and discover the sea from this new point of view. One thing is certain: the outfit of the day is a swimsuit folks!
Included: Transfer from Cartagena to Baru Pier
Money Pot: Boat to Isla Grande and any additional excursions
Not included: Meals and drinks at the expense of individual participants
Back to Bogotà
70 %
30 %
Return to the city
Unfortunately, the time has come to say goodbye to paradise, and although we leave it reluctantly, we need to get back to Bogotà! Today will be full of travel: in the morning we'll go back to the mainland, from Baru we travel to Cartagena where we'll catch a flight to Bogotà. After many hours of travel, it's definitely time for a rejuvenating shower and a quiet restaurant for dinner. The choice however, is yours. If you fancy hitting the cocktails then go right ahead, but try to conserve some energy for tomorrow!
Included: Transfer from Baru Pier to Cartagena and internal flight from Cartagena to Bogotà
Money Pot: Boat back from Isla Grande and any additional excursions
Not included: Meals and drinks at the expense of individual participants
Roaming around Bogotà
60 %
40 %
Cerro de Monserrate
It's the last day of our Colombian adventure, so let's finish on a high (literally), as today we explore Bogotà from above! For just a few pounds you can take a cable car to the top of Cerro de Monserrate, and although we might feel the altitude a bit, the view is worth it. The immense city sits in the middle of a valley, providing us with a unique view of this incredible metropolis.
Candelaria
In the afternoon, we're off to explore Candelaria, the historic centre of the capital which surrounds the Bolivar Square. We stroll through narrow streets in search of famous South American street art and characteristic colonial architecture. We'll reach the famous Gold Museum, which provides an extensive overview of the history of pre-colonial Colombia, and the Botero Museum, dedicated wholly to Colombia's most famous artist. We end the day (and our trip) with a delicious Colombian farewell dinner, topped off with lots of music and some rum! It's time to say goodbye: let's raise a glass to this fantastic experience!
Included: farewell dinner
Money Pot: transport and any admission fees
Not included: meals and drinks
Goodbye Colombia
70 %
30 %
It's time to say goodbye… see you on the next WeRoad adventure!
End of services:
The itinerary may undergo some variations that differ from what is stated above. These variations may not be foreseen nor dependent on WeRoad's control, i.e. climate conditions, national holidays, strikes, etc.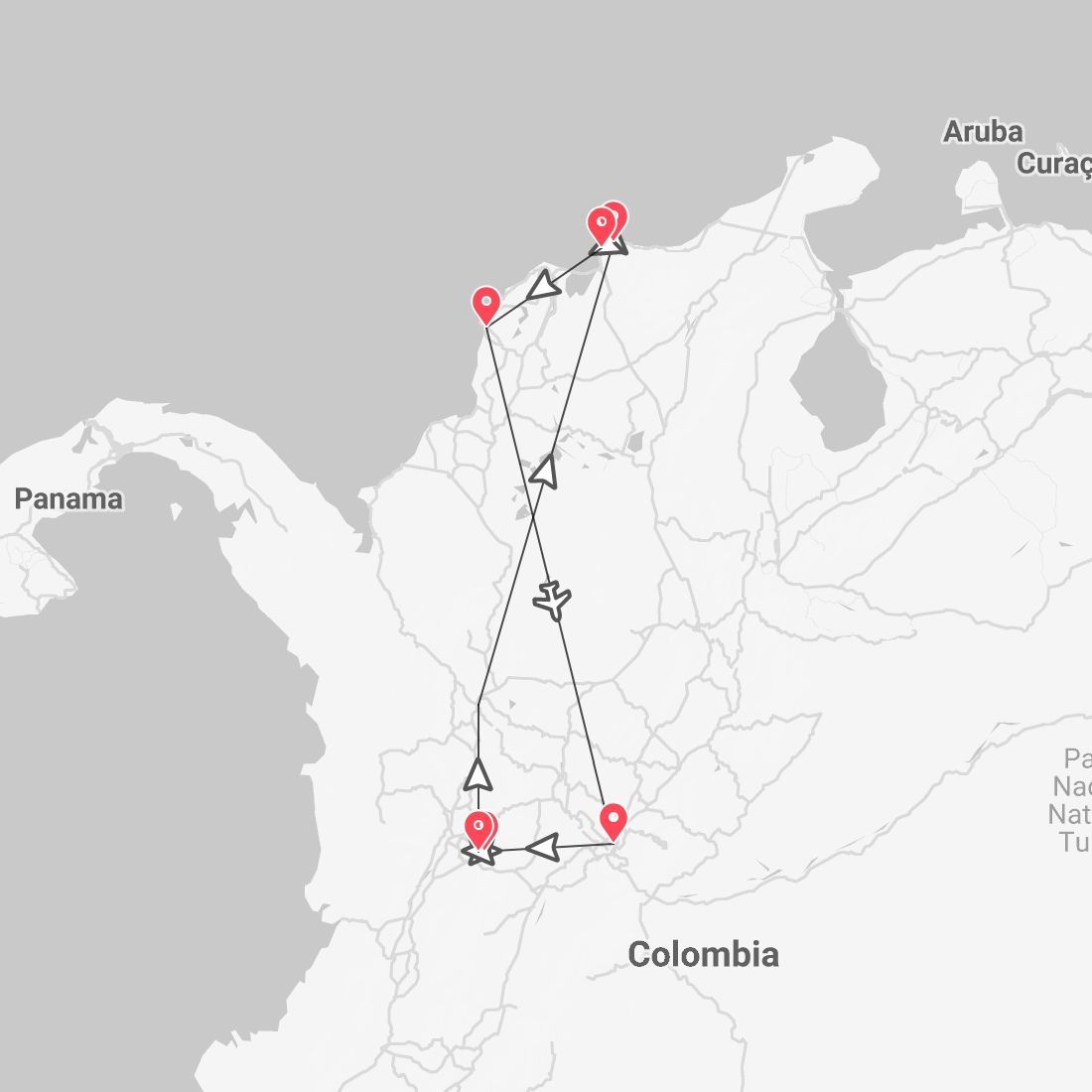 Show maps