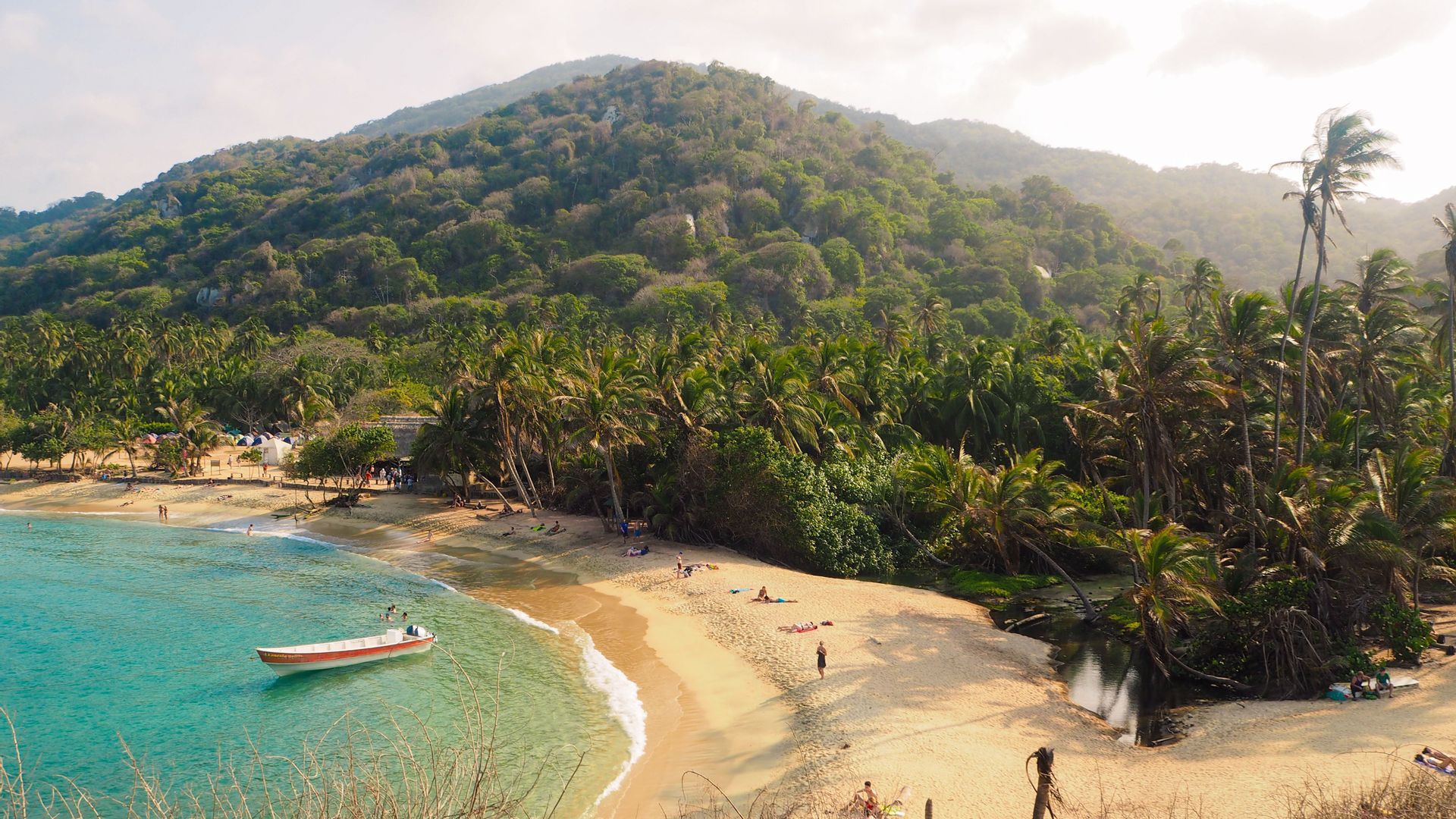 Colombia: from the Andes to the Caribbean
Reserve your tour by paying a deposit of
£ 200
Colombia: from the Andes to the Caribbean
Frequently asked questions
Monuments and history
20%
The trip in a nutshell
Get ready to discover Colombia's soul through its history, natural beauty and heavenly beaches.
Colombia boasts four different climates and a strong cultural identity. During our group trip, we'll discover the diversity that defines this beautiful country, from subtle accent twangs, to the traditional music, and the ever-changing landscape. The tour will introduce us to the identities of Colombia; from the concrete jungles of Bogotá and Medellin, the little pastoral pueblos in the Andes, the colonial city of Cartagena de Indias, to the white-sand beaches of the Isla del Rosario in the Caribbean. They say Colombia is the heart of South America and we get why; it's impossible not to fall in love with this colourful country.
Travel Mood
This trip is more challenging than most and requires you to exhibit your true 'adventurer' nature. We will cover more than 2700km (inclusive of three internal flights). Some days are more intense and others more relaxing. A travel backpack is highly recommended over a suitcase as there are numerous hotel changes.
Travel Difficulty
The trip is physically demanding given the hikes and pace of the itinerary.
Is Colombia open for travel?
Yes, you can visit Colombia if you have had at least 1 COVID vaccine dose. For comprehensive requirements check the UK GOV website!
Colombia

14 days

• Departure on 07 Aug
Balance £ 1,549 by 08 Jul
The deposit option is only available if you book this tour before 08 Jul.
What's included
13 nights: accommodation in shared bedrooms

Welcome dinner

Domestic flights (days 2, 6 and 12)

Ground transfers (days 2, 4 and 6)

"Local Experience": Coffee Process & Tasting Tour at Finca El Ocaso (private transport included)

"Must See": a walking tour with private local guide to discover the dark history of what was once the world's most dangerous neighborhood, The Comuna 13.

Farewell dinner

Travel Coordinator services
Everything included in the tour fee outlined here
Read more
---
Frequently asked questions
Medellin: Comuna 13 and Poblado with its "noche loca"
The streets of Medellin or the colors of Guatape?
Cartegena: welcome to the Caribbean
Hi, I'm Maria Celeste
Travel coordinator of this tour
---
Ciao! I'm Celeste, environmental scientist, big fan of Nature's wonders, and passionate about adventurous travelling and outdoor activities!
I like to travel "𝘊𝘩𝘢𝘴𝘤𝘰𝘯𝘦𝘢𝘯𝘥𝘰", which in Chilean means "messing the hair up", because I think most of the best things in a trip will probably mess your hair up 🦁. Do you agree?
Info to know
Staff

You'll travel with a WeRoad Coordinator, which is more or less the best travel buddy you could wish for.


Visas and Vaccinations

Before booking, please ensure to check what documents, visas, and vaccinations are required to enter the country you are visiting. If you have any questions, please contact us.


Arrival and Departure Times

We always advise trying to get to the meet-up point for the first day of your tour by 5pm so you can make sure you arrive in time for the Welcome Dinner. On the last day of the tour you are free to leave whenever you want!